Substandard investment procedures and regulations hinder investors in major power plant projects, baodautu.vn reported.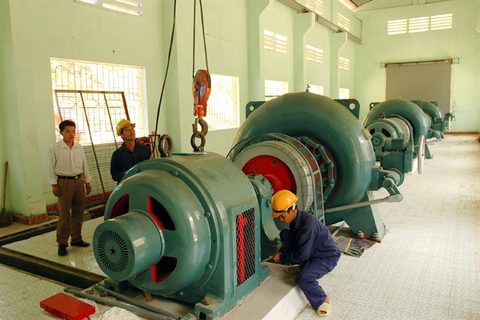 Workers install equipment at an independent power producer (IPP) hydro power project invested by Tuyen Nga priavte company in Trường Hà Commune, Ha Quang District, Cao Bang Province. IPP project investors have faced red-tape difficulties.
Ngo Quoc Hoi, Director of An Khanh Thermal Power Company told the investment e-newspaper that investment procedures and policies for power plant investors overlapped.
For example, some projects were submitted with detailed information as part of the adjusted National Power Development Plan VII from 2011-2020, which was approved 
along with the projects in 2016.
However, once the projects were launched, investors were required to re-submit the project's feasibility study, ask for assessments from ministries and agencies and then 
ask for Government approval.
"It takes an additional six to eight months for a duplicate process before the project is approved again," Hoi said.
Domestic investors also complained about unequal treatment between independent power producer (IPP) projects and foreign-invested projects under Build-Operate-Transfer (BOT) contracts.
An IPP or non-utility generator is an entity, which is not a public utility, but which owns facilities to generate electric power for sale.
Foreign-funded BOT projects are given incentives in foreign currency exchange and power sale guarantees but domestic IPP projects are not.
If investors of IPP projects want to exchange currency to pay loans, they have to register with the State Bank and are at risk of changing exchange rates.
Hội added that domestic power investors faced difficulties in borrowing money from local banks.
The company's Bac Giang Thermal Power Plant Project is set to be completed in 2022 with a capacity of 650 MW. This required investment of more than US$1 billion, which proved difficult to secure.
The company had to ask for loans from various banks as State Bank regulations only allowed a bank to provide loans to a customer worth a maximum of 15 per cent of its capital.
As a result, a big bank in Viet Nam like BIDV can lend a project about VND7.3 trillion (US$321.14 million) at most while an engineering-procurement-construction contract 
for a power plant is at least VND22 trillion.
"The rate should be increased to 25 per cent or power projects will face funding shortages as it's not easy to mobilise loans from multiple banks," Hoi said.
He also asked for a guarantee that Electricity of Việt Nam would buy power from IPP projects so that the projects could easily access loans.
Deputy Minister of Industry and Trade Hoang Quoc Vuong said the ministry had proposed the Government exempt investors from re-submitting feasibility studies if their projects were in the adjusted National Power Development Plan VII.
On differences between policies for IPP projects and foreign BOT projects, Vượng said that few local investors could afford $1 billion for a 650MW power plan or $2 billion for a 1,000-1,200 MW plant.
Thus, it was necessary to call for foreign investment and preferential treatment for foreign BOT projects was needed, he said.
He added that once energy investment demand fell and domestic investors were stronger, there would be no difference between policies for foreign and local investors. — 
VNS