VietNamNet Bridge - Retailers' great efforts to develop online sales have been rewarded with initial success.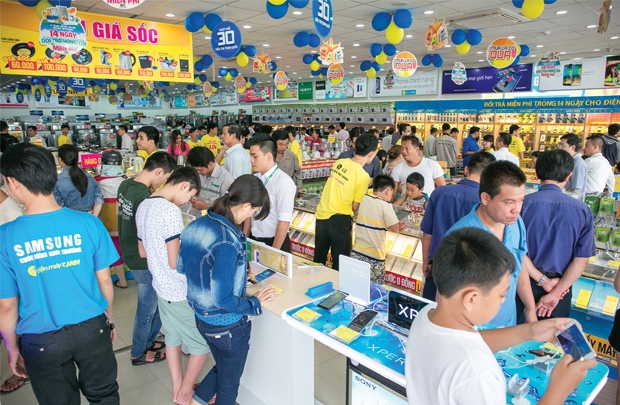 The Vietnam E-commerce Association (VECOM) estimates that with a growth rate of 30-50 percent per annum, Vietnam's e-commerce market value may reach $10 billion after five years.
Tran Kinh Doanh, CEO of The Gioi Di Dong, which owns The Gioi Di Dong, a mobile distribution chain, Dien May Xanh and Bach Hoa Xanh, the home appliance chains, and vuivui.com, an e-commerce trading floor, said online sales are developing rapidly. In 2015, online sales brought VND1.65 trillion in revenue, an increase of 94 percent over the year before (VND925 billion).
Realizing the sharp growth rate, in 2016, the company gather its strength to develop the distribution channel and gained revenue of VND3.372 trillion from it, an increase of 104 percent compared with 2015. 
VECOM estimates that with a growth rate of 30-50 percent per annum, Vietnam's e-commerce market value may reach $10 billion after five years.
Encouraged by the success, in early 2017, The Gioi Di Dong launched vuivui.com, which operates under the mode of B2C, connecting goods suppliers and consumers. 

Vuivui.com is described as an online hypermarket which distribute a wide range of products, 80 percent of which is provided by The Gioi Di Dong.

Commenting about the strong development of The Gioi Di Dong's online sales, experts said its greatest advantage is the large distribution network owned by the company. 

The company now owns 984 thegioididong.com shops, 303 Dien May Xanh supermarkets and 54 Bach Hoa Xanh shops, which ensure fast delivery, good maintenance and customer care services. This is why The Gioi Di Dong made heavy investments for online sales.

The Gioi Di Dong's chair Nguyen Duc Tai said at the 2017 shareholders' meeting that the online market has great potential and will develop in the next five years. Online sale now make up 5 percent of the retail market, while the figure would be 20 percent in the near future.

Vinamilk, the nation's leading dairy producer, aware of the great potential of online sales, has also decided to develop the online sale channel by launching Vinamilk eShop – Giac mo sua viet (Vietnamese milk dream) at giacmosuaviet.com.vn.

On the website, consumers can buy Vinamilk's products, including milk powder, yoghurt, cheese and nutrition powder.

A senior executive of Vinamilk said that with online sales, Vinamilk can access more clients, especially those who don't have time to go to shops to buy products. 

The launching of the new sale channel has helped increase its presence in the market. Vinamilk now holds 55 percent of the liquid dairy market, 34 percent of yoghurt, 80 percent of condensed milk and 40 percent of powder milk.

According to Vecom, 32 percent of enterprises had established business relations with foreign partners through online channels, while 11 percent of businesses had joined e-commerce trading floors by 2016.
RELATED NEWS
E-commerce growth stumbles as some websites close
VN targets $10b worth of e-commerce by 2020
Thanh Lich