Grant Thornton Vietnam Limited's 16th survey of the Vietnamese private equity sector showed largely positive economic progress and optimism for the country's level of investment attraction.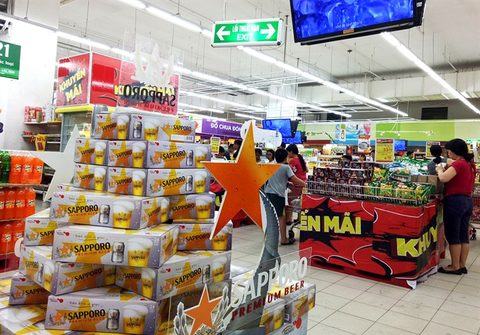 A variety of beverages on display inside Big C Long Bien supermarket in Ha Noi. 
As Viet Nam is ranked the second most preferred destination for private investment in ASEAN, 78 per cent of participants in the survey reported a positive outlook in both the private sector and Vietnamese economy in general, which has increased by 23 per cent from last year.
Grant Thornton's survey, released late last month, confirms that private equity investment this year will continue to have an important impact on the economy as a whole, with 72 per cent of surveyed foreign companies saying that they will continue to invest in Viet Nam due to the country's abundant, competitive and low cost labour and growing middle class consumption.
Newly listed private companies and State owned enterprises expect to yield remarkable opportunities in the private equity sector this year.
Eighty-seven per cent of responses show an anticipated increase in investment activity level in 2017; while 70 per cent forecast more buy-side than sell-side activities in the next 12 months, having increased by 14 per cent from 2016.
Fifty-two per cent expect state owned enterprise equitisation to be the largest deals source after the government issued Resolution 35/NQ-CP to support enterprises till 2020. Meanwhile 49 per cent expect foreign private equity funding to be the most competitive source of merger and acquisition activities, and 98 per cent believe sector specific opportunities to be the driving force for Viet Nam's private equity sector.
The food and beverage industry, together with the retail sector, continue to be the country's leading industries in terms of investment attractiveness; 53 and 49 per cent of responses rated them as "very attractive", respectively.
Healthcare and pharmaceuticals and transportation and logistics follow at 38 per cent "very attractive" rating. This is due to "the influence of Western lifestyles and increasing disposable incomes," said the report.
Oil, gas and natural resources are seen as the least attractive, with 36 per cent of surveyees rating the sector "very unattractive".
Investors all agree that transparency in business activity and corporate governance are key factors to be considered when investing in private companies in Viet Nam.
Additionally, up to 36 per cent of private equity investors consider an initial public offering to be the most preferred exit option, with trade sale at 33 per cent as the second best choice.
However, up to 80 per cent of participants expressed concern for 2017 economic growth, due to 2016's market volatility and disturbance in foreign trade and investment, notably China's economic slowdown and the Trans Pacific Partnership Agreement's imminent termination.
Fifty-five per cent of respondents claim that the opportunities for new fundraising are limited and challenging. The Vietnamese private equity market will likely experience difficulties in raising new funds because of the shortage of options while a declining new capital flow could be a threat for new and smaller funds, as the State Bank of Vietnam will face challenges in keeping lending rates steady and inflation under the five per cent target rate.
The survey also considers corruption, national budget constraints, subpar management standards, infrastructure bottlenecks and a lack of competitiveness in small and medium enterprises to be critical investment obstacles in Viet Nam, with 87 per cent of surveyees in agreement, in addition to fiscal difficulties and natural disasters affecting agricultural and tourism contribution to gross domestic product.
In 2016, Viet Nam's GDP growth rate of 6.21 per cent proved to be lower than the 6.68 per cent in the same period in 2015, marking the first economic slowdown in four years and subsequently missing government target of 6.7 per cent for the fiscal year of 2016. 2016 CPI was at 4.47 per cent, which was under the target of five per cent as well.
Established in 1993, Grant Thornton Vietnam Limited is an independent member firm of Grant Thornton International. It is the second international audit, taxation and advisory services firm to operate in Viet Nam. 
VNS