The latest growth indicator published by the General Statistics Office has revealed that growth in the Vietnam private sector slowed in the three months leading to April 2017.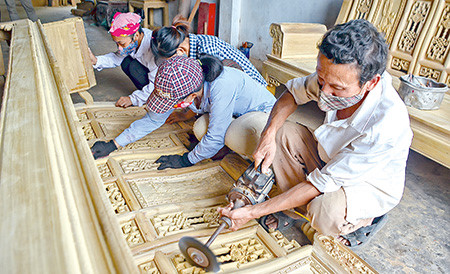 Across the manufacturing, distribution and service sectors, the pace of output growth eased to +7.54%, down from +11.93%, said the GSO.
Additionally, while manufacturing output growth expanded in the three months to April, consumer services and retail growth slowed. Activity among professional services firms remained relatively unchanged.
The growth indicator also suggested that CEOs and managers remain optimistic with most of the businesses surveyed saying they expect growth to pick up over the remainder of the year. 
Nguyen Van Binh, head of the Party Central Committee's Commission for Economic Affairs commented: Momentum eased towards the start of the first quarter, particularly among consumer service and retail companies. However, the quarter ended on a positive note and expectations for the year ahead are healthy across all sectors.
Meanwhile, the Vietnam business insolvency landscape saw the numbers increase to 45% during the first quarter of the year – primarily due to a more challenging manufacturing and retail sector environment – according to Binh.
In many western economies such as the US as many as nine out of every 10 businesses fail, so the fact that roughly five out of every 10 start-ups fail is Vietnam is not as bad as it may initially sound, said Binh.
Cold statistics like these, said Binh, are not intended to discourage business start-ups and businesspersons, but to encourage them to work harder and smarter.
The top reason that start-ups fail is because they make products no one wants to buy and almost all the businesses that fail to do a proper market study upfront to determine if there is a market need for their specific product.
Binh noted that if a start-up is going to spend their time making a product then the management first should spend their time making sure it's the right product for the local Vietnamese market.
The second major reason why start-ups fail is that they run out of cash, Binh added.
Rapid growth is an essential necessity for a start-up.  Those that do their homework up upfront and choose the correct market and products that allow for rapid growth also experience quick sales and accounts receivable turnover rates.
With more cash to plough back into the business these business stat-ups can avoid financial disaster and better cope with problems they encounter, he underscored.
Just as importantly, a successful start-up needs a versatile management team, he emphasized, saying that this means they must possess the ability to change products midstream if need be.
In addition, they must be able to adapt their development plans as new situations arise, take up a fresh marketing approach, rebrand the business, or even be prepared to tear down a business and start all over again.
VOV