For a while after it opened a few years ago, the gym at the Ba Dinh Sports Center welcomed just a few customers every day. 
In the last two years, though, numbers have skyrocketed, with dozens of people coming for a workout every day. During its "peak hour", from 5-7pm, the place is packed with sweating bodies enthusiastically focusing on their exercise routines. 
Other gyms are also seeing more customers and more gyms have opened to meet the growing demand. 
Hundreds of gyms, from basic to top-notch, have opened in major cities like Hanoi, Ho Chi Minh City, Hai Phong, Da Nang, Nha Trang, and Can Tho. Never before have Vietnamese people paid so much attention to fitness and exercise.  
Rising popularity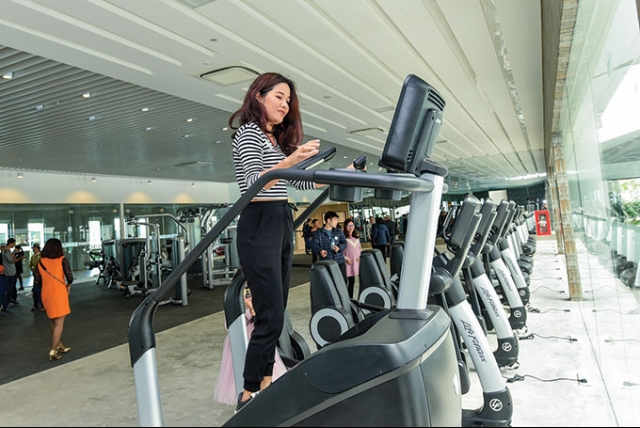 Health has become the Number 1 concern among Vietnamese consumers, with nearly one-third (34 per cent) naming it their biggest or second-biggest concern over the next six months, according to Nielsen's recent Consumer Confidence Index (CCI) for Vietnam. 
While Vietnam still has the lowest rate of obesity in Southeast Asia, the increasing number of obese people in recent years has been a source of some concern. 
The latest World Health Organization figures show that obesity among Vietnamese men was 16 per cent in 2015, more than triple the rate in 2005, while obesity among Vietnamese women jumped to 24 per cent, a staggering 80 per cent increase. 
The rate for children, perhaps more worryingly, has increased to as high as 40 per cent in major cities, up nine or ten times within a decade, according to a survey by Vietnam's National Institute of Nutrition. 
Since the country joined the WTO in 2007 the inflow of foreign capital and goods have accelerated, with Western fast food and candy combining with a fall in manual jobs and increases in office jobs having an effect on waistlines. 
This and greater awareness have resulted in fitness and health-oriented businesses expanding to cater to the greater demand. 
Branded chains are emerging, with more than 100 chains now benefitting from a focus on healthy lifestyles.
Regardless of age or occupation, people joining fitness centers share some common goals. Having a healthy and fit body is the most obvious target. 
Different from previous generations, which seemed to define beauty as an attractive face with a soft and slightly chubby body for a woman and a good height for a man, the young of today appreciate a well-rounded shape. 
Seeking a healthy and fit body, Mr. Anh Dung, a 25-year-old graphic designer, began a personal training class at NShape, a popular fitness center, and transformed his slim 55 kg frame into a lean 68 kg in six months. 
"I'm fit now, but I want to get a 'six pack' so I'll work out harder," he said. 
Women are also more interested getting fit. When Ms. Huyen Huong, a 29-year-old education consultant, complained to her friends that her waistline was growing from working in an office and it was affecting her confidence, they saw they shared the same problem. So they all decided to go to Curve Fitness to get some feminine curves. 
"There are a lot of exercise programs available on the internet that I can do at home, but I don't have equipment," she said. 
"And attending a class is more fun and I feel more motivated." After a few weeks, she and her friends were happy to see the change. After talking to a trainer, she tried some different exercises to get some muscles in her stomach. 
Together with a hotter body, a healthier mind is also a reason people become "addicted" to their exercise classes. 
As a manager of rural development projects, 35-year-old Ngoc Yen is often busy with travelling and is also a mother. 
She chose to attend yoga classes at a California Fitness & Yoga Center, as she could then do it anywhere. 
In the beginning, like many others, she wanted to quit, because her whole body ached. She could barely get up the stairs at home for a few days afterwards. But she stuck with it, and began to fall in love with yoga. 
"Doing yoga for only 20 or 30 minutes a day has made me fit and it relieves stress, clears the mind, and I also sleep much better," she said. "Now I can't live without it."
Diverse activities
Whatever the fitness goal, there is a program available. 
Depending on their budget, gym-goers can choose a package ranging from VND300,000 to 1 million ($13-44) a month, on average. 
The cost also depends on the length of each package. For example, a 15-month Platinum membership at California Fitness & Yoga Centers costs VND1 million ($44) a month, while the same package for 21 months comes to VND500,000 ($22) a month. 
People on different incomes are therefore able to find a package suitable to their pocket. 
What's available is also different. Every gym has basic equipment like weights, benches, bars, maybe a press machine for the legs, chest, shoulders, and cardio, or treadmills and exercise bikes. 
And some have more advanced facilities and services like massage, a swimming pool, a Jacuzzi, and healthy food and drinks. 
Even in the basics - exercises, aerobics and yoga - other services are appearing. 
There are now different types of yoga classes being provided by different places. Other new exercises are also on offer, like pole dancing, body jams (a fusion of dance and aerobics), classes, like those at Elite Fitness, tailored to giving women sexy curves, Zumba sports dance, belly dance, fit ball (a collection of slow but energetic movements with a ball to improve muscle tone and balance) at Nshape Fitness, group classes or personal classes with a personal trainer, UFC (the first mixed martial arts workout in Vietnam and including Muay Thai, wrestling, boxing, jujitsu, kickboxing, judo, and vovinam), and Cali Kid (exercises for kids from six months to 12 years of age) at California Fitness & Yoga. 
Together with yoga, Ms Yen also takes a Zumba class, as the movements not only keep her fit but give her a shapely body and more confidence. 
Diet and nutrition consultations are also available, provided by professional international instructors. Some places even offer a food home delivery service. 
As demand for exercise increases among Vietnam's 90+ million people, fitness investors are confident about a bright future. CMG has revealed plans to increase its number of gyms to 100 by 2020. 
Elite Fitness, meanwhile, one of CMG's major rivals, has set up a fitness program that includes meal planning priced at $350 a month. 
VN Economic Times