The latest report from the World Bank on Vietnam's agriculture supply chains shows the country is behind its neighbors in terms of supply chain operations and trade, with it receiving a score of 55.7 out of 100 for supply chain operations, 60.6 for product quality control, and 48.4 score for farm produce trade. 
Compared with the Philippines, Vietnam excels in product quality control but is inferior in supply chain operations and trade. Vietnam's scores in trade are even lower than Cambodia and Laos. 
Major constraints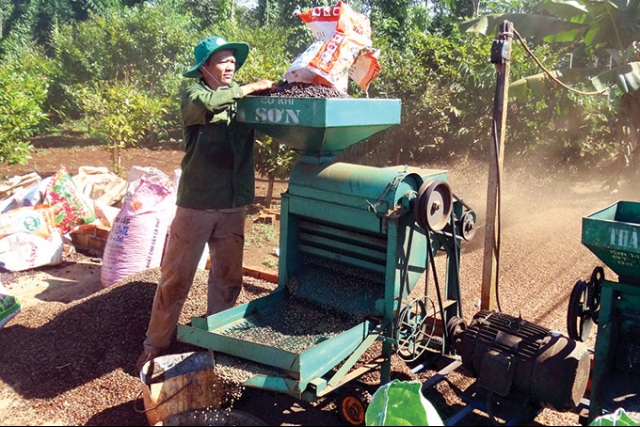 Although Vietnam is a leading exporter of agricultural products to the world, the World Bank indexes reveal a weakness in Vietnam's agricultural supply chains in global trade. 
A lack of investment in logistics is also blamed for the big losses recorded in agriculture. Farm produce is a major export item but makes up 18-20 per cent of GDP. 
Most agri-businesses are of small and medium size, and the number of export products is not large.
The main constraint on Vietnam's agriculture supply chains is the lack of an integrated, end-to-end supply chain model, according to Mr. Julien Brun, Managing Partner at CEL Consulting
Vietnam, which provides advisory, engineering and training services in the field of supply chains and operations. 
"For many years, Vietnam has been investing in production models and technology as well as quality control," he said. "But the wastage and loss of value in the logistics chain has received little attention." 
It was only a few months ago, when the issue of food loss was raised, that Vietnam became more aware and interested in the potential value that could be retained with proper logistics practices.
According to Mr. Le Minh Tuan, Logistics and Operations Manager at Vietnam Agribusiness Ltd. (Bunge Vietnam), which processes oilseed and imports and exports agriculture products, Vietnam's small agricultural production brings about difficulties in focusing resources to increase effectiveness of national supply chains. 
Vietnamese farmers mainly sell products to traders, so lack market information, which causes problems in cultivation planning.
At the same time, the small production scale also leads to weaker commitments from farmers. 
Some only focus on profit and ignore quality and food safety requirements and agreements with buyers, so enterprises with stable needs have many difficulties in seeking a reliable supply of goods for export. 
Mr. Dao Manh Luong, CEO of Mavin Austfeed Vietnam, said that traders are a barrier between farmers and enterprises because they bring low value. 
Deficient interaction among enterprises and farmers also leads to the former lacking information for processing, preserving and planning an effective supply, which affect distribution and export activities.
A report from the Ministry of Agriculture and Rural Development (MARD) revealed that the average loss rate in agricultural food products is 25-30 per cent. 
While losses in seafood processing reach 35 per cent, they can be up to 45 per cent in fruit and vegetables. 
According to a survey by the US's Food and Agriculture Organization (FAO), 63 per cent of losses come from harvesting, collecting, transporting and preserving and is blamed on low levels of mechanization in agricultural production and limited transportation capacity.
A World Bank survey, meanwhile, showed that Vietnam's mechanization index is low, at 24.4 out of 100, equal to Laos, Cambodia and Myanmar but far below the Philippines. 
The transportation index in agriculture is lower than for Laos, by 10-15 points. 
Experts have pointed out that logistics play an important role in agriculture production, because the longer it takes to transport farm produce, the higher the failure rate will be. 
If the problem cannot be resolved, Vietnam will find it difficult to join global production chains.
Agro supply chain index, by country
Source: World Bank report, 2016

Development solutions 
According to Mr. Giovanni Capannelli, Special Advisor at the Asian Development Bank (ADB), it's time for Vietnam to enhance productivity, not based on old solutions but on supply chains, in particular optimizing agricultural practice, improving effectiveness and inputs as well as accelerating supply chain organization. 
He added, however, that in order to enhance the agriculture supply chain, Vietnam should improve its administrative and institutional quality along with domestic infrastructure in order to push up the development of the country's agriculture sector. 
He also emphasized that competition in the future will not be among enterprises but between supply chains.
Vietnam's agriculture sector has seen many breakthroughs over the last few decades, both in terms of productivity and output, according to the World Bank, as it has become the world's second-largest coffee growing country. 
Vietnam exports about 1.5 million tons of coffee beans annually and Nestlé Vietnam purchases nearly 20 per cent of this volume. 
It has made its best efforts to accelerate its coffee value chain by improving its supply chain operations.
In order to optimize its coffee value chain, Nestlé has built warehousing and processing and packaging facilities locally, to strengthen connections with the coffee farming community. 
Mr. Will Mackereth, Supply Chain Director at Nestlé Vietnam, said the company is still working on moving entirely to bulk handling solutions and increasing the utilization of vehicles to effectively transport coffee to its processing and export locations. 
At the same time, the company will continue to innovate both operations and products, to ensure relevant efficiency and sustainability that will keep the coffee industry successful in creating value chains.
Regarding livestock, Mavin Austfeed, a leading Australian agribusiness that follows a "from farm to table" strategy in Vietnam, has also been concentrating on building its own value chain in order to provide a complete supply chain for the market. 
This helps the company control product quality and understand market demand, and then make adjustments to optimize its efficiency and profitability. 
Mr. Luong also commented that investment in the supply chain needs to be comprehensive, rapid and methodical. 
According to Mr. Brun, investing in cold chain logistics is a crucial means of preserving product quality and cutting losses in value, maintaining quality by following the latest international standards on food safety and building a brand for Vietnam's agricultural products. 
Investing in technology and extending the supply chain network to the source (farmers) and overcoming information barriers set by intermediary parties (collectors, traders) to determine supply and demand is key in making better forecasts and estimations of risk, he said. 
VN Economic Times