The Vietnamese power industry is undergoing an unprecedented transformation, and navigating it requires a full understanding of the entire energy ecosystem, experts say.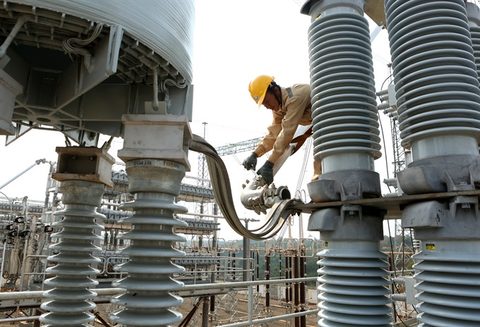 A technician works at the 500kV Pleiku 2 substation in the Central Highlands province of Gia Lai. 
At a conference titled "Powering Viet Nam" held in Ha Noi on Thursday, they said it was necessary to consider optimum exploitation of all power sources and deploy new technologies in storing and distributing it.
Leaders of US multinational conglomerate General Electric (GE) as well as global and local energy sector experts shared ideas, case studies and best practices with more than 200 attendees and industry experts, the Dau tu (Investment) newspaper reported.
The GE Energy Ecosystem portfolio was unveiled at the conference.
Company officials said this was an interconnected system of digital and industrial technologies that could deliver affordable, reliable, and more sustainable production, distribution and consumption of energy.
Wouter Van Wersch, President and CEO, GE ASEAN kicked off the Energy Ecosystem programme in Viet Nam, saying: "We chose to launch the Energy Ecosystem portfolio in Viet Nam because it is one of the most energy-hungry nations in the world and open to new ideas, and solutions, to produce more affordable, reliable and sustainable power.
"Some of the most innovative programmes available today are showcased in the 'ecosystem', many of which have been developed with customers across the entire energy landscape.
"This is a strength that GE has developed globally and we look forward to helping more customers in Viet Nam, and other markets, to achieve their energy goals in the future."
Highlights of the conference included panel discussions, and presentations from GE business leaders on opportunities for gas, steam, and renewable energy, and how power services partnerships, new grid technologies, and digital industrial solutions can advance Viet Nam's energy modernisation plans.
Insights and opinions were also provided by local sector experts, and energy representatives from the Viet Nam Institute of Energy, Department of Science, Education, Natural Resources and Environment, the World Bank, the United Nations Development Programme, and other institutions
Many discussions focused on new solutions to help Viet Nam produce more sustainable power to meet rising demand that is predicted to grow at an average of 10.5 per cent annually during 2016–2020, and 8.0 per cent annually during 2021–2030.
Electricity consumption is projected to reach 234.6 TWh in 2020 and 506.0 TWh by 2030 - a fourfold increase by 2030 compared with consumption in 2014.
The nation's near-term energy plans were outlined by Phuong Hoang Kim, Deputy Director, General Directorate of Energy, Ministry of Industry and Trade.
"The goals set out in our revised Power Master Plan VII are designed to boost energy security, diversify our energy mix, attract new investment, and ensure environmental benchmarks are met," he said.
Discussions on the digital industrial transformation trend covered "increasing use of advanced software, analytics and low cost sensing converge with the Industrial Internet to reveal the hidden power of big data that seamlessly connects the ecosystem."
Best practice experiences on how "digital power plants can help increase asset performance, enhance operations, and improve energy trading decisions to create additional revenue and cost reduction opportunities," were also shared at the conference.
Pham Hong Son, CEO, GE Viet Nam, said conference attendees were particularly interested in discussions on the world's most efficient renewable power solutions today and industry modernisation programmes driven by advanced digital industrial solutions.
Decentralisation was another important topic where speakers discussed the shift towards power generation closer to the point of consumption.
"As Viet Nam is poised to ramp-up the development of energy infrastructure in the next five to 10 years, there was high interest in financing options offered by GE including early stage capital formation and access to third party capital and from export credit agencies, development financing institutions, and other institutions," Son said. 
VNS