VietNamNet Bridge - The repeated alarms about unsafe food has brought great opportunity to several big investors, who have been pouring money into organic food projects.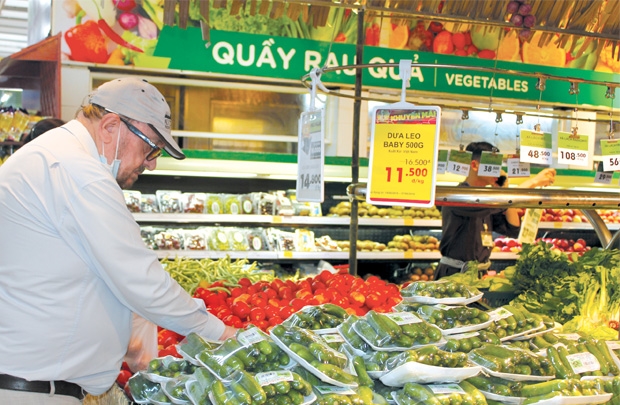 In mid-March, Vinamilk, the nation's leading dairy producer, inaugurated Vinamilk Organic Da Lat, the first organic milk cow farm in Vietnam that meets European standards. With initial investment capital of VND200 billion, the farm will raise 500 milk cows.
Vinamilk began building the farm in 2014. Its CEO Mai Kieu Lien then believed that organic milk must be one of the directions for Vietnam's agriculture as consumers are getting choosier and willing to pay more to get safe food.
In late 2016, Vinamit, the dried fruit producer, received a certificate on organic cultivation and processing in accordance with the US Department of Agriculture's USDA Organic and EU's Ecocert EU standards. 
Vinamit's general director Nguyen Lam Vien said organic food is becoming more popular in the world which has prompted Vinamit to focus on organic food to satisfy increasingly high demand.
The repeated alarms about unsafe food has brought great opportunity to several big investors, who have been pouring money into organic food projects. 
According to the Control Union, which certifies organic food in accordance with the US and EU standards in Vietnam, the growing trend of organic agriculture shows that clean, healthy food is now on top priority. About 150 units in Vietnam have been recognized as meeting organic standards for crop and livestock products.

Not only producers but retailers have also injected money into organic food production. 

Saigon Co-op, one of the largest retail chains with large market share in the south, is planning to bring internationally recognized organic food products into its distribution chain.

Saigon Co-op deputy general director Pham Trung Kien said the retailer has committed to cooperate with farmers to create farm produce without harming the environment, soil, water sources and surrounding organisms.

In the near future, products with Co-op Organic brand such as rice, vegetables, water spinach, cucumber, tomato and black tiger shrimp cultivated according to American and European organic standards will be sold at some Co-op supermarkets, including ones on Ly Thuong Kiet, Cong Quynh and Dinh Tien Hoang streets.

Christian Henckes from ICMP (integrated coastal management program), implemented by GIZ on behalf of German and Australian governments in Vietnam, commented that import countries want high-quality shrimp and other products from Vietnam and they now target organic products. 

In order to have products that can enter the world market, Vietnamese manufacturers have to satisfy requirements without harming the environment.

However, it is not easy to organize organic production. Lien from Vinamilk said it took Vinamilk many years to find the 76 hectare land area suitable for organic milk cows. It is also necessary to follow strict requirements in production, with no growth hormones, no antibiotic residue and no pesticides.
RELATED NEWS
HCM City starts five-year plan on organic food
Using organic food, organic cosmetics now in fashion
Chi Mai