In a bid to facilitate the development of private startups, the Law on Supporting Small-and Medium-sized Enterprises (SMEs) will offer plenty of incentives ad foster the establishment of private investment funds to provide them with loans.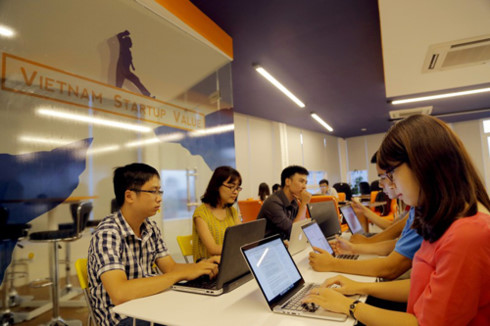 The National Assembly Standing Committee last week discussed the latest draft Law on SMEs, with priority given to private startup enterprises in Vietnam.
Under the draft, complied by the Ministry of Planning and Investment (MPI) and expected to be adopted in mid-June, the enterprises and funds specified are both local and foreign-invested.
According to the draft's Article 16, private startup enterprises will be given assorted incentives in terms of high-tech transfer, participation in incubators, intensive training in product development, mobilization of investment capital from startup funds, and intellectual property consultancy.
They will also receive support in information and communications, trade promotion, commercial applications for research, and technological developments. 
Furthermore, the government will refinance their loan lending rates via credit organisations.
Also under the draft, the National Assembly will allow the establishment of private startup investment funds. 
These funds refer to those that are established via legal capital contributions of investors, with the aim to invest in private startup enterprises, organisations, and individuals.
"Private startup investment funds are allowed to conduct investment via the contribution of capital to establishing or purchasing a stake in startup enterprises. However, the fund's capital must not exceed 50% of the enterprise's charter capital", reads Article 4 of the draft law.
The government will detail the establishment, organisation, and management of private investment funds for innovative companies, as well as procedures for capital and profit transfer by these investors in and out of Vietnam.
According to MPI, many localities and investors have established investment funds for young businesses, from which they see great development potential.
For example, Japan's Mizuho Financial Group reportedly plans to set up a JPY28 billion (US$9.18 million) will likely be invested in each firm. 
Mizuho also envisions the fund being used to support joint ventures between Japanese firms and international businesses.
In another case, leading Vietnamese tech firm CMC Corporation recently launched a startup fund: The CMC Innocation Fund (CIF), worth VND50 billion (US$2.27 million). 
CIF will be investing in early-stage firms with a focus on the fields of security, cloud computing, the Internet of Things, robotics, big data, and artificial intelligence. 
CMC will earmark 10% of its annual profits for this fund. CIF will look to support both CMC's projects and those from outside entities.
Other private investment funds have also bought into Vietnamese startups. 
In 2015, the Vietnamese restaurant rating and location website Lozi Vietnam receive millions of dollars in funding from Singapore-based Golden Gate Ventures and Japan's DesignOne Japan Inc.
In March 2016, local tech firm FPT and investment group Dragon Capital inked a co-operation deal on the establishment of a fund named Vietnam Innovative Startup Accelerator (VIISA), to finance startups in Vietnam.
VIISA is an open-ended fund which trains and invests in startups in the sectors of information and technology, mobile technology, internet applications, and finance.
Currently, it is estimated that more than 20 foreign venture capital firms have expanded to Vietnam, where nearly 2,000 startups are in operation.
VIR