Eleven innovative tourism startups from Viet Nam have qualified for the Mekong Innovative Startup Tourism (MIST) Startup Accelerator programme.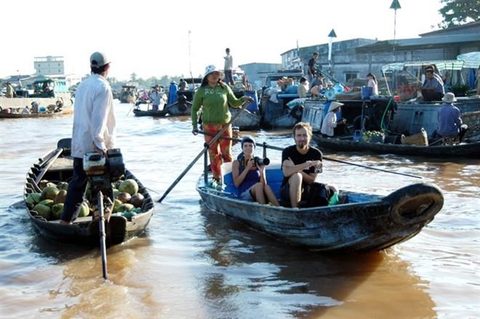 Foreign tourists visit Cai Rang floating market in the Mekong Delta province of Can Tho.
The announcement was made on Wednesday by the Mekong Business Initiative (MBI) and Mekong Tourism Coordinating Office (MTCO).
The US-based Travel Startups Incubator screened applications based on their potential for investment and the quality of their business plans.
MBI experts performed additional due diligence, considering sustainability and other socio-economic criteria.
Finally, selections were verified in partnership with the Danang City Incubator (DNES).
More than 250 travel tech and traditional tourism startups submitted applications to the MIST programme.
Qualifying startups will advance to a MIST Startup Accelerator bootcamp from May 5-7, 2017 in Siem Reap, Cambodia, along with six innovative tourism startups from Cambodia and Myanmar.
"MIST promotes sustainable tourism, giving innovative startups the potential to transform travel in one of the most dynamic regions on earth," said Jens Threanhart, executive director of MTCO.
Dominic Mellor, head of MBI, said, "We're proud of this batch of startups. They are fueling the right kind of tourism growth that positively impacts the tourism experience and local communities."
Approximately half of all Startup Accelerator finalists, selected by mentors, will advance from the bootcamp to an investor showcase at the Mekong Tourism Forum in Luang Prabang on June 6.
Startups will present their business plans to media, investors and an expert judging panel. Four of them will be chosen to receive innovation grants of US$7,000-10,000 each.
Vietnamese startups in the MIST competition include:
Bayo: assistance for travellers, helping them find the right travel information, suppliers, products and prices, with easy transactions with local suppliers.
Chameleon City: an on-demand chat-based service providing travel and lifestyle answers from local experts 24/7.
Dichung: promotion of low-impact rideshare transportation options, giving drivers the chance to trade free seats in their vehicles and working with taxi companies to develop vanpools.
Hue Free Walking Tour: operator of the first and only walking tour of Hue that also offers add-on historical tours and hands-on experiences for independent English-speaking travelers.
I Love Asia: women-led motorbike tours of Hoi An and Hue while supporting projects for disadvantaged communities in the cities in which they work.
Innaway: mediator between hotels and travelers, helping hotels maximise revenue and improve quality standards, and helping people travel smarter with better assistance and support.
Mimoza: 3D virtual tours of top travel destinations, allowing potential and current tourists, travel providers and students to use virtual and augmented reality systems to learn about hotels, heritage sites, restaurants and more.
Morning Rooms: Viet Nam's largest budget hotel network, assisting economical tourists to find the right quality rooms at the price they need.
Oneclicktogo: an all-in-one trip planning website offering flight and hotel booking, guidebook recommendations and a review platform, working to create a powerful tech-based tourism ecosystem that brings Mekong tourism businesses to the global market.
Tugo: a technology-based tour operator and travel community, striving to offer low-cost and reliable packages and tours around the world.
Putaleng Legend: diverse ecotourism experiences, adventure trekking tours and authentic ethnic cultural tours through its sustainable ecolodge.
VNS