VietNamNet Bridge – With their limitations in terms of capital, management, technologies and brand building, Vietnamese small and medium-sized enterprises (SMEs) need support to stay afloat amid the country's global integration, according to the Viet Nam Retailers Association (VRA).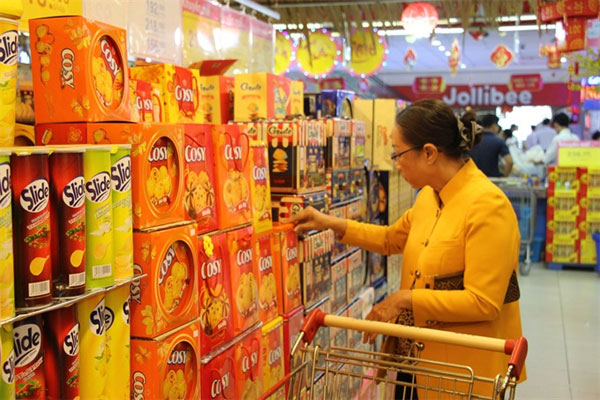 A customer shopping at a supermarket in Ha Noi. SMEs need support from distributors, authorities and business groups to build brands. 
Speaking at a seminar titled "Brand Story" in HCM City on Thursday, Dinh Thi My Loan, chairwoman of the VRA, said SMEs account for a majority of businesses in Viet Nam and struggle on many fronts like resources, research and development among others.
They are not very efficient at production or trading due to high costs and a lack of market research and ties with retailers and distributors.
Brand building is very important for companies, especially SMEs, she said, adding that some Vietnamese SMEs are still struggling to build their brands.
Nguyen Xuan Ton, owner of Long Trieu Coffee Establishment in the Central Highlands province of Lam Dong shared his experience in developing his coffee brand, saying "I started to think of developing a brand for my coffee in 2004.
"But at that time I did not know how to build brands or give a name for my products. Finally, I named my products after the names of my two children – Long and Trieu."
In the beginning he promoted his products through traditional channels, and they sold very well.
Taking them to modern retail channels became a problem because they did not meet retailers' requirements with regard to quality, packaging, and others, he said.
Do Manh Hung, director of Hung Thai Tea Co Ltd in the northern province of Thai Nguyen, said his company too found it hard to sell to supermarkets for similar reasons.
Nguyen Thi Cac Thuy, director of Tay Cat Co Ltd of the southern province of Dong Thap which sells sweets, said despite having good products, SMEs like hers find it hard to sell to supermarkets since their brands are not well-known.  
It was at this time that Ton, Hung and Thuy took part in the "Accompany Vietnamese Brands" programme launched by Big C Vietnam last November to help SMEs enter the modern distribution channel.
SMEs that qualify are provided training in retail markets, quality management and product development; support to map out development plans; branding; and resource management, Le Thanh Trung, director of Big C's SMEs support and development division, said.
They can also get preferential credit from Big C's bank partners and support in distribution and logistics, and promote their products on the retailer's communications channels, he said.
For four months since it began, the programme has enabled 19 SMEs to make big strides in brand identification, packaging and distribution, and their products are available on Big C's shelves, he said.
Ton said his company now sells 10-11 tonnes of coffee a month, including through modern channels, much higher than before.
Philippe Broianigo, CEO of Central Group Vietnam and Big C Vietnam, said through the programme, his company wants to make sure it addresses the issues faced by SMEs, usually with respect to cash, research and development, and in production.
"Definitively we are not going to finish this programme in a short time. It is important for Viet Nam, important for [SMEs] but also important for us because we also want to sell good quality products, we also want to satisfy our customers as a retailer."
VRA Chairwoman Loan said SMEs need support from distributors, authorities and business groups for building brands so that they can survive in the highly competitive market.
VNS