VietNamNet Bridge - The expansion of the 'clearing pavement campaign' in Hanoi and HCMC means fewer vending stalls in the cities.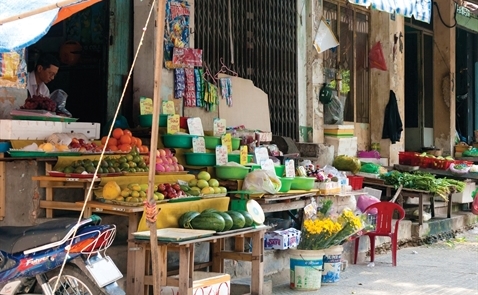 But the informal economy in Vietnam has existed for decades.
Van, a girl from Mekong Delta, has been selling grilled corn for the last 10 years in HCMC. Her mobile shop is called 'Cho' (Wait), because there are always many buyers waiting for their turn. The sales bring VND800,000-1 million a day, which is a major source of income of Van's family.
The expansion of the 'clearing pavement campaign' in Hanoi and HCMC means fewer vending stalls in the cities. 
Since the municipal authorities have launched the campaign on fighting pavement encroachment, Van's mobile shop cannot stay on the streets. She had to move the shop to small alleys and now thinks that her income would fall because of fewer buyers.

A research work conducted in districts 1 and 3 in HCM found that there are 72 types of activities on sidewalks, such as motorbike repair, tire patching and taxi motorbikes. And there are numerous vending shops. 

On a section of a sidewalk, one can see steamed glutinous rice shop in the morning, a street rice shop at noon and a mobile coffee shop in the afternoon. In the evening, people sit in the same place to relax.

Annette Kim, public policy expert from MIT, said that it was interesting to find that so many activities of life can be nurtured in such a public space.

Official reports show that the informal economic sector, including street vendors, still makes up a relatively high proportion of Vietnam's economy. With millions of business households, it makes a significant contribution to the country's GDP. 

However, the existence of vending shops is believed to spoil the image of civilized cities. Therefore, municipal authorities have vowed to clear the shops to 'tidy up' pavements.

An analyst commented that the 'pavement crackdown' in Hanoi and HCMC is the struggle between local authorities which are determined to restore urban order and households which want to earn their living on pavements.

The local authorities, while affirming that they don't prohibit vending, have drawn up solutions to reorganize the use of pavements and restructure vending stall selling. Some markets with many vending shops have been set up.

Ly Nam Hap, a man in Tan Binh district, decided to reserve 800 square meters of land to set up a market for vending shops run by poor people. 

Most of the vendors in the market were once vendors who earned their living on pavement. All the 20 households in the market, mostly selling vegetables and meat, don't have to pay a fee.
RELATED NEWS
Shop rentals fall in Hanoi following pavement crackdown
Hanoians pledge not to encroach pavements
Mai Thanh