To-be-bankrupt financial and credit institutions may have to refund their individual customers using support loans from the State Bank of Viet Nam (SBV) and other financial firms.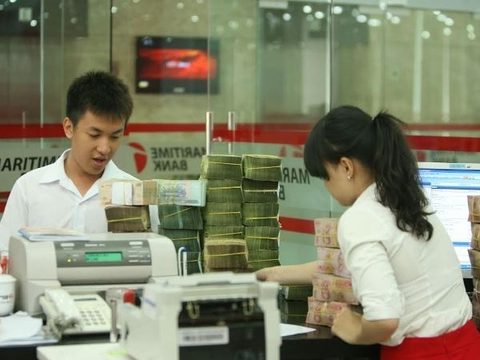 A customer deposits money into a bank account. 
The idea was proposed by SBV in the draft law on the restructuring of credit institutions and bad debt settlement to protect the benefits and rights of customers at credit institutions that are going bankrupt due to its inability of improvimg their performance or recovering from bad conditions.
Part of the refund will be provided by SBV and other financial institutions, such as the State-owned financial institution Deposit Insurance of Viet Nam (DIV).
The current maximum level of deposit insurance that DIV can provide for a bankrupt creditor is VND50 million (US$2,200) for each individual customer. The Government and other authorities are discussing the possibility of raising the maximum level of insurance for each account to VND75 million.
With the current level of deposit insurance, individual customers that have deposited less than VND50 million in bankrupt banks and financial creditors do not have to worry about their assets.
For deposit accounts worth more than VND50 million, bankrupt creditors must take loans at preferential rates from SBV and other financial institutions to refund their customers.
The lending rate will be determined by the Government on the request of the central bank. Individual customers that may not be refunded are managers, directors, major shareholders, founding shareholders and investors of the credit institutions and those that are related to these subjects.
Bankruptcy of banks and creditors has attracted a lot of attention from analysts in Viet Nam's financial market.
Bankruptcy should be the last solution when dealing with weak-performing financial institutions and it would be a long and complicated process but in line with international practices, according to the economist Nguyen Tri Hieu.
Lawyer Truong Thanh Duc said Viet Nam is a market economy, therefore, weak-performing banks and financial firms should go bankrupt to make the country's banking sector secure and effective.
During the past four years of the banking system's restructuring, SBV acquired three weak-performing banks -- Vietnam Construction Bank, Ocean Bank and GP Bank -- compulsorily at zero dong. 
VNS