Real estate analytics show a marked rise in foreign-ownership of high-end properties in Vietnam.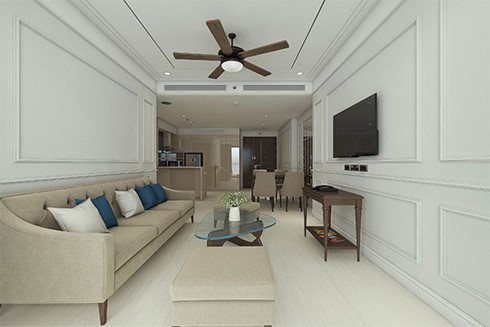 Despite the flourishing supply featuring remarkable variety, foreign investors come to Vietnam with a particularly discerning eye for real estate projects. 
Apart from amenities, service quality, profitability, and legal conditions of ownership, foreign clients have a special concern for the reputation of developers.
With a solid track-record of cooperating with Marriott to develop a chain of high-end real estate projects at favoured tourism destinations, such as Sapa, Danang, and Quy Nhon, Alphanam is highly regarded for its sustainable financial capacity and credibility.
The hotel apartment complex The Four Points by Sheraton Hotel and Luxury Apartment of Alphanam is one of the most anticipated real estate projects in Danang. Testaments to the project's excellence, a solid 30% of apartment owners in Luxury Apartment are foreigners.
"I am currently working in Danang. When I moved here, I was looking for an apartment that meets all of my requirements. With its five-star services and superior design, Luxury Apartment is a choice I have not regretted a single time," Nicholas David Hatton, a buyer of Luxury Apartment, said. "Danang's white sandy beach sprawls just beneath my balcony, greeting me with fresh air, making every morning a treat."
Luxury Apartment was designed with the most particularly demanding upper-class clients in mind who are on the market for a second and a resort-style kick-back to retreat every year. 
The project satisfies these clients various and all-encompassing needs with seemingly effortless ease, a hallmark of meticulous design and experience of an accomplished developer.
"We pay special attention to perfecting the project to offer the best quality on the market. Both the construction materials and the equipment and furnishing come from the very best brands: we sourced our elevators from Fuji Alpha, signed with Toto for bathroom equipment, Malloca for the kitchen, and Electrolux for laundry facilities. 
In addition, the suites offer Vincard's smart key system for added security and Daikin's air conditioners for the perfect, even temperature. We provide the very best in all aspects, nothing less for our valued customers," said Alphanam's representative.
Compared to other real estate types, beach resort properties offer the highest rate of return. At Luxury Apartment, Alphanam commits a 45% return on customers' investment within five years. From the sixth year, investors receive 85% of the rental profit. 
At the moment, Alphanam is offering an attractive discount policy of up to 7.5% on the total value of a unit, a rare opportunity in Danang's real estate market. With its limited number of units and unrivalled services, the price of these properties is bound to rise in the long-term at a rate higher than other forms of resort real estate.
According to Shugo Arai from Japan, proud owner of a Luxury Apartment unit, the project leaves nothing left to want. 
In his words, "With its prime location on My Khe Beach, convenient transportation and easy connection to the international airport and Danang's popular tourist spots, Luxury Apartment one of the best choices for tourists coming to Danang. Moreover, the fact that Luxury Apartment shares the building with Four Points by Sheraton leaves little doubt over the quality of services. This is one of the most excellent investment opportunities in Danang."
The Four Points by Sheraton Hotel and Luxury Apartment is one of the key projects serving the APEC 2017 Conference in Danang in November this year.
Property at Luxury Apartment is marketed by Singaporean real estate agency Century 21, a prestigious agency with 7,000 franchise brokerage offices in 76 countries around the world, bringing the project close to potential customers—wherever they may be.
A further point of pride, Luxury Apartment is one of the few Vietnamese property projects invited to the International Real Estate Exhibition hosted by Property Guru in Singapore on April 22 and 23, 2017.
VIR