Vietnam's exports of wood and wooden products in the first quarter of this year hit 1.78 billion USD, a year-on-year increase of 17.1 percent, the General Department of Vietnam Customs reported.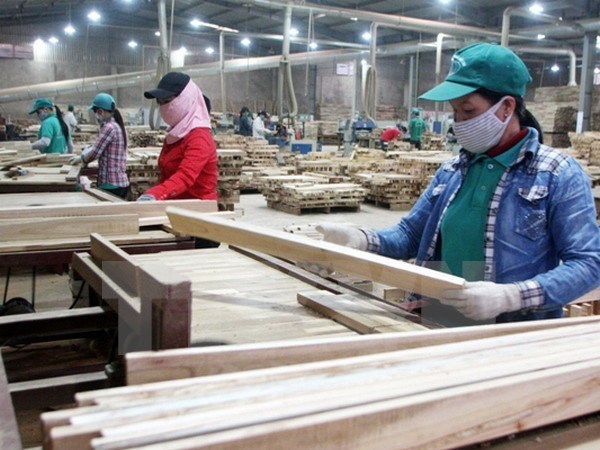 This was especially evident in exports to the US and Japan, Vietnam's largest wood importers. 
In the first three months of 2017, Vietnam's wood export to the US reached 596 million USD, 17.6 percent higher than the same period last year. 
The export to Japan grew 6.6 percent, earning 256 million USD.
These impressive results made wood and wooden products exports the biggest earners of Vietnam's farm export sector in Q1. It's considered a positive signal for the expected target of 10 billion USD in timber export value by 2020.
In 2017, the sector set a target of 7.5 billion USD in wood export, however, given the first quarter results, this number could rise as high as 8 billion USD this year, said Huynh Van Hanh, deputy chairman of the Handicraft and Wood Industry Association of HCM City (HAWA).
According to preliminary figures compiled by the Centre for Industrial Studies (CSIL), global furniture consumption is worth more than 460 billion USD a year. 
Vietnam accounts for just 1.65 percent of this figure, which means there is considerable room for Vietnamese firms to increase their market share.
China is the world's largest supplier of wooden products, accounting for 37 percent of the world's total consumption. 
However, the Chinese government cut its overall timber harvesting quotas by 9 percent, equal to 40 million cubic metres of timber, opening up more opportunities for Vietnamese firms to boost their exports, Hanh said.
In addition, a series of free trade agreements that the country has signed will offer greater export opportunities for domestic firms, he added.
The Republic of Korea (RoK) is also one of the countries which have signed a free trade agreement with Vietnam, leading to a 16.6 percent increase in revenue of wood and wooden exports to this country to 143.84 million USD.
According to the Vietnam Trade Promotion Office in RoK, trade relations between the two countries will grow rapidly due to the close connections in aspects such as politics, diplomacy and investment.
The office also says that if the use of raw materials of unidentified origin in export products is eliminated, the wood industry in Vietnam will have more opportunities to expand and develop its market in RoK.
The demand of global markets for high-value wood products is also an important factor for raising the value of wood exports. 
Demand for furniture items, for example, is estimated to increase sharply this year. 
Therefore, many Vietnamese wood enterprises have been boosting investment in modern automatic technology, while expanding production scale to fulfill orders.
In order to promote wood export in 2017, it is necessary to prioritise the development of artificial boards and many Vietnam's firms are qualified to produce this product. 
Another solution is focusing on potential markets, such as India and the Middle East, as suggested by the Vietnam Timber and Forest Products Association.
VNA