A number of foreign retailers have expanding their businesses in Viet Nam in recent years, seeing large growth potential as well as opportunities in the modern retail industry.
Viet Nam has a population of more than 90 million with rising incomes and amid the Southeast Asian country's rapid and deep integration into the global economy together with the growing competition in the retail industry, placing customers at the heart of business to understand their needs and building trust will be vital for retailers, CEO of health and beauty retail chain Guardian Pawin Sriusvagoo shared with Viet Nam News.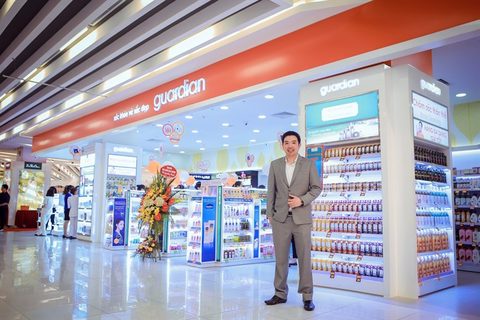 CEO of Guardian Vietnam Pawin Sriusvagool at a Guardian store. 
After six years investing and growing in Viet Nam, how do you see opportunities and challenges in the health and beauty retail business as well as the modern retail industry here?

Viet Nam's retail market is highly competitive with the presence of not only local but also foreign players as well as cosmetics stores and independent drugstores. I see local players holding a significant market share. The dominance of traditional market channels and difficulties in retail property market, such as high rent, are major challenges.
However, we are optimistic about the overall economic development of Viet Nam with a young population, growing middle class with rising concerns about beauty and health. Thus, we believe there are growth opportunities in the long term in Viet Nam for any retailer.
Vietnamese's average spending in health and beauty products is still relatively low compared to other countries. And this will take time to improve but there is a large opportunity because health is now considered as one of Vietnamese's top concerns.
There is fierce competition in the retail market of Viet Nam. How does Guardian Vietnam distinguish itself from other players in the market?
Most players in the market compete on prices, qualities and product varieties. We are here to offer a unique shopping experience for Vietnamese customers with a modern, convenient store and professional customer services. We provide a wide range of genuine and high quality health and beauty products from both local and international leading brands at competitive prices, eye-catching, worthwhile and attractive promotions.
Another important strength is the diversity of Corporate Brands such as Guardian, Botaneco, Liphop, and Mediterranean in skin care, personal care and cosmetics. Our corporate brands are designed in a way that we can achieve a unique personality, clear target audience and a well-defined position to create differentiation. Besides having functional benefits, our own brands also emotionally connect with our consumers to help us earn consumer loyalty.
Most importantly, at Guardian, we put customers at the heart of our business and we always look out for their needs and preferences to provide them with the best convenience and shopping experiences. We want to build trust with our customers and want a life-time relationship with them.
Customer trust is vital for success of any retailer, so, we are working hard to make sure that our customers are confident while shopping in our stores. We have an extensive product selection process which meets the strict international standards so that every single product on shelves of Guardian store is in perfect quality and has its own certification.
We have developed long-term pan-market partners ranging from cosmetics, skincare, personal care and health care with assured quality across Asia markets.
Still, we do not believe in a one-size-fit-all strategy, so, we will tailor our stores to fit the needs of our customers in each market region.
What is Guardian's business and expansion in Viet Nam?
Our first store in Viet Nam was opened in September 2011 and today, we have 49 stores nation-wide, 39 in HCM City, two in Bien Hoa, two in Vung Tau and six in Ha Noi. Although I cannot give you a specific figure of how many stores we will open in upcoming years, we see growth opportunities in the modern retail business in Viet Nam and we would like to continue to invest in the country to bring the best products and services to our customers.
Ha Noi is definitely one of our most strategic locations. Recently, we opened the sixth Guardian store at Royal City and will continue to expand our presence further in the capital city, a complex market with sophisticated customers. Before going in to any other city, we want to make sure we satisfy everyone in Ha Noi first.
We are here to improve the awareness of customers about health and beauty care which is also of great importance. We will also bring new health and beauty care trend and knowledge to Vietnamese, especially the youth, with an aim to becoming a trend-setter in the health and beauty industry in Viet Nam.
Are there a lot of opportunities for local producers to become suppliers for Guardian?
Of course, we are here to support local businesses and suppliers, not to take their profits from them. Most of our staff is local and we are now training them to the next level. This is our investment to Viet Nam's economy.
Opportunities are here for local producers to become suppliers for Guardian. There are a number of locally-produced products on shelves at Guardian stores now. At Guardian, however, we have a strict-international-standard product selection process to ensure quality for every product. Thus, local producers must attach special attention to product quality. 
VNS