Vietnam, Iran explore economic partnership potential
A Vietnam – Iran business forum was held in Hanoi on April 20 with a view to fostering the two countries' friendship and economic-trade partnership.
The event attracted a number of Vietnamese and Iranian companies engaging in garment, footwear, construction materials, aquatic and agricultural products, and household appliance production.
Chairman of the Vietnam Chamber of Commerce and Industry (VCCI) Vu Tien Loc said the two countries have signed many agreements relating to agriculture, aquatic products, culture, education, banking, customs and aviation.
In 2016, bilateral trade reached 116.9 million USD, including 86.8 million USD worth of Vietnamese exports.
While Iran is a big market in the Middle East and has advantages of energy, petrochemistry and mining, Vietnam is a gateway to the ASEAN region and boasts considerable agricultural and fishery potential, he noted.
Tourism is also a promising field for cooperation as Vietnam is home to many beautiful landscapes attractive to Iranian visitors, Loc added.
Gholamhossein Shafei, President of the Iran Chamber of Commerce, Industries, Mines and Agriculture, said with the largest oil reserves in the world, Iran can supply Vietnam with petrochemical products, asphalt, polymer, base oil and minerals. In fact, it has exported a large volume of asphalt and polymer to Vietnam every year.
He said Vietnam can act as a bridge for Iran's goods to enter other ASEAN countries. Meanwhile, Iran, located in a 400 million-strong region, is also a gateway for Vietnamese products to access the Middle Eastern, Central Asian and European markets.
Tran Van Tri, Chairman of the board of directors of the An Viet Investment and International Cooperation JSC, highlighted the potential partnership in cruise ship building and fishing. 
He elaborated that as Iran owns rich fisheries resources in the Caspian Sea and Persian Gulf, its fisheries sector is attractive enough for Vietnamese firms to seek investment and cooperation opportunities.
Batches of catfish exports to the U.S. to be inspected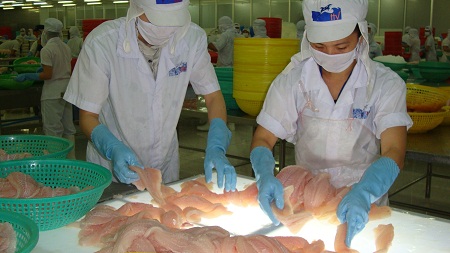 The Ministry of Agriculture and Rural Development (MARD) has recently issued Decision No. 1456/QD-BNN-QLCL on the food safety inspection and accreditation for Siluriformes fish (catfish) supposed to be exported to the United States.
The inspection, from April 17 to August 31, 2017, sees samples to be taken from all batches of fish products manufactured by factories eligible to ship their products to the U.S. markets to test for Salmonella, Malachite Green/Leuco Malachite Green, Enrofloxacine/Ciprofloxacine, Crystal Violet/Leuco Crystal Violet and Nitrofurazone (SEM).
Only when the samples pass the tests, can respective batches be licensed with food safety certificates and allowed for exports.
The MARD also requested the suspension of food safety inspection and accreditation for Siluriformes fish batches manufactured by the institutions, which have batches of products warned of food unsafety by the US's authorized agencies.
The suspension will be applied until these manufacturers complete the investigation into relevant causes, take appropriate measures to overcome and satisfy evaluation requirements from the National Agro-Forestry-Fisheries Quality Assurance Department (NAFIQAD).
Int'l handicraft expo attracts crowd of exhibitors
A large number of domestic and foreign exhibitors are showcasing their products at Lifestyle Vietnam 2017, one of the largest home décor and gifts fairs in Southeast Asia, from April 18-21 in Ho Chi Minh City. 
Visitors can view local and foreign products at nearly 800 pavilions at the four-day event, which is hosted by the Vietnam Handicraft Exporters Association.
Exhibits include fine art, handicrafts, wooden furniture, home decoration, souvenirs and cosmetics, among others. 
In the framework of the fair, the organising board arranged a zone to introduce Vietnamese businesses' designs and the latest designs by French and Swedish designers. 
Lifestyle Vietnam 2017 presents opportunities for producers and distributors to establish partnerships, and for costumers to look for new designs.
Ha Nam gets US$29 million FDI in quarter I
The northern province of Ha Nam attracted nearly US$29 million from four foreign direct investment (FDI) projects in the first three months of the year, according to Tran Xuan Duong, head of the provincial industrial parks management board.
To date, the locality is home to 160 FDI projects with a total registered capital of over US$2 billion and 102 domestic projects valued at over VND14.3 trillion (US$629 million).
Industrial production at industrial parks was estimated at VND10.7 trillion (US$470.6 million) while export value was US$290 million in quarter I, a year-on-year increase of 25% and 20.8%, respectively.
In a bid to lure investment to the province in the coming time, the local industrial parks management board has called for foreign investment by providing information and holding working sessions with investment promotion organisations like the Foreign Investment Agency of the Ministry of Industry and Trade, the Japan External Trade Organisation (JETRO) and the Korea Trade-Investment Promotion Agency (KOTRA).
The board has also paid due attention to administrative reforms, land clearance and the completion of technical infrastructure.
It will help infrastructure development businesses deal with challenges in the compensation of land clearance and infrastructure building.
In addition to ensuring sufficient electricity and water for business operation of the investors, the board will also provide support in worker recruitment.
Work starts on Vietnam's largest textile industrial park
Construction on Rang Dong textile industrial park – the largest of its kind in Vietnam – began in Nghia Hung district in the northern province of Nam Dinh on April 18.
Vice Chairman of the provincial People's Committee Ngo Gia Tu said that the industrial park plays an important role in the province's sea-based economic development strategy, contributing to transferring local economic structure.
Nam Dinh is home to more than 480 textile businesses with over 70,000 workers. The sector's revenue accounts for 40 percent of the province's total industrial production value.
Therefore, once operational, the industrial park will serve as a driving force for the locality's socio-economic development, he stated, asking investors to mobilise resources to build infrastructure facilities synchronously to ensure the progress of the project.
According to Tran Minh Hoan, head of the province's industrial park management board, the project covers a total area of over 2,000ha and is divided into three phases.
The Rang Dong industrial park aims to attract investors to the garment and textile field towards the goal of 1 billion metres of fabric in 2020 and 1.5 billion metres by 2025.
To meet environmental regulations, a wastewater treatment station with a capacity of 110,000 cu.m per day will be built.
In 2016, Vietnam imported 5.5 billion metres of fabric. It set a target of increasing the domestic fabric output from 2.85 billion metres in 2016 to nearly 18 billion metres in 2025. To fulfill the goal, the Government has allowed the establishment of several major textile industrial parks in certain localities with Nam Dinh planned to become a garment and textile centre of the north.
Conference looks at ways to build national branding
A conference discussing the importance of national brand building in order to achieve an effective green economy for Vietnam took place in Hanoi on April 19.
The conference, held by the National Branding Programme Secretariat, aimed to promote Vietnam's green development and raise corporate awareness of the matter. It provided a chance for managers, investors and businesses to share their experience and broaden cooperation in the sustainable development field.
It also created a friendly environment for dialogues about practical and urgent issues in green branding for Vietnamese firms, with exchanges between policy makers and businesses on supporting policies and solutions for sustainability.
Do Kim Lang, deputy head of the Vietnam Trade Promotion Agency (Vietrade) said that building a strong and reliable national image towards making green development is a significant goal of the country.
Up to 80 percent of consumers now agree to pay a higher price for products made by firms displaying social corporate responsibility and a tendency towards sustainable development. Their chief concern is for health and healthy goods, so businesses should develop sustainable goods and services, said Dang Thuy Ha, Nielsen's Vietnam representative.
Nielsen Vietnam reported that products with branded commitments to good quality and eco friendly development are much more likely to succeed than those without – with the former having four percent growth prospects as opposed to one percent.
For fast consumption goods like food and beverages, the growth rates for eco friendly products range from two to 11 percent, creating a significant drive for businesses.
Businesses are also advised to build up consumer loyalty through long-term health-related strategies and a realistic distribution system, as well as proper post-purchase customer care.
Annual Vietnamese high-quality products fair in HCM City     
The Vietnamese High-Quality Products Fair which will open in HCM City at the end of this month will have the theme "Shopping and Festive Week."
The fair at the Phu Tho Stadium in District 11 from April 27 to May 2 will have around 500 booths, including 200 set up by Vietnamese companies designated as producers of high-quality goods.
For the first time the annual fair will have a "Green-Nice Market" where 100 farms, co-operatives and start-up firms will showcase farm produce grown to safe or organic standards, Vu Kim Hanh, chairwoman of the Business Association of High-Quality Vietnamese Goods, the event's organiser, said.
International quality standards adopted by high-quality Vietnamese goods and enterprises would be displayed at a dedicated area, she said.
The fair will also feature other activities like a promotion to sell over 3,000 items at VND20,000 from 9:30am to 10:30am daily, game shows, street art performances with young acoustic bands, and a food area with cooks coming from the Golden Spoon Club.
Visitors will get surprise gifts from a truck driving around the exhibition area.
An international exhibition on global food safety trends and measures to increase exports by Vietnamese firms and a forum on companies making high-quality goods with start-ups will also be held on the sidelines. 
Cuba has plenty of room for Vietnamese businesses: VCCI
There is still plenty of room on the Cuban market for Vietnamese businesses, especially in tourism, agriculture, telecommunications and consumer goods, according to the Vietnam Chamber of Commerce and Industry (VCCI).
While addressing a conference on April 19 on promoting trade and investment in Cuba, VCCI Vice President Doan Duy Khuong confirmed that the organisation would work closely with the Cuban embassy and Cuba's trade promotion agencies to support the two countries' enterprises.
He anticipated that economic, trade and investment cooperation between Vietnam and Cuba would see strong development in the time ahead.
Cuban Ambassador to Vietnam Herminio Lopez Diaz agreed that the bilateral trade relationship was not commensurate with the two countries' fine political ties and should be upgraded.
He added that dialogue was necessary to foster trade relations and pledged that the Cuban side would facilitate investment and trade cooperation between the two countries.
Total trade between Vietnam and Cuba reached US$207.5 million in 2014, increasing to US$235 million in 2015 and nearly US$250 million last year.
Vietnam's major exports to Cuba are rice, coal, chemicals, garments, computers while the country's main imports from Cuba are drugs and functional foods.
According to the Ministry of Planning and Investment, Cuba has only one investment project in Vietnam with registered capital of US$6.6 billion while Vietnam has invested in several projects in Cuba.
Projects in hi-tech agriculture to get more support
The Ministry of Planning and Investment has drafted a Decree on encouraging businesses investing in agriculture and rural areas, which proposes assistance in investment in agriculture applying high technology, training human resources and developing consumption market.
Businesses investing in agriculture and rural areas receiving assistance should meet such requirements as having the minimum revenue of VND500 million per ha per year for planting and VND1 billion per ha per year for aquaculture and farming scale of more than three ha.
The businesses will be assisted in infrastructure such as transport, electricity, water and environmental treatment, with VND500 million per ha, and not exceeding VND10 billion per project.
They will receive the maximum assistance of VND200 million per ha for building infrastructure, electricity, water and environmental treatment.
Projects in agriculture and rural areas and zones will be financed with 60% of the expenditure, not exceeding VND5 billion per one.
Businesses investing in special agriculture projects will be supported with 70% of the expenditure for vocational training, 50% of advertisement expenditure, 50% of expenditure joining domestic and foreign fairs and 50% of expenditure to get access to market and services from the State's trade promotion agencies.
These businesses will be assisted with VND5 million in establishing and monitoring a national online portal for agricultural transactions.
VietinBank earmarks VND10 trillion loans for supporting industries
VietinBank on April 18 signed an agreement with the HCMC Department of Industry and Trade to launch a lending program totaling VND10 trillion (US$439.7 million) for manufacturing enterprises and those in supporting industries in the city.
The deal is in response to the city government's Decision 15 on support for enterprises to invest in manufacturing and supporting industries.
The signing took place at a conference on introduction of incentive policy for supporting industries held by the HCMC Department of Industry and Trade on April 18.
The credit program is aimed at encouraging firms to upgrade equipment, improve productivity and add more value to their products, and promoting manufacturing and supporting industries.
The Vietnam Joint Stock Commercial Bank for Industry and Trade (VietinBank) will lend to investors whose projects belong to priority manufacturing and supporting industries, with the city government covering interest payments up to 100% or a maximum of VND200 billion per project.
For projects requiring loan interest support of more than VND200 billion or an interest support duration of more than seven years, the city will consider them on a case-by-case basis.
Nguyen Hoang Dung, deputy general director of VietinBank, said the VND10 trillion credit program could be increased if demand is greater than expected.
VietinBank said its branch directors would work with the Department of Industry and Trade to carefully evaluate borrowing projects.
The HCMC Department of Industry and Trade also took the occasion to launch a website at https://csid.gov.vn/ where a database on supporting industries is made available.
HCMC to help Gia Lai with city planning
HCMC will assist the Central Highlands province of Gia Lai in training staff for healthcare and higher education, and doing and managing the planning for urban areas, industrial parks and economic zones.
HCMC made this promise at a review meeting in the city on April 18 on the socio-economic cooperation program between HCMC and Gia Lai.
In terms of economic cooperation, Gia Lai will join hands and exchange experience with HCMC in infrastructure development and implementation of public-private partnership projects. Besides, the two will jointly do and manage the urban planning for Pleiku City, An Khe Town and Ayun Pa Town, and the planning for management of economic zones and industrial parks in Gia Lai in line with their comprehensive agreement for 2017-2020.
On trade, the two sides will step up exchanges of goods, and offer favorable conditions for enterprises to sell their products such as coffee, tea, cassava, pepper and rubber.
HCMC will also back firms to develop supermarkets and commercial centers in Gia Lai. HCMC companies will team up with Gia Lai partners to invest in tourist attractions such as Bien Ho Forest, Gia Lai ethnic culture park, spiritual tourism, cultural tourism and eco-tourism.
HCMC will help Gia Lai attend investment promotion conferences and create opportunities for the province to gain access to potential tourism investors.
In addition, HCMC will provide Gia Lai with expertise to draw up socio-economic development plans and those for sector-specific development in the coming years to reduce poverty and achieve higher income per capita.
A review report on the cooperation program since 2006 says 20 enterprises from HCMC have carried out 21 projects with total registered capital of VND1.74 trillion in agriculture-forestry, mining and hydropower in Gia Lai.
Meanwhile, three Gia Lai-based enterprises have implemented 18 projects in the city with total pledged capital of more than VND16 trillion, especially office and apartment buildings.
Deputy PM wants lower prices
Deputy Prime Minister Vuong Dinh Hue has called on central and local agencies to improve price management and find ways to keep prices of goods and services at low levels.
Hue, speaking at a meeting of the Steering Committee on Price Management on April 17, said, "Ministries, agencies and local authorities need to coordinate closely to mitigate the risk of prices soaring and manage prices of goods and services to ensure inflation this year is below 4%."
The average consumer price index (CPI) of the first three months went up 4.96% over the same period last year. However, monthly inflation edged lower in the period, from 0.46% in January to 0.23% in February and 0.21% in March, said the Ministry of Finance.
In March, the Ministry of Health adjusted up prices of medical services for medically insured patients in 13 provinces, contributing 0.38% to the CPI rise last month. Fourteen more provinces will revise up healthcare service fees this year in line with the approved roadmap, said Deputy Minister of Health Nguyen Le Tuan.
As for education, Deputy Minister of Education and Training Pham Manh Hung said local people's councils had approved a 5% increase in tuition fees for the school year 2017-2018.
Regarding BOT road toll stations, the Ministry of Transport said it is managing 80 projects, of which 23 are under construction and 57 are in operation. The ministry and investors have partly or wholly finalized the costs of 41 BOT projects. The ministry will send the Government fee reduction plans for these 41 projects. By the end of 2016, 31 BOT stations had brought down fees.
The ministry said it did not sign off on a floor air ticket price as proposed by Vietnam Airlines and its affiliate Jetstar Pacific.
Regarding inflation control, Deputy Governor of the State Bank of Vietnam (SBV) Dao Minh Tu said his agency was working toward stabilizing deposit and lending rates. Credit in the first quarter picked up 4.4%. The central bank said real estate loans were being tightened.
For telecom charges, Deputy Minister of Information and Communications Pham Hong Hai said 4G service would be of higher quality but its rates would be 40-50% lower. However, he noted this would depend on the number of users.
On fuel prices, Deputy Minister of Industry and Trade Ho Thi Kim Thoa said fuel prices were being regulated by the Ministry of Industry and Trade and the Ministry of Finance. Besides, the fuel price stabilization fund still has over VND2 trillion left.
Regarding power prices, the Ministry of Industry and Trade is calculating input costs for power generation to update pricing plans.
Concluding the meeting, Deputy Prime Minister Vuong Dinh Hue, head of the Steering Committee for Price Management, stressed inflation must be controlled at below 4% as approved by the National Assembly to ensure macroeconomic stability, support growth and let prices of public services partly be decided by market forces.
Vietnam inspects labor issues at electronics firms
The Ministry of Labor, Invalids and Social Affairs is inspecting labor issues at 500 electronics enterprises across the country from March to November, the Government news website reports.
Chief inspector of the ministry Nguyen Tien Tung said on April 18 that the inspection focuses on the signing and implementation of labor contracts, dialogues, negotiations, collective labor agreements,  work schedule, overtime work, salary, social insurance and occupational safety and health.
Vietnam now has 1,000 electronics businesses with more than 400,000 workers. The number of female workers in this industry is higher than that of male employees while overtime work is not uncommon. For instance, there is one company where all employees have to work overtime at the peak of the production cycle.
Inspectors will work with employers and employees over measures to improve working conditions and relationship.
Responsibilities of the Ministry of Labor, Invalids and Social Affairs, the Vietnam General Confederation of Labor and the Vietnam Chamber of Commerce and Industry (VCCI) should be clearly defined before, during and after the inspections.
The local labor unions should be responsible for supporting and coordinating with employers to ensure the rights of employees, and supervising the implementation of what is concluded by inspectors.
Spanish-Japanese joint venture eyes solar farm building in Thanh Hoa
A Spanish-Japanese joint venture Univergy Solar is keen on building a solar power plant in Kien Tho village, Ngoc Lac district, Thanh Hoa province, said managing director Fernando Davila at a recent working session with provincial leaders.
Mr Davila said Univergy Solar expects to receive support from the Vietnam government and local authorities to facilitate the project implementation process.
Nguyen Dinh Xung, chair of Thanh Hoa provincial People's Committee, pledged to create the best possible conditions for the joint venture and other investors seeking opportunities and carrying out investment projects in the localities.
Univergy Solar is the world leading business in renewal, solar and wind energy, low capacity generator and geothermal energy in Japan and it has developed more than 1,200MW solar and wind power globally.
Ha Nam gets 29 million USD FDI in quarter I
The northern province of Ha Nam attracted nearly 29 million USD from four foreign direct investment (FDI) projects in the first three months of the year, according to Tran Xuan Duong, head of the provincial industrial parks management board.
To date, the locality is home to 160 FDI projects with a total registered capital of over 2 billion USD and 102 domestic projects valued at over 14.3 trillion VND (629 million USD).
Industrial production at industrial parks was estimated at 10.7 trillion VND (470.6 million USD) while export value was 290 million USD in quarter I, a year-on-year increase of 25 percent and 20.8 percent, respectively.
In a bid to lure investment to the province in the coming time, the local industrial parks management board has called for foreign investment by providing information and holding working sessions with investment promotion organisations like the Foreign Investment Agency of the Ministry of Industry and Trade, the Japan External Trade Organisation (JETRO) and the Korea Trade-Investment Promotion Agency (KOTRA).
The board has also paid due attention to administrative reforms, land clearance and the completion of technical infrastructure.
It will help infrastructure development businesses deal with challenges in the compensation of land clearance and infrastructure building.
In addition to ensuring sufficient electricity and water for business operation of the investors, the board will also provide support in worker recruitment.
SCIC targets 7.34 trillion VND in post-tax profit in 2017
The State Capital Investment Corporation (SCIC) has announced that in the first quarter of 2017, it recorded 639 billion VND (28.1 million USD) in revenue, 584 billion VND (25.7 million USD) in pre-tax profit and 503 billion VND (22.1 million USD) in post-tax profit.
The results were rather modest compared to the targets set for the whole year, which are 11.24 trillion VND (494.3 million USD) in revenue, 8.33 trillion VND (366.4 million USD) in pre-tax profit, and 7.34 trillion VND (322.8 million USD) in post-tax profit.
SCIC Deputy Director General Nguyen Hong Hien told a press conference on April 19 that the poor performance is attributable to the fact that State capital is often sold in the third and fourth quarters. SCIC can only specify the exact value of State capital at companies through financial reports which are submitted after their shareholders' meetings in the first and second quarters.
Meanwhile, a large number of small-sized enterprises also made the divestment of State capital unattractive to investors, leading to low revenue in the first quarter, he added.
Meanwhile, chairman of the SCIC members' council Nguyen Duc Chi affirmed that all activities of SCIC aim to maintain the value of State capital at businesses and make that capital profitable.
Regarding SCIC's investment projects in 2017, Chi said the corporation decided to invest in a cancer medicine factory project in Vietnam. With this project, SCIC hopes that a Vietnamese business will be set up to produce cancer medicine for local people.
SCIC and the Vietnam National Cancer Hospital (K Hospital) signed a memorandum of understanding on investment cooperation in the form of public-private partnership (PPP).
In addition, the company will continue with its financial tower project whose construction is set to begin in 2017.
Vietnam, Malaysia enjoy surging trade
Vietnam and Malaysia recorded two-way trade of nearly 2.27 billion USD in the first quarter of 2017, a year-on-year increase of 39.7 percent, according to the Vietnamese Trade Office in Malaysia.
Vietnam exported 978.7 million USD worth of goods to Malaysia, up 49.6 percent, and imported 1.29 billion USD from the market, up 33 percent against the same period last year.
In January-March, Vietnam exported numerous high value commodities to Malaysia such as computers, electronic products and spare parts (367.2 million USD), and mobile phones and components (112.6 million USD).
Other staples include iron and steel (58.63 million USD), machines and equipment (43.07 million USD), glass and glass products (41.36 million USD), vehicles and spare parts (35.74 million USD), crude oil (20.03 million USD), rubber (19.94 million USD), and seafood (19.2 million USD).
The total investment of Malaysian businesses in Vietnam is estimated at more than 12 billion USD, focusing on oil and gas, real estate, trade and tourism.
At a recent reception for Malaysia's Minister of Trade and Industry Datuk Seri Mustapa Mohamed on the occasion of his visit to Vietnam, President Tran Dai Quang said Vietnam attaches great importance to developing relations with Malaysia, particularly in economics, trade and investment.
The President lauded the efficiency of Malaysian projects that benefit the two countries' businesses and contribute to Vietnam's socio-economic development.
Malaysia is the second biggest investor in Vietnam in ASEAN, with two-way trade hitting 8 billion USD in 2015.
The President urged the two nations to restart meetings between the joint committee on bilateral cooperation soon to plan for the implementation of the Vietnam – Malaysia Action Programme in 2017-2019.
The two countries need to map out measures to realise the bilateral trade target of 15 billion USD by 2020, he added.
Vietnam EXPO 2017 opens in Hanoi
The 27th International Trade Fair – Vietnam EXPO 2017 themed "Enhancing Regional and Global economic links" started in Hanoi on April 19.
Speaking at the opening ceremony, Deputy Minister of Industry and Trade Tran Quoc Khanh said that the event is significant to supporting businesses to achieve exports goals as well as increase domestic market shares and trade in border and island regions. 
According to the organising board, the Vietnam EXPO 2017 drew more than 500 firms from 16 localities of Vietnam and 23 foreign countries and territories like Algeria, India, Cuba, Cambodia, Germany, the Republic of Korea (RoK), Russia, Nepal, Japan, Mongolia, Laos, Thailand and Turkey, covering 600 booths.
The RoK is the honourary country this year, with 136 booths of 130 businesses. The country is the third major trade partner and leading investor of Vietnam with a total capital of 50 billion USD, as the Vietnam – RoK Free Trade Agreement took effect in 2015.
Main products of the RoK on display include electronics, cosmetics, toys, processed food and household appliances, which are listed in the tax reduction plan of the deal.
Nguyen Hai Ho, Vice Director General of the Hanoi Alcohol, Beer and Beverage (Habeco), said his company sought various partners through Vietnam EXPO, such as eight Belarusian customers during the 2016 event. It expects to get more deals in this year's event.
Besides, several trade promotion activities will be organised such as a forum on Vietnam's export promotion and a meeting between businesses from Vietnam and China's Guangxi province, which will take place on April 20 to seek trade opportunities.
Vietbuild International Exhibition kicks off in Da Nang
The Vietbuild Da Nang International Exhibition and Vietnam Architecture Festival 2017 kicked off in the central city of Da Nang on April 19 with the participation of nearly 300 domestic and foreign enterprises.
In addition to 180 domestic and 68 joint-venture businesses, this year's expo was also attended by 41 enterprises and groups from Indonesia, Japan, Malaysia, the Republic of Korea, Singapore, China, Taiwan (China) and Thailand.
On display at 600 booths is a wide range of products covering construction materials, property, smart electrical appliances, door and window systems, interior and exterior decorations, solar power machines and water pipeline system.
Speaking at the opening ceremony, Chairman of the Vietnam Real Estate Association Nguyen Tran Nam stressed that the event creates a golden opportunity for enterprises, localities, countries and territories to promote trade, expand markets and sign cooperation deals.
It also helps enterprises map out development strategies and enlarge connections in various cooperation fields to improve the quality and designs of products, making contributions to market stabilisation and sustainable development.
Seminars and business forums are scheduled to be held within the framework of the five-day event.  
The 2016 National Architecture Awards ceremony will be held at the Novotel Da Nang Premier, rewarding 30 most outstanding designs and architects out of 120 entries that have been classified into different categories: housing, public buildings and architectural publications.
Visitors to the event will have the chance to enjoy music performances delivered by singers and artists from Ho Chi Minh City.
Orient commercial bank ups before-tax profit this year
The Orient Commercial Bank (OCB) has targeted increasing before-tax profit by over 60 percent to nearly 780 billion VND (33.91 million USD) this year, as heard an annual shareholders' meeting held in Ho Chi Minh City on April 19. 
An OCB executive said the target is based on a credit growth of 14 percent, deposit growth of 34 percent and rate of bad debts below 2 percent, in line with its 2016-2020 plan of restructuring credit organisations as directed by the State Bank of Vietnam (SBV). 
This year, OCB will raise its charter capital to 5 trillion VND, pay a dividend of 10 percent, including 5 percent in cash and the remaining in stock, as well as put into operation 9 transaction offices and open other 8. 
Last month, the SBV allowed the establishment of an international money transfer company – an affiliate of OCB which will be helmed by OCB Deputy General Director Truong Dinh Long as Chairman and Trinh Hoai Nam as General Director. 
In 2016, OCB posted a before-tax profit of nearly 484 billion VND, 8 percent higher than the set target. 
Chinese automakers eager to co-operate with Vietnamese partners
Chinese automakers are seeking opportunities to co-operate with Vietnamese partners to develop the production of heavy duty truck parts.
The information was released during a meeting between Vietnamese businesspeople and a Chinese delegation of automakers from Shandong Province's Jinan City held by the Việt Nam Chamber of Commerce and Industry (VCCI) in Hà Nội on Tuesday.
Phạm Quang Thịnh, deputy head of the VCCI's International Relations Department, said the workshop was an opportunity for automakers from both sides to introduce their production capacity, learn more about the market and seek partners to develop their businesses.
Liu Chang Yong, Chairman of Jinan Heavy Duty Truck Parts Association, said the association had more than 500 business members who exported parts to round 100 nations in the world earning dozens of billions of US dollars in revenue.
"We expect to further understand and co-operate with Vietnamese firms for mutual benefit," said Yong.
According to a report by the Ministry of Industry and Trade's Heavy Industry Department, the use of auto in the country would boom after 2020, and the demand in the domestic market could reach more than 600,000 units per year as of 2025.
The 2016 report showed that there were more than 400 businesses which designed and assembled about 460,000 cars per year in Việt Nam, marking an average growth rate of 17 per cent.
A statistic from Vietnam Customs revealed that the total trade turnover of Việt Nam and China was about US$70 billion in 2016, of which Việt Nam's export was nearly $20 billion.
Chinese businesses have invested in more than 1,500 projects in Việt Nam with total investment capital of nearly $11 billion, focussing on processing, industrial engineering and mining.
Binh Thuan should raise tourism's stake in local economy: PM
The south central province of Binh Thuan needs to fully tap its tourism potential and increase this industry's proportion in the local GDP to at least 15 percent, Prime Minister Nguyen Xuan Phuc told provincial officials Wednesday.
Home to a nearly-200km-long coast, Binh Thuan boasts warm climate, clean beaches, beautiful landscapes, including Mui Ne – a leading tourist destination of Vietnam, and favourable transport.
Tourism accounts for 8.26 percent of the province's gross regional domestic product (GRDP) at present. 
Binh Thuan welcomed over 4.52 million tourists in 2016, earning 9.04 trillion VND (397.48 million USD). In the first quarter of 2017, the tourist number rose 8.9 percent year on year, generating nearly 2.77 trillion VND (121.7 million USD) in tourism revenue – up 17.4 percent from a year earlier.
At the working session in the province, PM Phuc said Binh Thuan has yet to fully capitalise on its tourism potential. This sector hasn't received appropriate investment while the number of foreign visitors is still low.
Representatives of some ministries and central agencies also underscored the local sea-based economic potential, especially tourism.
They said if transport infrastructure is developed in a modern and synchronous manner, there are many opportunities to turn tourism into a spearhead industry in Binh Thuan in the near future. 
They asked the province to pay attention to human resources training and better mechanisms and policies to attract investment, thereby improving infrastructure and creating more interesting and quality tourism products. By doing so, it could soon become a strong tourism brand name of Vietnam.
In 2016, the province posted a GRDP growth rate of 7.42 percent and per capita GRDP of 40.3 million VND (over 1,770 USD). Among key projects in Binh Thuan, the Phu Lac wind power plant with a total capacity of 24MW has been operational.
PM Phuc applauded the province's achievements while pointing out certain problems, including a shortage of economic driving forces, high household poverty rate, modest application of high technology in agriculture, high rate of agricultural labourers, and low provincial competitiveness.
In the mid-term, Binh Thuan should focus on tourism, processing industry and agriculture, especially hi-tech agriculture, he stressed.
He asked local officials to improve development plans, particularly those for coastal areas, and diversify investment sources. It needs to facilitate entrepreneurship so as to have more than 7,000 businesses by 2020.
The Government leader also requested renewable and non-renewable energy to be harmonised during economic development. He encouraged the province to strive to take the lead in the renewable energy industry in Vietnam.
Additionally, it is necessary to associate sea-based economic activities with sea and island sovereignty protection, he said, adding that fishermen need more support to modernise their fishing vehicles and develop fisheries logistics services, helping to safeguard the marine sovereignty.
During his working trip to Binh Thuan, PM Phuc attended a ceremony to start the construction of a hi-tech agricultural complex in Song Binh commune of Bac Binh district. The 3.9 trillion VND complex, covering 800ha, is set to plant short-term trees, farm dairy and beef cattle, and produce milk products.
Inter-bank rate slides to one-month record low     
The one-month record low inter-bank rate reported last week has confirmed that the liquidity of the dong has cooled down.
A report on the monetary market for the week ending April 14, released by the Saigon Securities (SSI) company, showed that overnight and one-week rates slid 30 and 20 percentage points to 4.25 per cent and 4.40 per cent, respectively, the lowest levels for the past one month.
Last week, the central bank made an injection of more than VND4 trillion (US$175.4 million) in the open-market-operation market, increasing the total amount in the market to more than VND28 trillion.
SSI also reported that interest rates quoted at commercial banks remained stable last week, with the average rate of 6 per cent listed for six-month deposits and 7 per cent for 12-month deposits. 
No 2016 dividend from Masan Resources
Masan Resources (MSR)'s annual general meeting (AGM) on Tuesday approved a resolution to not pay dividends for 2016 and set a revenue target of a minimum of VND5.38 trillion ($236.7 million) and a maximum of VND5.6 trillion ($246.4 million) in 2017, up 33 and 38 per cent against 2016. The company also targets after-tax profit from VND150 billion ($6.6 million) to VND290 billion ($12.7 million).
In the long-term, MSR aims to become not only a leading mining company but also a leading company in the production of tungsten and other deep-processing products.
Revenue last year reached VND4 trillion ($176 million), up 52 per cent compared to 2015, with after-tax profit of VND1.15 trillion ($50.6 million), up 37 per cent.
Approximately half of MSR's revenue comes from tungsten, according to the company. It will have a process to produce gold-based products this year.
In regard to the results of an inspection at the large Nui Phao mine conducted by the Ministry of Natural Resources and Environment (MoNRE) in July last year, a leader from MSR said that the company is still waiting for the final conclusion from the ministry.
Mr. Lai Hong Thanh, Deputy General Director of the Department of Geology and Minerals at MoNRE, meanwhile, confirmed with VET that the results of the inspection are still to be released. "It is expected that the results will be announced within the next few months," he said. 
At the AGM, MSR leaders reaffirmed that it complied with all regulations on environmental protection in construction, exploitation and operations at the project, and with Vietnamese regulations on environmental protection and the application of international standards.
The environmental pollution scandal at Nui Phao mine was made public last July. After receiving complaints from local people about the project's environmental impact, MoNRE worked with the Thai Nguyen Provincial People's Committee to prepare a comprehensive inspection plan that covers environmental protection and mineral, water and land resources.
The Nui Phao project was licensed in 2005 and has significant deposits of tungsten, fluorspar, bismuth and copper, making it the world's largest tungsten mine outside of China. It covers an area of 9.21 sq km in Dai Tu district, Thai Nguyen province.
In 2010, Masan Resources acquired the project from Dragon Capital, a Vietnam-focused financial institution, and other stakeholders. The mine began commercial operations in the first quarter of 2014.
Prior to Dragon Capital, the project was owned by Canada's Tiberon Minerals Ltd, with a 70 per cent holding. Due to the economic crisis at the time, Tiberon sold the project to Dragon Capital in 2007. Dragon also lacked the capital for the project and was forced to suspend it in 2008.
In July last year, Masan stepped in and invested $550 million in the project. The company planned revenue of $288 million this year, rising to $320 million next year. Masan Resources currently holds 63.4 per cent of the project's charter capital.
HCMC backs startup movement
The Saigon Innovation Hub (SIHUB) last week joined hands with the Vietnam-Finland Innovation Partnership Program, Phase 2 (IPP2) to hold a ceremony to wrap up the Training of Trainers program on Entrepreneurship and Innovation (TOT-HCM).
The program chose 28 lecturers from six universities: Hoa Sen, Nguyen Tat Thanh, Natural Sciences, Foreign Trade, Labor and Social Affairs (campus II) and Vietnamese-German.
TOT-HCM comprises an intensive two-week Boot Camp that took place from April 4 to 14 and follow-on workshops in May and July. The course was built on the business creation and startup curriculum developed and piloted by IPP2 in 2016 to engage universities in the development of the local startup ecosystem.
Aside from foreign consultants and experts, SIHUB's startup supporting staff, the key force of the startup ecosystem in HCMC in the coming time, is involved in the program.
The closing ceremony was held on Global Demo Day "Advance Saigon 2017" from April 12 to 14 with 20 startups of Vietnam and South Korea attending.
The Vietnam-Finland Innovation Partnership Program, Phase 2 (IPP2) is an official development assistance (ODA) program financed jointly by the governments of Vietnam and Finland. IPP is in its second phase from 2014 to 2018 with a budget of 11 million euros (US$11.69 million).
The Saigon Innovation Hub (SIHUB) under the HCMC Department of Science and Technology is in charge of startup and innovation activities.
Multiple apartment projects in HCMC violate construction rules
The HCMC Construction Department last year found 27 out of 66 apartment building projects in the city committed construction rule violations.
The projects that seriously infringe construction regulations included Bay Hien Tower in Tan Binh District and Saigon Town and Babylon buildings in Tan Phu District.
Most recently, Vien Ngoc Phuong Nam in District 8 was fined for breaking quality control rules. The investor of the project handed over the apartments to 28 buyers without asking the construction management agency for inspection as required by the prevailing regulations.
The department has inspected 66 finished apartment projects with 62 of them approved and the remaining four still scrutinized.
The department said some violations included failure to use unbaked bricks and abide by construction inspection and design rules, unapproved use of apartment buildings, and construction rule breaches.
The department will intensify inspections and impose strict sanctions against violations.
Indonesia's Lippo eyes healthcare in HCMC
Indonesia's Lippo Group has said it is interested in cooperating with HCMC to build hospitals and improve the treatment of cancer, heart and nerve diseases.
Speaking at a meeting with HCMC vice chairwoman Nguyen Thi Thu on Tuesday, CEO of Lippo Group James T. Rudia said Lippo would choose public private partnership (PPP) format for their investment projects in the city.
Riady said the healthcare sector of Vietnam would grow stronger in the next few years as its investment could increase to 8-10% of the country's gross domestic product (GDP) from the current 2%.
Lippo Group has 28 hospitals and clinics in Myanmar, China, Singapore, Japan and Indonesia and plans to invest in an extra 15 in foreign countries this year, he said.
Vice chairwoman Thu said the city is building a number of specialized hospitals, especially an oncology hospital in District 9 which is scheduled to be operational in 2018. The city is completing procedures for an orthopedic hospital project.
The city is pushing for private sector investment in modern medical facilities, technology transfer and training of health workers. Family practice is also getting more attention of the city government.
Most big public hospitals in the city are overwhelmed with large numbers of patients.
Pjico plans 17.7mn share private placement
The Petrolimex Insurance Joint Stock Company (Pjico, HSX stock code PGI) is planning a private placement of 17.7 million shares to the Samsung Fire & Marine Insurance Limited Company (SFMI) from South Korea.
Pjico expects to hold its annual general meeting (AGM) on April 26, with a range of important issues to be submitted.
The Board of Management has submitted a profit sharing plan, including 5 per cent of total profit, or nearly VND5.3 billion ($230,000) in compulsory reserves and 3 per cent of total profit, or VND3.2 billion ($140,000) in a development investment fund. The 2016 dividend payment is 11 per cent, or more than VND78 billion ($3.43 million).
Pjico targets total revenue of VND3.08 trillion ($135.4 million) in 2017, of which VND2.5 trillion ($109.9 million) will be new insurance premiums (excluding VND95 billion ($4.18 million) under the plan for fishing vessel insurance under Decree No.67/ND-CP), and pre-tax profit of VND140 billion ($230,000), with a dividend of no less than 10 per cent.
Its total premium revenue in 2016 stood at VND2.284 trillion ($100.4 million), of which VND1.097 trillion ($48.2 million) came from motor vehicle insurance, accounting for 44 per cent. Health insurance brought in nearly VND284 billion ($12.5 million), with student insurance of VND81 billion ($3.6 million). After-tax profit reached nearly VND106 billion ($4.7 million).
The Board of Management will also submit the plan to issue shares in the form of a private placement to increase charter capital and define how the capital will be used. It plans to issue 17.74 million new shares to SFMI as its strategic investor. The price has been authorized by the Board of Management and will not be lower than the recommended minimum price from the valuation report.
Capital from the offering will supplement business capital, enhance financial capacity, improve competitiveness, and increase the ability to retain premiums.
Work begins on Rạng Đông IZ     
Construction of Rang Dong Industrial Zone (IZ), a large-scale zone dedicated to the textile and garment industry, starts on Tuesday in the northern province of Nam Dinh.
The IZ, the largest of its kind in the country, is one of Nam Dinh's key projects, the provincial People's Committee vice chairman Ngo Gia Tu said at the ground-breaking ceremony.
Currently, the textile and garment industry contributes 40 per cent of the province's total production output, Tu said, expressing hope that once operational, the IZ will accelerate provincial development.
Financed by Rang Dong Investment JSC, the zone costs about VND5 trillion (US$213 million) in the first phase. It will cover 1,500 hectares in Nghia Hung District, Tran Minh Hoan, head of the provincial IZs Authority, said
Once completed, the IZ will be able to produce one billion metres of fabric per year and employ thousands of people, Hoan said.
Nam Dinh has held a series of investment promotion activities in countries such as South Korea, Japan, Taiwan and the US to advertise investment opportunities in the IZ.
Several investors have shown interest in investing in the zone, he said.
The event also saw two Memorandum of Understandings (MoUs) inked between Rang Dong Investment JSC and other investors. The MoUs focus on the development of a 40ha-garment and textile village and a weaving and dyeing factory.
According to experts, developing large-scale IZs dedicated to the textile and garment industry will help Viet Nam improve its competitiveness and enjoy the benefits of preferential tariffs in free trade agreements.
The country's garment and textile exports experienced a year-on-year increase of 11.2 per cent to US$6.84 billion in the first quarter of this year, according to the Viet Nam Textile and Apparel Association. 
Petroleum prices increased by VNĐ350 per litre
The ministries of industry and trade and finance decided to raise retail petrol prices as of 3pm today.
The retail prices of all petroleum products were increased by VNĐ350. Accordingly, RON 92 petrol will trade at a maximum price of VNĐ17,583 (78 US cents) per litre and E5 bio-fuel will trade at VNĐ17,382 per litre.
0.05S diesel will trade at a maximum price of VNĐ13,819 per litre and kerosene at VNĐ2,338 per litre, while mazut will be traded at VNĐ10,966 per kilo.
The two ministries also decided to reduce the use of the petrol price stabilisation fund for RON92 petrol and E5 bio-fuel. Accordingly, subsidies for RON92 petrol and E5 bio-fuel were set at VNĐ300 and zero đồng per litre respectively.
The ministries said retail petrol prices were increased because the average global petrol price in the 15 days prior to today was some $66 per RON92 barrel, an increase of $4 from the last adjustment.
Deputy Minister of Industry and Trade Hồ Thị Kim Thoa, at a conference earlier this week, said petroleum prices have been controlled following market movement. In addition, the balance of the price stabilisation fund was more than VNĐ2 trillion.
Deputy Prime Minister-cum-head of the price management board Vương Đình Huệ asked the two ministries to calculate the effects of the petrol price adjustment on the local market and the use of the price stabilisation fund. The ministries were also required to study the revision of the Government's Decree No 83 on petroleum trading.
Local petroleum prices have been adjusted seven times, so far, this year, including an increase of VNĐ504 on February 18.
In the last adjustment, the petroleum price was reduced by VNĐ81 to VNĐ17,233 per litre, while E5 was decreased by VNĐ67 per litre to VNĐ17,032.
VEF/VNA/VNS/VOV/SGT/SGGP/Dantri/VET/VIR