The cosmetics industry in Vietnam has experienced a burgeoning demand for premium products over the past decade, driven by a fast-growing market of women who increasingly want to buy luxurious products, say market researchers.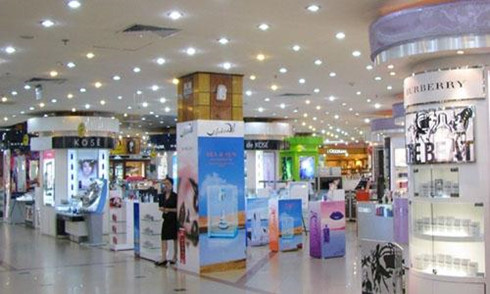 As a result of improved integration into the country's job market,some 30% of Vietnamese women now consider expensive makeup a necessity and use it every day, according to a recent survey by Q&ME research company.  
When asked how frequently they used makeup, the survey of 360 women, aged 20-44, conducted last September via mobile phone, found that 75% of all respondents said they use makeup at least once a week, with older respondents (over 30) tending to use it more frequently.
The survey also found that those respondents who earned more than US$330 (VND7.5 million)per month used makeup more regularly than their lower income peers.
Younger respondents, those from 20 to 29 years old, said they tended to use makeup only for dates or special occasions but didn't use it when they were attending school or working at the office.
In response to the question as to what types of makeup they use, nearly 90% said they use lipstick, with 80% saying they use mascara and facial powder regularly, but only 16% reported they have ever tried false eyelashes.
Across all age groups, most respondents said they spend 6-10 minutes applying makeup with virtually no one spending more than 30 minutes.
On average, respondents earning more than US$330 (VND7.5 million)per month said they spent nearly US$9 (VND200,000) per month with those making less spending lesser amounts as well.
Almost 80% of young respondents (those under 30) spent less than US$13 (VND300,000) per month while 40% of females aged 30 and over dished out more than US$13 per month for cosmetics.
Practically all respondents said they purchased their makeup at the supermarket or department stores near a supermarket but based their purchasing decisions on information obtained on eva.vn or phunutoday.vn.
The country of origin was the primary factor in the purchasing decision by the respondents with price and brand taking up second and third place, respectively.
US cosmetic giants Maybelline and Ponds were hands down the most favoured brands with 35% of all respondents across all age groups choosing them as their top brand choice.
Interestingly, Maybelline is an American brand and a subsidiary of French Loreal— but Maybelline was favoured over its parent as 'best makeup brand', 'more luxurious makeup brand' and 'makeup brand for me' by the respondents.
It should be noted that for the top six provinces 49% of the respondents in the survey were from urban areas and 51% from rural areas. Thirty-one percent of the responders were aged 20-24, the most active group, with 22% of responders aged 40 or over and another 22% aged 25-29.
Nationwide the percentages break down into 78% of respondents coming from urban areas and 22% from rural areas.  Translated this means it appears the survey results should be highly representative of the population of Vietnamese women.
VOV