VietNamNet Bridge - More Vietnamese are buying imported fruit, which have become surprisingly inexpensive.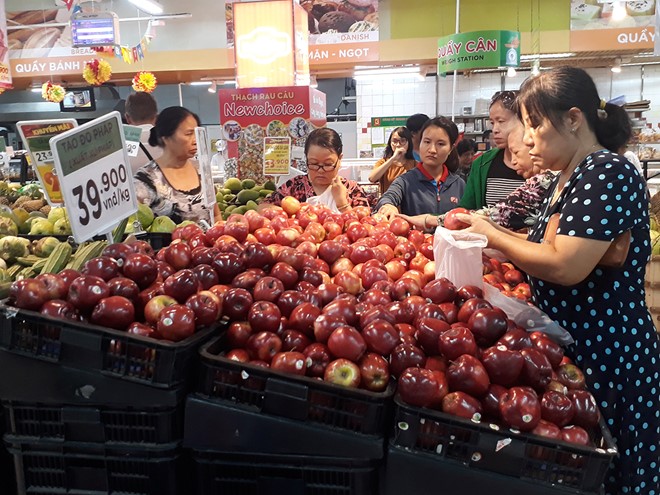 At large supermarket chains such as Big C and Vinmart, apples and pears from the US and France are quoted at a low VND40,000-90,000 per kilo. 
Big C sells one kilo of apple imported from France at VND39,900 per kilo, while US Gala apple at VND59,900, South Korean pear VND70,000 and seedless South African grapes VND135,000. 
At Vinmart, Juliet Organic apple is quoted at VND89,000 per kilo, French Gala apple VND66,000, US Gala VND89,000 and South African grapes VND115,000.
A buyer at Big C told reporters that "imported fruits are just as cheap as domestic products".
In the past, import fruit prices were no less than VND80,000-200,000 per kilogram.
The too low selling prices of import fruits make many housewives anxious.
However, the too low selling prices of import fruits make many housewives anxious. "I wonder if the quality is good enough and if the retailers are honest in declaring the products' origin," they buyer said.
"Vietnamese don't believe that cheap products can have high quality," she explained.
Explaining the sharp falls in import fruit prices, the representative of Big C said instead of importing fruits through intermediaries, Big C now imports fruits directly from suppliers, which helps cut costs. 
The retailer tries to stimulate demand by offering price discounts in sales promotion programs.
Vu Thi Hau, deputy CEO of Nhat Nam JSC, which runs Fivimart chain, confirmed that Fivimart now sells American and French apples at VND50,000-70,000 per kilo, and the price would be stable through the year.
"We can sell imports at low prices because we import products directly from suppliers," Hau said.
The import fruit prices are still high at street privately run shops which advertise that they provide the best-quality fresh products. 
However, Hau said that the shops have to sell fruits at high prices because they import fruits in small quantities and the prices must be high enough to cover the loss from rotten products.
The Ministry of Agriculture and Rural Development confirmed the increasingly high imports of fruits. In 2017-2018, when free trade agreements take effect, more fruits will arrive as the import tariff will be cut to zero percent.
A report of the ministry showed that fruit imports soared in March 2017, worth $12 million. In the first three months of the year, Vietnam spent $171 million, or VND4 trillion, to import fruits from the US, Australia, and New Zealand, an increase of 52 percent over the same period of 2016.
RELATED NEWS
Vietnam to spend $1 billion on imported fruits and vegetables
Vietnam earns more money from fruit than from crude oil
Thanh Lich