Investments into hi-tech agriculture are increasing, however, besides caring about whether they are going to enjoy cheaper capital and preferential policies, investors should make sure there is a market for hi-tech agricultural products.
Huge investments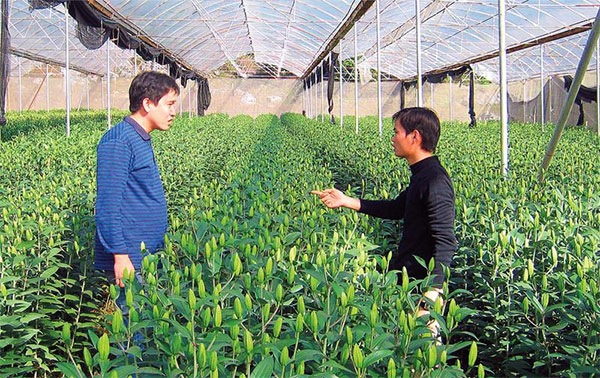 Pham Thi Huan, general director of Ba Huan Co., Ltd, also known as Vietnam's "Queen of eggs," said that on April 15, Ba Huan will launch its hi-tech egg processing plant in the north of Vietnam with the total investment of VND110 billion ($4.8 million). 
The plant is equipped with top-of-the-line automatic egg processing equipment from Moba, a brand from the Netherlands. This is the first step of Ba Huan in the northern area.
Also in April, the first batch of clean and fresh Japanese-standard eggs from DTK Phu Tho Co., Ltd. will be launched on the market. 
Previously, the firm invested VND800 billion ($35 million) to build the clean egg processing factory with modern production lines, technology, and equipment from Japan, the USA, and Israel. 
These are only two of all the hi-tech agricultural projects joining the market in northern Vietnam at the beginning of 2017. 
Previously, a range of projects were also constructed in northern Vietnam, like the VND3 trillion ($131 million) clean vegetable project of TH Group in Vu Thu District (Thai Binh Province), the hi-tech vegetable project of VinEco in Ha Nam, and PAN Group subsidiary Ha Nam Hi-tech Agricultural Development and Investment company's project to produce vegetables for export.
To catch up with the rising investment wave in hi-tech agriculture, numerous localities, such as Ha Nam, Thai Binh, Dong Thap, Ca Mau, and An Giang, are racing to offer clean land with preferential policies for investors.
In the Central Highlands of Vietnam, besides Da Lat, the focal area of hi-tech agriculture is Kon Tum, which has also lured in plenty of investment. 
Currently, Kon Tum has many hi-tech agricultural projects, such as an organic farm project from South Korea, a milk goat project (Mang Den Food and Medicine Company), a milk cow project (Vinamilk), and a temperate climate fruit and flower project (Kon Tum BELLEST Co., Ltd.), among others.
Not only local firms, but many domestic banks also promote hi-tech agriculture by providing credit packages for this sector. According to statistics of the State Bank of Vietnam (SBV), by April 2017, companies have registered beyond VND100 trillion ($4.4 billion) in credit packages with preferential interest rates for high-tech agriculture offered by Vietnamese banks.
Currently, lending interest rate for short-term loans averages at 6-9 per cent per year and 9-11 per cent for medium- and long-term loans. 
The interest rate of the loans for hi-tech agriculture will be some 0.5-1.5 percentage points lower than the current average lending rates, in accordance with a newly released announcement from the SBV.
Consumption concerns
Recently, there are two largely debated concerns over hi-tech agriculture: the land limit loosening and capital raising.
The area available for individuals and companies to cultivate is restricted by the Land Law 2013. 
However, the Prime Minister (PM) said the government will report to the National Assembly about the adjustment of this legislation, based on proposals submitted by localities. 
In fact, localities have offered available clean land funds for most of the big hi-tech agricultural projects.
Regarding raising capital, the SBV said that in April it will issue detailed instructions for borrowing from the VND100,000 billion ($4.4 million) credit package.
Nevertheless, according to hi-tech agricultural investors, land limit and capital are not the biggest obstacles.
Nguyen Duc Huong, deputy chairman of LienVietPostBank, one of the earliest banks to respond to the SBV's calls for lending to hi-tech agricultural projects, pointed out one issue in Vietnam. 
A number of hi-tech agricultural investors in Vietnam suffered losses because buyers cannot distinguish between clean and usual food, or they do not believe in the food being "clean" as advertised.
Nguyen Duy Hung, chairman of PAN Group, said that investors of hi-tech agricultural projects can be successful only when they have a consumption market and the appropriate technology with compatible human resources to operate. 
Even PAN Group, a firm which has been studying hi-tech agriculture for five years, only implements its projects on a small scale and will gradually expand based on the consumption market and its human resources.
"The consumption market is the foundation for hi-tech agriculture and investors should apply advanced technology to high-value agricultural products only, because the production cost will be much higher than usual. We only apply hi-technology to daisy and carnation flowers and export to Japan because this market can accommodate the products' high price," Hung said.
Dr Nguyen Van Bo, former director of Vietnam Academy of Agricultural Sciences, agreed with this point of view, and said that the application of hi-tech agricultural solutions must meet three vital criteria: market, technology, and, especially, there must be firms which dare to implement.
"Capital is important, but without market orientation, firms may face potential failure," Dr Bo said.
VIR