VietNamNet Bridge – The National Agro-Forestry-Fisheries Quality Assurance Department (NAFIQAD), under the Ministry of Agriculture and Rural Development (MARD), has said that it will coordinate with the Ministry of Public Security to inspect and strictly punish those who illegally injecting foreign substances into shrimp.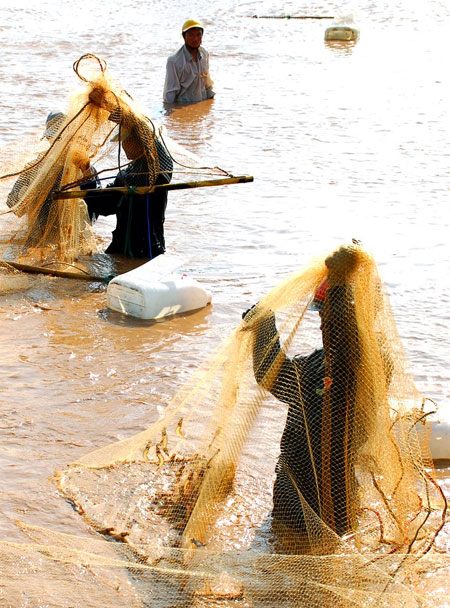 Shrimp harvesting in Bac Lieu Province. Those who illegally inject foreign substances into shrimp will be strictly penalised. – Photo: VNA/VNS 
The inspection would be performed from April to May, Nguyen Nhu Tiep, head of NAFIQAD announced at the MARD's regular press conference, held in Ha Noi this week.
MARD was also reviewing, proposing, amending and supplementing administrative sanctions for violations of injection practices, Tiep said.
The Government has assigned relevant ministries to review solutions in order to be able to apply criminal punishment to this behavior, he added.
He also said that localities should strengthen their co-operation in fighting shrimp injection.
Despite the high administrative fine, shrimp facilities continue to inject substances into shrimp. Particularly, they often use agar-- a jelly-like substance, to improve their size, weight and visual appeal of their product.
The current regulation on the administrative sanction of violations on food safety and hygiene allows fines of up to seven times the value of the goods if the violator is an enterprise and three times if the violator is an individual.
According to the Government's approved goal to control illegal injections into shrimp, all local shrimp farming, trading and processing facilities in the Cuu Long (Mekong) Delta provinces of Ca Mau, Bac Lieu, Soc Trang and Kien Giang will sign a commitment by the end of 2017 to abstain from shrimp injection, with the goal of putting an end to the practice in 2018.
During a meeting with the shrimp industry in February, Prime Minister Nguyen Xuan Phuc affirmed that the Government has 'declared war' on the practice of injecting shrimp with jelly-like substances for illicit profits.
Such practices have led to rejections of batches of shrimp exports by foreign importers.
Inspectors in Bac Lieu Province recently discovered a local shrimp shop in Gia Rai Town injecting agar into 55kg of shrimp.
The provincial Department of Agriculture and Rural Development inspector seized all the shrimp and collected evidence to deal with the case under the law.
Ha Van Buoi, chief inspector of Bac Lieu Province's Department of Agriculture and Rural Development, said the incident was among dozens of other cases of shrimp injection that had been discovered by authorities over the last two months. 
VNS