VietNamNet Bridge - Investors are fleeing from BOT (build-operate-transfer) projects in the transport sector after encountering many difficulties.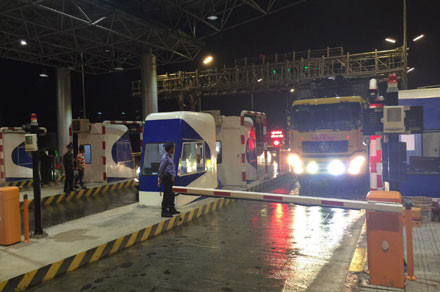 BOT investors are now in a dilemma as toll collection is not big enough to pay bank debts. 
Tran Ngoc Le from Yen Khanh Production, Trade & Service Company, one of the major investors in the Hac Tri Bridge in Phu Tho province, said the monthly turnover from the project is VND5 billion, while the company has to pay VND10 billion in bank loan interest.
The investor initially expected to take back the investment capital after 17 years, but it has realized that the time may be 50 years.
SCIC (the State Capital Investment Corporation) , one of the six investors of the VND12 trillion Bac Giang – Lang Son BOT project, decided to quit just one month after the groundbreaking ceremony. It kicked off in October 2015 and is expected to be completed prior to December 31, 2018. 
Investors are fleeing from BOT (build-operate-transfer) projects in the transport sector after encountering many difficulties. 
A short time later, the Phuong Thanh Transport Investment & Construction Company, also one of the investors, decided to reduce the capital contribution ratio from 25 percent to 5 percent. 

Most recently, in March 2017, the group of investors officially quit the project as they could not mobilize sufficient capital as required.

Meanwhile, Geleximco, which is thought to take over the project, has not confirmed if it would become a major investor of the huge project.

Tasco, known as the biggest BOT investor, has recently announced it will stop  investment in BOT projects to gather strength in other fields. 

A representative of the company said Tasco has poured VND15 trillion into BOT projects in the last 10 years and obtained profitability rate of only 11.5 percent per annum.

Analysts commented that investors were rushing to quit BOT projects after the State Audit discovered a lot of problems when examining key projects and proposed solutions to tighten control over the projects of this kind.

Bui Danh Lien, chair of the Hanoi Transport Association, commented that the proposals, which aim to choose the most capable project developers, have made investors shrink back.

Lien, while affirming that the state once slackened management over BOT projects, agreed that it is necessary to set stricter requirements on investors. 

Investors must have stockholder equity equal to at least 10 percent of projects' total investment capital to be eligible to register to develop projects.

He went on to say that there was no need to build so many highways, when Vietnam has to save every dong for investment and development.
RELATED NEWS
Foreign investors power up with raft of new BOT projects
SBV tells commercial banks to restrict disbursement for BOT projects
M. Ha