The abnormal surge in domestic rice prices in this year's winter-spring crop has caused some rice exporters, who had signed export contracts before the harvest season, to suffer losses during the first quarter.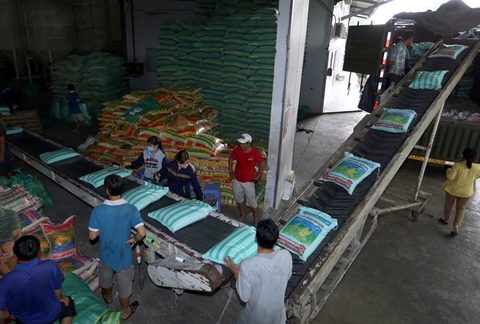 Rice packages being processed at the Phuoc Thanh Production Trading Company Limited in the southern province of Vinh Long.
According to the Ministry of Agriculture and Rural Development, Viet Nam exported 1.28 million tonnes of rice, worth nearly US$570 million, during the first three months of 2017.
This represents a decrease of 18.1 per cent in volume and 17.3 per cent in value from figures during the corresponding period last year.
Do Ha Nam, general director of the Intimex Group Joint Stock Company, said most exported rice was destined for the Philippines, China and Africa, which are also the largest rice importers in Viet Nam.
However, enterprises that were not among those companies allowed to export to China under the protocol on plant quarantine for Viet Nam's rice and rice bran exports to China, found it difficult to find markets to sell to.
Further, businesses usually signed export contracts early, so when local rice prices declined in the harvest season, they would buy rice from farmers, said Lam Anh Tuan, director of the Thinh Phat Foodstuffs Co Ltd in the Mekong Delta province of Ben Tre.
However, the situation changed this year when rice prices remained too high throughout the winter-spring crop, even higher than export prices, causing the companies to lose money on those contracts they had inked, he added.
According to rice traders in the Mekong Delta region, the paddy price in mid-March was VND300,000-400,000 (US$13-17.8) per tonne higher than in the same period last year. The price hike was attributed to unfavourable climate and diseases that caused paddy output to plummet.
Nam from Intimex company said that many enterprises were unable to respond to the sudden price hike, failing to purchase and ship rice as scheduled.
Some even refused to deliver goods, as stated in contracts, as they did not want to incur losses, he added.
Soaring domestic prices also led to an increase in export prices, causing prices to reach a level $10 – 15 per tonne higher than those offered by Thailand and India. As a result, it is difficult for Vietnamese rice to compete with Thai or Indian goods in the same market segment, Nam said.
Nguyen Van Don, director of the Viet Hung Co Ltd in the Mekong Delta province of Tien Giang, said his firm did not sign any new export contracts from late February to March 20, while waiting for market changes.
It is unlikely that importers would buy Vietnamese rice, whose prices are higher than those in Thailand and India. Meanwhile, the company would suffer from losses if it lowered prices that could not make up for material purchases and delivery expenses, Don said.
Most of the surveyed businesses said the market is still unpredictable, but there may be more favourable conditions for rice exports in the third and fourth quarters when Thailand will have finished selling its stockpiled rice.
Early this year, the Thai government announced it would sell eight million tonnes of rice stockpiled in the first half of the year.
Regulation changes
Rice exporters are not only vulnerable to unexpected changes in the market, but also hurt by regulations that create unfair competition, experts said during a recent workshop on changes in management institutions to improve the rice value chain.
They highlighted the necessity to repeal regulations stated in Decree 109/2010/ND-CP, which they say are hindering the development of rice businesses.
Under the decree, only a few large companies which satisfied strict requirements of storage and production capacities are allowed to export rice.
According to the Central Institute of Economic Management, before Decree 109 was issued there were 200 rice companies exporting rice, but currently, the number of eligible firms was reduced by half, despite the more active involvement of private firms in the market.
Due to the decree, the major market share of rice exports is in the hands of State-owned enterprises (SOEs), such as Vinafood 1, Vinafood 2 and some locally-based SOEs.
Expert Pham Chi Lan said that the decree was the worst export policy, as it offered more favourable conditions to SOEs, and caused small, private firms and farmers to be impeded, thereby erecting obstacles to the country's rice exports in the context of increasingly fierce competition in the world market.
Dao The Anh, deputy director of the Field Crops Research Institute, said that the urgent concern was to shift the mindset in export management from quantity-based to quality-based. To do this, the country has to rebuild standards of Vietnamese rice, because the existing criteria from the 1960s-1970s is out of date.
Enterprises that meet the standards of rice quality and successfully sign contracts with foreign partners must be permitted to export.
Currently, some firms producing quality rice in the southernmost province of Ca Mau had to empower other intermediaries to export their products because they were not licensed to do so, said Anh, who offered examples. 
VNS