Following Prime Minister Nguyen Xuan Phuc's order to stop the illegal use of injected substances in shrimp exports, authorities in the Mekong Delta have begun several measures to end the practice by the end of next year.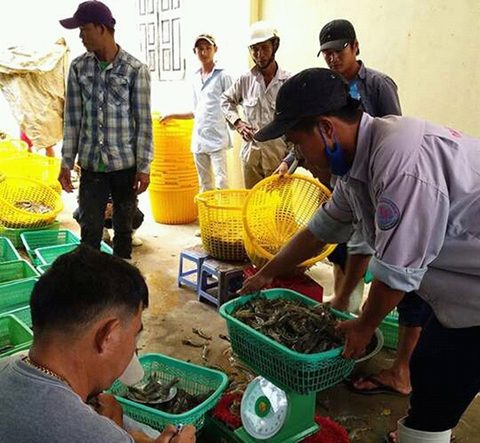 Traders purchase shrimps in Bac Lieu Province.
Such practices have led to rejections of batches of shrimp exports by foreign importers.
Inspectors in Bac Lieu Province on Tuesday made an unannounced stop at a local shrimp shop in Gia Rai Town, owned by Ha Thi Kieu, and discovered that 20 workers were injecting agar, a jelly-like substance, into the shrimp.
The inspectors used chemical tests to check the shrimp and found that 55kg of shrimp had been injected with agar to improve their size, weight and visual appeal.
The inspector of the provincial Department of Agriculture and Rural Development seized all the shrimp and collected evidence to deal with the case under the law.
On March 27, Bac Lieu authorities confiscated around 426kg of similarly injected shrimp being transported on a truck driven by Le Hoang Luyen on National Road 1 in Bac Lieu Province en route to Bac Lieu City to sell the shrimp.
The authorities said the substance-injected shrimp belonged to Le Ngoc Thuy of Gia Rai Town.
Ha Van Buol, chief inspector of Bac Lieu Province's Department of Agriculture and Rural Development, said the two incidents were among dozens of other cases of shrimp injection which had been discovered by authorities over the last two months.
Other provinces in the Delta region are facing the same problem.
Vo Thanh Tiem, head of the Agriculture, Forestry and Seafood Quality Department in Ca Mau Province, said the authorities had discovered seven cases involving a total of 2.5 tonnes of substance-injected shrimp confiscated since the beginning of this year.
Bac Lieu Province's People's Committee said that it had set a target to have all local shrimp farming, trading and processing facilities sign a commitment by the end of 2017 to abstain from shrimp injection, with the goal of putting an end to the practice in 2018.
Tiem of Ca Mau Province said it was difficult for provincial authorities to manage small-scale shrimp farming, trading and processing facilities in districts and communes since most of them do not have a business certificate.
Tiem emphasised the important role of district and commune authorities in managing these facilities.
Meanwhile, Soc Trang Province has also begun a crackdown on injected shrimp and has disseminated information about the consequences of such practices to local shrimp businesses.
Phan Thanh Chien, manager of Soc Trang Province's Agriculture, Forestry and Seafood Quality Management Department, said that rejection of these exported shrimp had affected not only shrimp exports but also farmers due to the sharp drop in prices.
Provincial coordination
Provinces in the region, including Kien Giang, Ca Mau and Bac Lieu, plan to strengthen their cooperation in fighting shrimp injection, according to Phan Thanh Liem, chief inspector of Kien Giang Province's Department of Agriculture and Rural Development.
The provinces plan to sign an agreement on the cooperation in April, focusing on cases in border areas.
"We hope that after the provinces cooperate, the problem will end," Liem said, adding that each province should prepare for the requisite financing.
Chien of Soc Trang Province said the problem was difficult to resolve because the law is not strict enough.
Since violators are required to pay only administrative fines, they continue to break the law.
"To resolve the root of the problem, it's important to inspect shrimp processing establishments and traders. And stricter fines should be imposed," Tiem of Ca Mau Province said.
Hotline
Bac Lieu Province's People's Committee has asked the provincial Department of Agriculture and Rural Development, the police and Department of Industry and Trade to set up a hotline to receive information from the public about cases of shrimp injection.
Violators' names will be published on the province's website and in mass media.
Soc Trang Province has also set up a hotline (landline: 0793626464 and handphone: 0903314333) for the public to anonymously give tips to authorities.
After checking the veracity of the complaints, the province will publish the names of violators on its website and in the media.
Truong Dinh Hoe, general secretary of the Viet Nam Association of Seafood Exporters and Producers (VASEP), said that some businesses had even reported finding toothpicks and nails inside shrimp bought from local traders and farmers.
He said that it took a great deal of time and money for these businesses to remove the objects from the shrimp.
The shrimp injected with these substances have also been exposed to a risk of microbial infection, which will also lead to rejections by countries that import the shrimp.
Prime Minister Phuc, speaking at a seminar in the southernmost province of Ca Mau last month, ordered provinces in the region to stop the injection practices, saying that violators were harming the country's shrimp breeding industry. 
VNS