Kido Frozen Foods JSC (KDF) has attracted many foreign investors before its official initial public offering, said Tran Le Nguyen, deputy chairman of mother company KDC, at a conference introducing investment opportunities in KDF on March 27.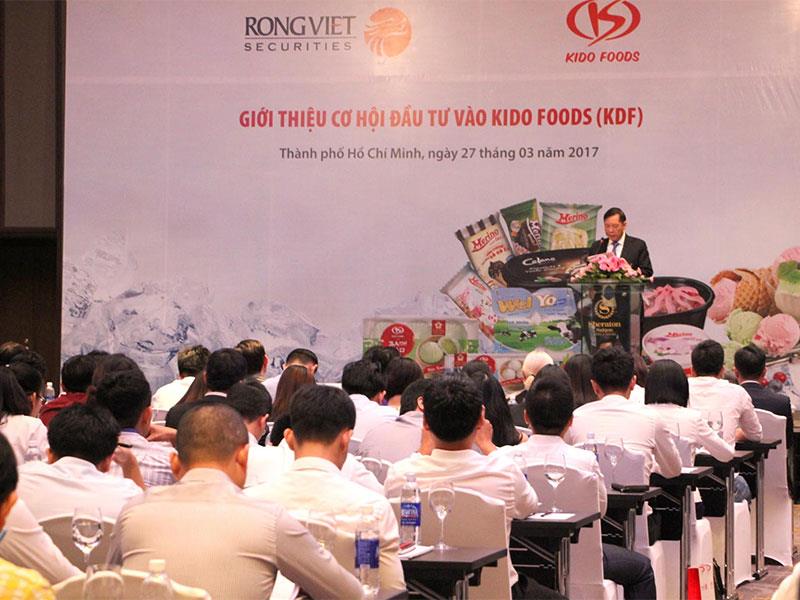 According to Nguyen, not only Unilever, but a lot of multinational investors have expressed interest to purchase shares in KDF.

Many investors expressed willingness to purchase KDF's shares at VND60,000 apiece, higher than the corporation's offering price. 
A Malaysian investment fund wants to buy 100 per cent of KDF for $200 million. 
In addition, a Japanese company also expressed intention to buy 35 per cent of KDF for VND60,000 a share, a much higher price than the expected listing price of VND52,000 ($2.3).

However, Nguyen also said that under the target of this IPO, KDC would like to give opportunities to more individual and institutional investors, so they have not accepted the above mentioned offers. 
Specifically, KDC will offer domestic and foreign institutional investors 11.2 million shares (approximately $24.5 million), equivalent to 20 per cent of the company's chartered capital (VND560 billion) with an offering price of VND52,000.

KDC's authorised seller of its stake in KDF, Viet Dragon Securities Corporation, will officially open sales by method of book building from March 31 to April 12. 
The time of payment is projected from April 12 to 19. With the aim of increasing liquidity and diversifying investor structure, individual investors are allowed to buy a minimum of 3,000 and a maximum of 100,000 shares, while institutional investors are allotted 10,000-500,000.

In the second quarter of 2017, KDC will offer an additional 15 per cent to partners and in the form of Employee Stock Ownership Plan (ESOP) at the price of VND52,000 per share.

After the IPO, KDC will only hold 65 per cent of KDF's chartered capital. This IPO will be completed in April 2017, providing KDF with more funding. At the end of the fourth quarter, KDF will be listed and traded on the UPCoM (Unlisted Public Company Market) platform.

Nguyen also said that KDF plans to add more new products this year by investing in food, such as meats, vegetables, cheese, and potato. M&A (Mergers and Acquisitions) activities will be implemented faster, targeting domestic and foreign food companies (mainly from Indonesia, Malaysia, and Thailand).

KDF not only produces ice-cream, but also targets the distribution of milk and milk-based products. In the immediate future, there are three major partners that want to cooperate with KDC.

"They have a large market share and want to take advantage of our distribution, logistics, and warehouses systems. Of course, in line with mutual benefits, KDC will hold some of their shares," said Nguyen.

Nguyen confirmed that no counterpart in the same industry has advantages on par with KDC. 
Specifically, KDF has more than 70,000 retail outlets nationwide, 176 frozen cars running from south to north, and every 400 kilometres the company has a cold storage. 
Nguyen has commented that the investment process of KDF over the past 10 years has reached the break-even point. 
From 2017, profits will grow even more dramatically. Specifically, KDF's revenue in 2017 is estimated to reach VND1.8 trillion ($80 million), while post-tax profit is estimated at VND277 billion ($12 million) and will come to VND350 billion ($15.3 million) by 2018.

Nguyen affirmed that KDC will reach the capitalisation milestone of $1 billion by 2020, and that the after-tax profit of Kido Foods and Vocarimex will be about VND1 trillion ($44 million) and that of Tuong An Vegetable Oil Company will be VND300 billion ($13.2 million).

KDF expects 2017 business performance to be as follows:

The ice cream segment will grow 1.5 times as fast as the industry average (output will increase by 16.7 per cent, sales will rise by 20.9 per cent);

The baozi output will be 1,370 tonnes;

The average selling price of ice-cream and baozi will increase by 5 per cent and the average selling price of yogurt will rise by 2 per cent;

The gross margins of ice-cream, yogurt, and baozi and other products  will be  59, 48, and 38 per cent, respectively.

VIR