VietNamNet Bridge - Vietnam spends big money every year to buy foreign goods and services, including those which could be made or offered domestically.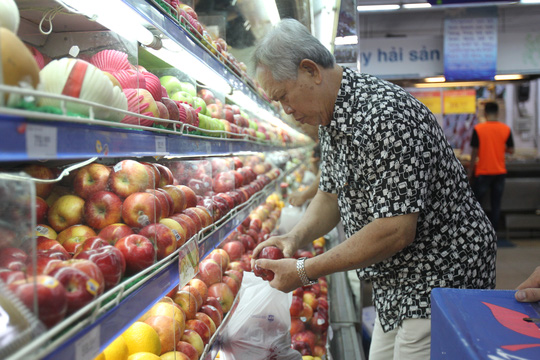 A report of the Ministry of Industry and Trade (MOIT) shows that in the first two months of 2017, the trade deficit reached $3.5 billion. 
More seriously, the imports subject to strict control and restriction saw high growth rates. Consumer goods and fruits, for example, saw imports up by 67.1 percent, while scrap iron & steel was up by 153.7 percent and cars with less than nine seats by 96.6 percent.
China remained the biggest market which accounted for 29.3 percent of total import turnover, an increase of 23.8 percent compared with the same period last year.
Vietnam spends big money every year to buy foreign goods and services, including those which could be made or offered domestically.
Analysts, considering the statistics released by the General Department of Customs (GDC), found that by mid-March 2017, besides equipment, machines and input materials for domestic production, Vietnam had also imported vegetables and fruits in large quantities ( $133 million), sweets and grain-made products, ( $28.8 million), food of different kinds ($70 million), fragrances and cosmetics ($65.5 million). 

MOIT said the majority of fruit imports came from China, while the remaining were from Australia and New Zealand. The import tariffs on most fruits from China have been cut to zero percent since 2015. As for Australia and New Zealand, the zero percent tariff will be applied from 2018.

The tariff cut is believed to create more favorable conditions for foreign products to penetrate the Vietnamese market, especially low-quality products from China.

Analysts commented that since the FTAs with South Korea, Japan, Australia, New Zealand, China and ASEAN took effect, the imports from the markets have been increasing rapidly.

As Vietnam's products are similar to key export items of the countries, and prove to be less competitive, the trade deficit with some markets such as Thailand and South Korea is on the rise.

Vietnam spends big money to import foreign products, but domestically made products do not sell well.

In 2016, in the central region, watermelons were used to feed cows because of oversupply. Most recently, in Dong Nai and Tay Ninh provinces, farmers let bananas rot in the fields because they could not find buyers. 

Meanwhile, in Hanoi, consumers went to supermarkets to buy South Korean and Filipino bananas. In urban areas, people are willing to spend big money to buy watermelons or grapes from the US.

Nguyen Lam Vien, chair of Vinamit, a dried fruit processor, commented that the affluent would prefer fruits from the US and New Zealand, while middle-class consumers would buy Thai and Malaysian products and common people would like Cambodian fruits. 
RELATED NEWS
Vietnam slams Australia's prawn ban
Vietnamese prefer Thai and Chinese fruit & vegetables
Nam Mai