VietNamNet Bridge - Instead of buying Vietnam's rice at just VND10,000 per kilo, Vietnamese are willing to pay higher to buy rice from Thailand or Japan.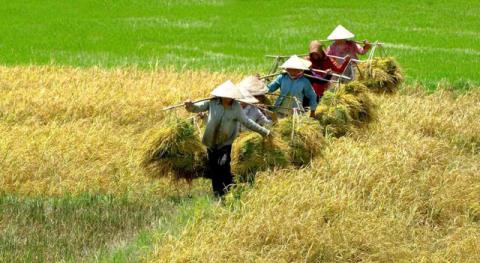 Nguyen Do Anh Tuan, director of the Institute for Policy and Strategy for Agriculture and Rural Development, commented that many Vietnamese now don't eat Vietnam-made rice, priced at just VND10,000 per kilo. The rice products are just for export, not for domestic consumption.
Tuan also noted that Vietnam exports rice as food for people, but rice can also be used to make essential oil, rice milk, cosmetics, by-products and processed animal feed.
While Vietnam focuses on trying to export as much rice as possible, it cannot improve rice quality. The country mostly exports low-priced rice and has been relying on the Chinese market.
Explaining the current policy on rice exports, Pham Chi Lan, an economist, commented that food security problems in the past have left their mark. Vietnam tries to produce as much rice as possible, both in the past when it lacked food and now when it can export millions of tons of rice every year.
Instead of buying Vietnam's rice at just VND10,000 per kilo, Vietnamese are willing to pay higher to buy rice from Thailand or Japan.
Lan stressed that Vietnamese policymakers need to outline a new policy on rice production and export.  

While Vietnam focuses on making high-yield and low-cost rice, more and more Vietnamese only want high-quality products. The choosy consumers accept to pay higher prices to buy delicious rice from Thailand, Japan and Cambodia.

An analyst said Vietnamese people's income has improved, so they have become choosier about rice price. 

"They don't need much rice; they need high-quality rice," he commented. 

Nguyen Quoc Vong, who works for the New South Wales (Australia) Agriculture Ministry, confirmed that Vietnam has to import rice from Cambodia, Thailand, Japan and Taiwan, though Vietnam can produce rice itself.

According to Tran Duy Quy, former Director of the Institute of Agricultural Genetics of Vietnam, Thailand keeps fragrant rice output stable to have 12 million tons of unhusked rice for export every year and 8 million tons of rice for export.

The country exports high-quality products to Europe and the US, sells mid-tier products to Vietnam and also sells low-cost products. Thailand's rice products are classified and sold at supermarkets at five different price levels.

"I think there is something in Thailand's business model for Vietnam to learn from, or Vietnam's agriculture will face big difficulties and cannot compete with products from neighboring countries," he said.

In the domestic market, Japanese Sushi, Koshihikari and Furi Sakura rice are priced at VND170,000-200,000 per 5 kilo bag. Thai Hommali and Pathumthani Na siam VND200,000-250,000. In general, imports are 2-3 times more expensive than Vietnam's products.
RELATED NEWS
Rice farmers' income drops by seven times in last 10 years
Ministry denies rice licence costs $20,000
Kim Chi