Viet Nam Dairy Products Joint Stock Company, or Vinamilk, will spend almost US$11 million to buy its Cambodian partner's entire stake in Angkor Dairy Product Company Limited (Angkormilk) in Phnom Penh, Cambodia.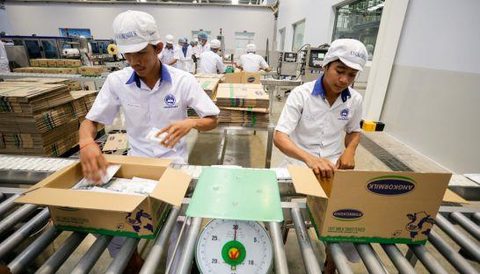 A corner of Angkor dairy product processing factory in Phnompenh, Cambodia.
Under the plan, which was officially agreed to by Viet Nam's Ministry of Planning and Investment on Thursday, the State-owned company's investment capital in Angkormilk will increase from $10.2 million to $21 million.
Angkormilk is a joint venture between Vinamilk and its Cambodian partner BPC Trading Co Ltd. The joint venture, originally signed in 2013, has formed a new line of Cambodian dairy products under the Angkormilk brand name. The two sides jointly invested in and inaugurated the Angkor dairy product processing factory last year. Vinamilk held 51 per cent stake in the company and BPC owned the rest.
The 27,000sq.m. factory is designed to have a capacity of over 19 million litres of milk, 64 million yogurt pots and 80 million condensed milk cans per year.
Its capacity will be increased to 38 million litres of milk and 192 million yogurt pots per year by 2024. 
VNS