The future looks challenging for Hung Vuong Joint Stock Company (HoSE: HVG), dubbed "the King of Pangasius," after the audit of the company's financial reports showed a big discrepancy between the audited and self-reported profit, revenue, and liabilities.
Billions of revenue, negative profit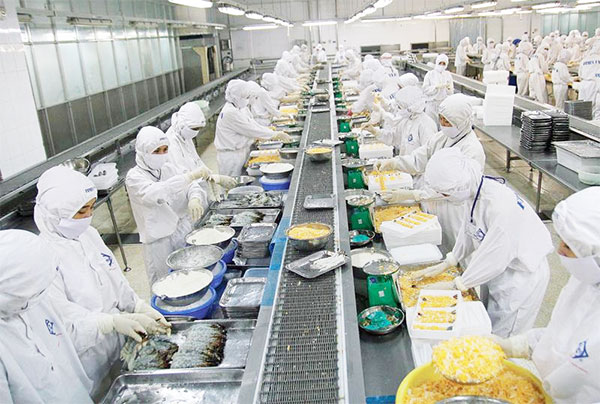 In early March, FTSE Vietnam Index announced removing HVG from its portfolio by March 17, 2017. 
Although the volume of stocks that the fund will sell is not large (only 3 million shares), on the short run, the increasing supply will influence HVG's stock price, while on the long run, HVG's recovery will hang on its ability to pay off trillions VND of debts.
HVG's business called attention to itself after releasing its audited financial report 2015-2016, which contained numerous differences compared to the unaudited one.
Particularly, after being audited, HVG's 2016 revenue decreased from VND20 trillion ($875.66 million) to VND18 trillion ($788 million). 
The after tax profit of the parent company was also trimmed from a VND257.7 billion ($11.28 million) profitto a VND49.3 billion ($2.16 million) loss.
Immediately, in the written explanation, HVG's leaders stated that these differences were due to some numbers being accounted in the wrong fiscal year, and some assets not being recognized as the legal procedures to recognize HVG's ownership over them have not been completed yet.
However, investors are worrying about the sharp increase in HVG's receivables and liabilities.
Specifically, as of the end of the fiscal year 2015-2016, HVG's liabilities were up to VND13.336 trillion ($583.89 million), VND2.2 trillion ($96.32 million) higher than at the beginning of the year. 
This amount accounted for 80.3 per cent of the firm's total assets, and was 4.13 times as much as its owners' equity. 
In particular, short term debts made up 57 per cent of total liabilities (nearly VND7.5 trilion—$328.37 million), short-term payables were VND3.561 trillion ($156 million), and long-term debts were VND1.059 trillion ($46.4 million).
The high proportion of debt leads to high interest expenses (VND470 billion—$20.58 million), a 45 per cent increase compared to the same period in 2015. 
Enterprises usually maintain a debt-to-equity ratio lower than 1.5, only some specific fields, such as real estates and the construction industry perform at a ratio higher than this.
Thus, HVG's investors raised concerns over its debt-to-equity ratio of 4, mostly derived from short-term debts. 
This means that one third of its gross profit was used to pay interest expenses, not to mention a range of production costs and operating expenses. 
Therefore, it is hard to distribute high dividends for shareholders.
Recently, HVG has released its unaudited financial report for the first quarter of 2017. The report shows that HVG's gross profit margin decreased to 5.2 per cent and profit was about VND10 billion ($437,828), despite a revenue of nearly VND6 trillion ($262.7 million). 
With a high revenue, low profit, and high proportion of debts, HVG has managed to disappoint shareholders.
Besides, looking back at HVG's history of numerous changes in the audited financial reports, it is unavoidable for shareholders to raise plenty of questions whether this report itself is for reference only, and the huge changes after auditing are to be expected.
Challenging prospects for 2017
In the last two years, the domestic and international seafood market posed a lot of unfavourable factors to HVG and other similar firms.
Vietnam Association of Seafood Exporters and Producers (Vasep) assessed that the US, the biggest importer of Vietnamese pangasius, is having a lower demand than China and the EU.
If the US keeps maintaining low demand, it is likely that China and Hong Kong will take it over as export destinations. 
Many seafood enterprises are already preparing to seek out new markets, including China and other Southeast Asian countries.
The domestic price of raw pangasius in the Mekong Delta has been continuously increasing from VND22,000 ($1) per kilogramme in January, 2017 to VND25,000 ($1.1) per kilogramme at the beginning of March 2017.
VASEP also said that the increasing price resulted from a lower yield and less farming area. Supply meets only 50 per cent of processors' demand, causing significant difficulties for HVG and other seafood firms.
HVG has taken advantage of its joint ventures, affiliates, and subsidiaries, such as Viet Thang Feed Joint Stock Company (VTF), Angiang Fisheries Import Export Joint Stock Company (AGF), and Sao Ta Foods Joint Stock Company (FMC), to create a closed supply chain in production.
AGF is a strong company in seafood export and a leading company in exporting pangasius to the US and the EU. 
VTF, with a 14 per cent market share in the aqua feed segment, has provided HVG a self-sufficient feed source and increased its revenue in the aqua feed industry. FMC is one of the biggest shrimp exporters company in Vietnam. 
However, this chain does not seem really efficient, as it cannot help HVG improve its gross profit margin and reduce expenses. 
Instead, it further burdened HVG by forcing it to borrow to invest in these companies.
To deal with the export market's difficulties, at the 2016 shareholders' meeting, HVG's leaders said that they were negotiating to purchase 50 per cent of Russian Fish Company, a leading Russian fish distributor with over 5 per cent market share, teaming up with Coop Mart and local authorities to sell its products in local markets and supermarkets. However, this plan seems to have been abandoned.
Previously, in the 2015 shareholders' meeting, Duong Ngoc Minh, HVG's chairman and general director, announced a target revenue of VND40 trillion ($1.751 trillion) in 2018, as the 15-year milestone since HVG's establishment.
The company also aimed to collect VND25 trillion ($1.095 trillion) in revenue in 2016, but this target was not reached.
While VN-Index continuously hit new records, HVG's stocks have plummeted by 50 per cent during the past year. 
After HVG publicised the audited financial report in the fiscal year 2015-2016, the Ho Chi Minh City Stock Exchange (HoSE) put the ticker on warning due to the negative after-tax profit of the parent company.
Duong Ngoc Minh has devoted all of his efforts and enthusiasm to HVG. 
He is also the biggest shareholder, with 40 per cent, and is acknowledged as the person who made Vietnamese pangasius well-known around the world.
Vietnam's pangasius processors share HVG's distress. Numerous pangasius exporters, including Cuu Long Fish, Cadovimex, Anvifish, Nam Viet Corporation, and Aquatex Bentre, also suffered from falling after-tax profits either in 2015 or 2016, or both. 
Vietnam Securities Depository have issued a warning on some of their stocks due to their negative profit.
Of all pangasius firms, Vinh Hoan Corporation seemed to be affected the least by the difficulties of the pangasius export industry. 
Despite a decline in profit to VND323 billion ($14 million) in 2015 from VND439 billion ($19.3 million) in 2014, Vinh Hoan recovered and earned VND555 billion ($24.3 million) in after tax profit in 2016.
Solutions to overcome these hefty financial obstacles are what the loyal shareholders of HVG are waiting to see in the next shareholders' meeting, which will be held in April 2017.
VIR