Shares may rebound this week on high investor attention to annual shareholders' meeting of listed companies, as well as their reports on estimated first-quarter results.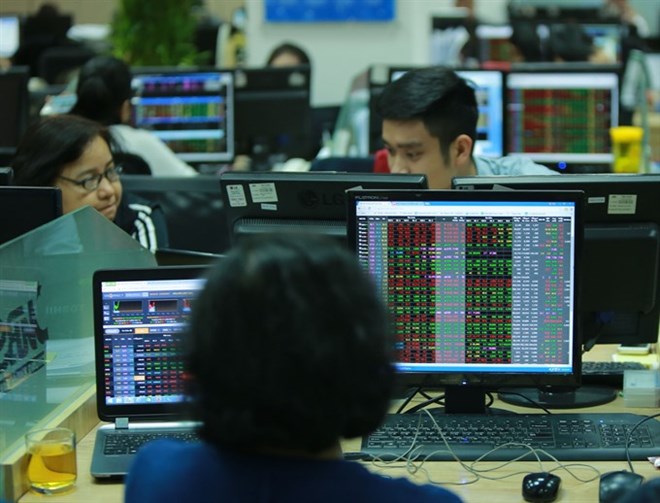 The benchmark VN-Index on the HCM Stock Exchange decreased slightly last week for a second week on volatility from the US Federal Reserve (Fed)'s meeting, and trading by big exchange-traded funds (ETFs) in their first-quarter portfolio reviews.
The VN-Index inched down 0.23 percent for the week, closing at 710.54 points on March 17.
The Fed's decision to hike its benchmark interest rate for the second time in the last three months had a negligible impact on the local securities market, but trading of the two ETFs (FTSE and VNM ETFs) made the market volatile and pushed up liquidity.
Trading volume on the southern exchange decreased 8.8 percent from the previous week, averaging nearly 171 million shares per session, but the daily trading value increased 5.4 percent week-on-week to reach 3.9 trillion VND (171 million USD).
On the smaller Hanoi Exchange, the HNX-Index gained 0.3 percent for the week, ending at 88.4 points on March 17.
The daily trading volume here was unchanged compared to the previous week at 49.6 million shares, but value of trade grew 21.3 percent to an average of 635.4 billion VND per session.
ETF's trading was on the investor radar last week. Share prices of FLC Faros Construction (ROS) and Novaland Investment Group (NVL) declined strongly even though these stocks were added to the baskets of the two EFTs.
Prices of both shares have lost over 10 percent in the last three sessions.
"This movement was mostly attributable to investors' strong buys of these stocks in the previous sessions and massive sales in the weekend sessions in order to profit from the purchase of the two ETFs," said Tran Duc Anh, a stock analyst at Bao Viet Securities Joint Stock Company.
Meanwhile, purchase volume of these funds was modest and could not absorb great supply volume from domestic investors, Anh added, warning that a tumble of these stocks which have great influence on the market could pose a high risk of extended negatives in the market movement this week.
Many large-cap stocks also dropped last week, including brewery giant Sabeco (SAB), PV Gas (GAS), real estate developer VinGroup (VIC), steelmaker Hoa Phat Group (HPG) and budget airline Vietjet (VJC).
According to BIDV Securities Joint-Stock Company, the VN-Index will likely rebound after a downward movement from the ETF portfolio restructuring at the end of last week. However, the market trend will continue to depend on large-cap stocks, which recorded great divergences last week.
"Money flows will continue to seek stocks with good business prospects and positive information," they wrote in a weekly market report and predicted the VN-Index would move around 710 points.
After the Fed's decision, foreign capital has not been withdrawn from the domestic market and continued to pour into local shares, boding well for market recovery.
Foreign investors were responsible for total net buy values of over 225 billion VND on the HCM City's exchange and they sold net values of 54.6 billion VND on the Hanoi's bourse.
In addition, investors will pay attention to information of annual shareholders' meeting of listed companies, as well as their first-quarter business results.
Noticeable shareholders' meetings in the next two weeks will include BIDV Insurance Corp (BIC), PetroVietnam Low Pressure Gas Distribution JSC (PGD), information technology FPT Corp (FPT) and its arm FPT Securities Joint Stock Co (FTS), Vietnam Electricity Construction (VNE) and Saigon General Service Corp (SVC).
VNA