VietNamNet Bridge - Though made-in-Vietnam goods are becoming more popular, foreign goods still hold the upper hand in the home market.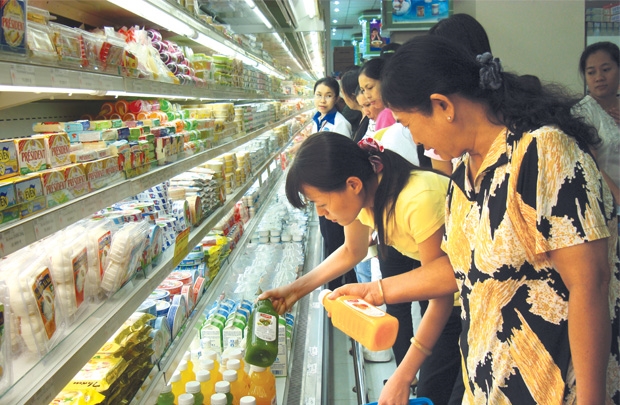 A MOIT report shows that after the last seven years of the 'Buy Vietnamese' campaign, 92 percent of consumers now have interest in domestically made products, and 63 percent of consumers are choosing Vietnamese goods instead of imports of the same kinds available in the market. 
Vietnamese goods sold via supermarkets account for 85-95 percent of total goods, mostly sold at Co-op Mart, Big C and MM Mega Market.
Two years ago, when local newspapers reported that Metro, now MM Mega Market, would fall into the hands of a Thai group, analysts warned that the supermarket chain would replace all the goods at the chain with Thai products.
Though made-in-Vietnam goods are becoming more popular, foreign goods still hold the upper hand in the home market.
However, this did not happen. MM Mega Market's CEO Phidsanu Pongwatana has said that 97 percent of goods available are made in Vietnam, while the other 3 percent are from other countries, including Thailand.

While reports all show optimistic statistics, analysts commented that Vietnamese goods are meeting difficulties, and Vietnamese manufacturers said it is very difficult to compete with imports.

Vu Kim Hanh, director of BSA (Business Studies and Assistance Center), said Vietnamese businesses find it difficult to distribute their products because of many reasons. 

Counterfeit and low-quality goods are available at every corner of the market, while Vietnamese consumers still believe that foreign goods are better than Vietnamese. The establishment of the ASEAN Economic Community (AEC), which has removed the tariff barriers among ASEAN countries, has paved the way for more imports to flow to Vietnam.

Luong Van Vinh, general director of My Hao Cosmetics, commented that Thai goods are not only available at supermarkets, but have penetrated deeply into traditional markets.

At markets in HCMC, Thai household plastics are more favored than Vietnamese-made products because they have better designs and are just several thousand dong higher than Vietnamese products.

Rural areas, which are considered the major market for Vietnamese manufacturers, have also been exploited by foreign businesses.

Hoang Thuy Hoa, a housewife in Hanoi, said she questions the figures released by state management agencies about the percentage of Vietnam's goods sold through traditional and modern retail channels.

"The reports show the increasingly high proportion of Vietnamese goods distributed through supermarkets. But I heard that more and more Vietnamese manufacturers complain that their products cannot enter supermarkets because of the required discount rates set by retailers," she said.

Meanwhile, an analyst said that a lot of retail brands are now in Thai hands, including MM Mega Market, B's Mart, Big C and Robinson, which targets both rural and urban markets.
RELATED NEWS
Vietnamese goods struggle to penetrate ASEAN markets
Sales of Vietnamese goods, agricultural products affected by rumors
Thanh Lich