Endorsed by a February 28 Hochiminh Stock Exchange (HOSE) decision on listing which marked the first transaction day of Vietjet Aviation Joint Stock Company's VJC shares, Vietjet has become the first aviation company to be listed on Vietnam's southern bourse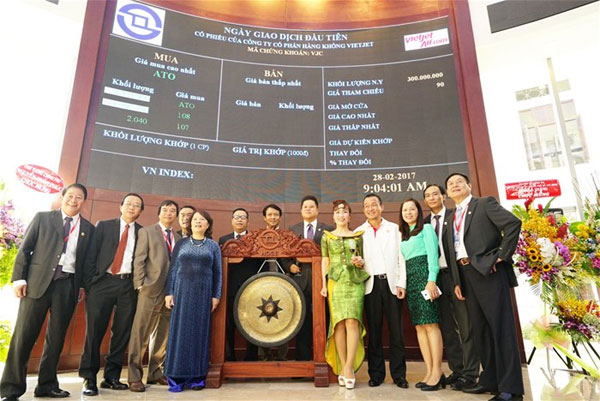 The gong-beating ceremony at HOSE to mark Vietjet's first share trading day at the stock exchange
Vietjet shares listed on HOSE
Backed by charter capital of VND3 trillion and a price of VND90,000 per share, Vietjet's capitalization at the moment of its HOSE listing reached VND27 trillion, or US$1.2 billion, accounting for 1.5% of HOSE's capitalization (some VND1.63 million billion by February 15, 2017). That means Vietjet is now among the top-15 of listed firms with the largest capitalization value on HOSE. Of the 24 international credit institutions having bid for VJC shares are famed investment funds such as GIC, Wellington, Eaton Vance, Morgan Stanley, Dragon Capital and VinaCapital. Foreign investors have so far clinched 24.48% of VJC shares versus the 30% rate they are allowed to.
Statistics show that in 2016, Vietnam's aviation transport market posted a growth rate of 29% while the ratio of the population taking a flight rose from 0.5% in 2012 to 0.8% last year. Vietjet is Vietnam's first private aviation company and is also one of the very few airlines in the world which are able to reap profit immediately in the second year of operation. When 2016 came to an end, Vietjet grossed a total turnover of more than VND27.53 trillion, profit of almost VND2.4 trillion and Earnings Per Share (EPS) of VND8,762.
"Sustaining stable and high growth, we strongly believe in a bright future in the air for our passengers, our company and our investors," said Nguyen Thi Phuong Thao, CEO of Vietjet, at the ceremony in celebration of VJC first trading session. "Vietjet is to become an airline targeting corporate governance quality and efficiency of listed company in line with the world's best standards and practices. In addition to new values for passengers, we want to do the same to investors and both domestic and international capital markets."
VJC taking off
VJC's share price rose to the 20% price ceiling during its first trading session, to VND108,000 per share, with only 12,000 shares transferred. Unsuccessful buying orders at price ceiling amounted to 3-4 million units. The same happened in the two following sessions when a very small number of shared were traded, mainly between foreign investors. In the fourth session, transactions boomed, and the closing price stood at VND132,100 per share. Liquidity was at 2,75 million shares, equivalent to VND395 billion, making up over 12% of the market's total transacted value.
On the morning session of March 6, despite a hike of almost 50% from the initial price, VJC continued its gaining streak of more than 4% to soar to VND137,400 per share boosted by foreign demand. Of the total 1.15 million VJC shares traded in order matching on the March 6 session, the foreign side bought 524,400 shares, accounting for almost a half of the total transacted volume. In the entire session, foreign investors net-bought 198,400 VJC shares, marking the fifth consecutive net-buying session. Given this level, VJC price gained 52.6% since its first launch while its capitalization reached VND41.2 trillion, surpassing that of Vietnam Airlines (VND39.77 trillion).
That said, after five trading sessions, Vietjet's shares have earned profit of 59% for individual investors who bought VJC shares in December 2016. However, with more than 4.2 million shares traded in order matching after a week on HOSE, it seems that investors still want to retain their shares waiting for even better prices.
Bright prospect forecasts
During the HOSE gong-beating ceremony for Vietjet, Jasper Reiser, Co-head of Asia Pacific Equity Capital Market of BNP Paribas, said BNP Paribas has participated in the team of international consultants in support of Vietjet's IPO. This event attracted special interest from both domestic and international investors, said Reiser. The success testifies to the management and business operations of the company's leadership as well as its exponential growth, he added.
According to the International Aviation Transport Association, the Asia Pacific region has topped the world's aviation market since 2009.
Given Vietnam's young and big population, the disposable income of her citizens posting the highest rate in the region and the lukewarm development of other transport modes such as overland, railway and waterway, Vietjet and other airlines have favorable conditions for development in the Vietnamese market.
Currently, the remaining cap of foreign ownership ratio for VJC shares is only over 4% while foreign investors are continuing to buy them. GIC owned by the Singaporean Government is now the largest foreign investor to hold VJC shares, at 5.48%. Meanwhile, Dragon Capital has spent nearly VND1 trillion buying the shares. VJC shares also account for almost a half of HSC's propriety trading portfolio. Many foreign investors have managed to buy more or less 50% of the volume of VJC shares traded during the last December's issue.
Considering big capitalization, high profit ratio, institutional investors, promising scope of business and so on, VJC shares seem to be so attractive to investors.
A lineup of the Vietjet fleet on the runway
Source: SGT