Opportunity Network, a UK-based FinTech company that offers banks a digital business matchmaking platform, on Wednesday announced plans to engage Vietnamese commercial banks in joining its fast-growing global partner network.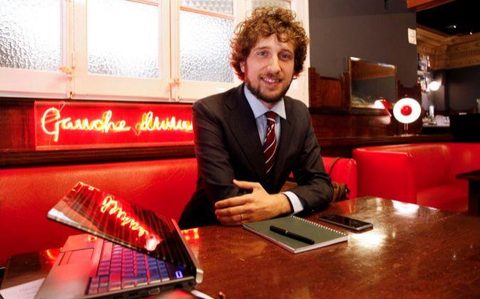 Brian Pallas - the founder of UK-based FinTech company, Opportunity Network. The company will offer Vietnamese corporate and private banks access to an innovative business-to-business digital platform designed to promote growth. 
Headquartered in London with offices across New York, Barcelona and Dubai, Opportunity Network is backed by the Boston Consulting Group and provides a collaboration platform that connects 13,500 companies in 128 countries.
This three-year-old firm is currently valued at US$180 million and boasts a deal value in excess of $38 billion.
The company will offer Vietnamese corporate and private banks access to an innovative business-to-business (B2B) digital platform designed to promote growth. 
Through this platform, local businesses can hunt for trustworthy partners to help them expand into new markets via international trade activities, such as selling privately held enterprises, executing cross-border mergers and acquisitions (M&A) and maximising global asset utilisation that has a deal value of $1 million and above.
Opportunity Network uses a proprietary algorithm that is designed to smoothen global deal-making by matching users' strategic preferences with current deals on the platform.
Instead of on-boarding businesses directly, its main clients are banks who then invite their best customers to participate on the platform through a membership scheme, creating a pre-screened online community.
The company has key partners such as Young Presidents' Organisation, global network of young CEOs with 25,000 members in 130 countries, London Stock Exchange and major banks in Europe, and has recently partnered with Citizens Bank in the US. It has also announced a global expansion plan to establish local presence in 40 countries.
"Opportunity Network is a bank-FinTech enabler and a digital Customer Relationship Management (CRM) platform. We help banks leverage financial technology to deliver more value and create better experiences for their corporate clients, especially the small and medium enterprises looking for trustworthy counterparties to expand both locally and internationally and gain market share while saving time, money and effort," said Ly Nguyen, country managing director at Opportunity Network.
"This is in line with the Vietnamese government's policy to promote private sector growth, with strong focus on SMEs to double the number of firms by 2020 and facilitate trade, investment and M&A opportunities."
The financial services sector is going through a dramatic change in today's highly connected digital environment. 
With higher customer expectations, ever-increasing customer touchpoints, and the advent of new technologies, banking institutions are forced to enhance their digital capabilities to stay relevant.
"It's the perfect time for us to work hand in hand with local banks and leverage the digital tool as a strategic enabler for banking transformation," Nguyen said. 
VNS