Hundreds of small and medium sized enterprises (SMEs) were trained on how to promote their brands through e-commerce at a workshop on March 7 in southern Dong Nai Province.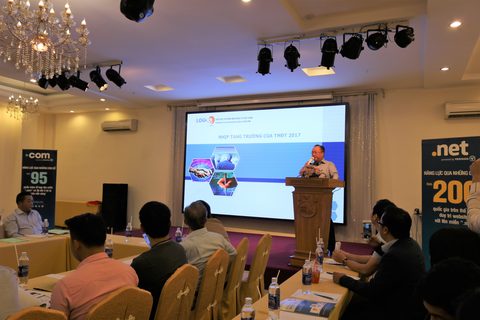 Nguyen Ngoc Dung, Vice President of VECOM, delivers speech at a workshop on e-commerce on March 7 in southern Dong Nai Province. 
The event, titled "New trends in online business," was organised by the Vietnam E-Commerce Association (VECOM) in collaboration with the Industry and Trade Department of Dong Nai Province.
The workshop aimed at providing local SMEs with an overview of e-commerce, its immense growth potential and value, and introducing effective tools to create an online business.
"Building websites is the first move to enter e-commerce and the domain name you choose for your website is not simply an address on the internet but closely attached to the enterprise's operation and brand. It contributes a great deal to the business's reputation and credibility," Nguyen Ngoc Dung, vice president of VECOM, said at the event.
"Choosing the right domain name is the first step towards building a successful and credible online presence. Once a business has an official online presence by owning a standard domain name, it has ensured high visibility for itself from customers every time and everywhere," Doan Quoc Tam, CEO of FTC Media, said.
"The selection of domain name should be associated with the business development strategies of the enterprise. 
In particular, for businesses targeting the global market, .com is always trusted thanks to its availability, credibility and stability for over 18 years," Tam said.
According to the Viet Nam E-Commerce Report 2015, 43 per cent of businesses recorded higher revenue by utilising e-commerce. 
Viet Nam has a population of over 95 million people, out of which 51.5 per cent are connected to the internet. 
Some 62 per cent of those users have at least once shopped online in 2015 and the average online spending per person is US$160. 
This clearly shows the great potential of Viet Nam for developing online business and e-commerce. Notably, the growth rate of e-commerce in Viet Nam has reached 22 per cent per year.
Many SMEs in Viet Nam seem to have neglected the strong developing trend of e-commerce. 
Only 20 per cent have their own website for business promotion. 
Meanwhile, 70 per cent of consumers are reported to have searched online for information before going to brick-and-mortar stores to buy products.
Consumers will find it difficult to find products and services if businesses do not have an online presence, especially when Vietnamese consumers place the most confidence in advertisements on search metrics, social networks, online videos and banners. 
VNS