The KIDO Group Corporation (KDC) plans to sell 35 per cent of its holding in the KIDO Frozen Food JSC (KFF) in May or June.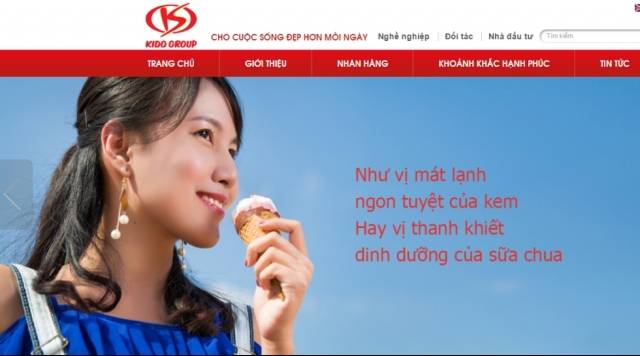 It currently holds 99.8 per cent of KFF's charter capital of VND560 billion ($24.6 million), or 56 million shares. A source at KDC said that the sale is being planned but gave no further details.
Specializing in ice cream and yogurt, KFF was established in 2003 and is based at the Tay Bac Cu Chi Industrial Zone in Ho Chi Minh City. 
According to a report from the Ho Chi Minh Securities Corporation (HSC), its net revenue in 2016 reached VND1.4 trillion ($61.6 million), up 3.48 per cent against 2015. 
After-tax profit was VND139 billion ($6.1 million), up 80 per cent and accounting for 63 per cent of KDC's profit. 
HSC said that KDC plans to add more new products to split the burden of cost of sales and management. 
This is an important strategy that not only helps increase sales but also strengthens the relationships between KDC and its distributors. 
KDC is also considering investing in vegetables and frozen food, though profit from these products are not high.
KDC now owns a frozen product distribution network with over 60,000 points of sale throughout the country. 
According to data from market researcher Euromonitor, it held 25.5 per cent of the ice cream market share in 2010 and 36.4 per cent in 2014.
In January, it was given permission to secure more than 51 per cent in Vocarimex without having to conduct a takeover bid.
The green light was necessary for KDC to acquire a controlling stake and become Vocarimex's parent company. 
It now holds 24 per cent and is expected to increase its holding to 51 per cent during the first quarter.
KDC's net revenue stood at VND2.2 trillion ($96.8 million) last year, down 28.7 per cent against 2015. 
Gross profit was VND880 billion ($38.72 million), thanks to consolidating TAC's profit.

VN Economic Times