President of the European Chamber of Commerce in Vietnam (EuroCham) Michael Bahren has affirmed his agency's commitments to supporting and encouraging European businesses to forge stronger partnerships with Vietnam.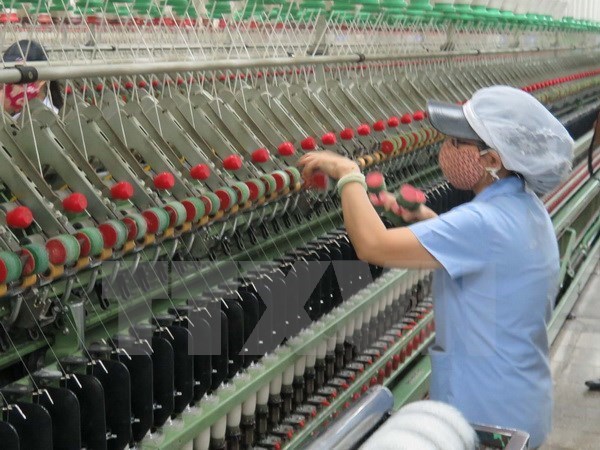 At a meeting with Deputy Prime Minister and Foreign Minister Pham Binh Minh in Hanoi on March 3, Bahren said that the announcement of a White Book on Vietnam's business and investment environment is an important activity to implement the commitments. 
The book gathers assessments, analyses and recommendations of the European business community on the investment and businessenvironment in the country.
The publication reflects the community's interest in supporting the Vietnamese Government in building a legal framework and developing the business environment in Vietnam, thus benefiting businesses, investors and the society in general, he stated.
The EuroCham leader noted that in a recent survey of the chamber over 950 members on Vietnam's business environment, European investors showed their optimism on the market as well as hope to expand their investment.
He asserted that the signing and effectiveness of the Vietnam-EU free trade agreement in 2018 is one of the reasons behind the optimism.
EuroCham, through its members being leading European firms, pledges to support and hasten the deal ratification process in member countries, he said.
He also thanked the Vietnamese Government for maintaining dialogues with foreign investors. EuroChamhas a number of future operation orientations, including fostering connectivity with Vietnamese localities and encouraging small and medium-sized enterprises in Europe to seek partnerships in the Southeast Asian nation.
For his part, Deputy PM Minh lauded the important role and effective operation of the EuroCham in Vietnam over the past years, especially in linking the Vietnamese Government and the European business community as well as supporting the enterprises during their operation in Vietnam.
EuroCham and the EU Delegation to Vietnam have made positive contributions to the growth of economic ties between Vietnam and European countries, he declared.
He also hailed EuroCham's efforts in publishing the White Book on Vietnam's business and investment environment, affirming the Vietnamese Government's determination to build a constructive government in service of the people and businesses, as well as a transparent, effective and corruption-free government.
He asked EuroCham and the EU Delegationto accompany with the Vietnamese Government toturn Vietnam into an attractive market for European investors.
VNA