VietNamNet Bridge - Indicators show that Vietnam is one of the countries with the highest entrepreneurial spirit in the world.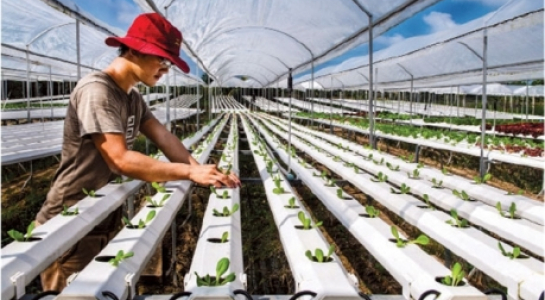 A recent survey by the Vietnam Chamber of Commerce and Industry (VCCI) found that 76 percent of adults think doing business is a respectful career in society. At least 74 percent of adults want to become businesspeople and one out of every five adults plan to start up in the next three years.
Another survey conducted by Technische Universitat Munchen (TUM) in Germany, GfK, a market analysis firm, and Amway Group in 2015 found that Vietnam ranked seventh among 44 countries with the highest entrepreneurship in the world. The other six include Denmark, South Africa, Thailand, the UK, China and India.
VCCI commented that starting up business has become a growing trend in Vietnam, and that Vietnam's economy in the upcoming years can be described with eight words 'Chinh phu kien tao, toan dan khoi nghiep' (tectonic government, entrepreneurship nation).
Indicators show that Vietnam is one of the countries with the highest entrepreneurial spirit in the world.
Economists all agreed that 2016 was a 'year of startups' as the government successfully evoked the entrepreneurial spirit. However, the achievements gained from the startup movement remain modest.

In 2015, seven Vietnamese startups successfully called for capital from foreign investors, including Coc Coc ($14 million), Huy Viet Nam ($15 million) and The KAfe ($5.5 million). In 2016, MoMo e-wallet mobilized $28 million in capital, and GoiIt, the app which once ranked the second in number of downloads on Apple Store, got $9 million, while Vintrip.vn received $3 million.

Vietnamese names have become well known among the world's startups with Flappy Bird game created by Nguyen Ha Dong and the Viet Monkey Junior, an app on learning foreign languages, which received international prizes. 

Singapore has made a big leap in 'laying the red carpet' to attract international technology startups in a plan to turn it into a smart country, while Hong Kong and India are also gearing up to build a platform for the technology-based economy.

The government of Vietnam has also called for a startup movement, offering investment incentives to startups, setting up investment funds and building up technology incubators. 

However, economists said that Vietnam still lacks a national strategy to encourage technology-based startups. As a result, in many localities, entrepreneurship is understood as opening as more businesses as possible. 

Meanwhile, youth dream of getting rich like Nguyen Ha Dong, with many high school graduates deciding that they will design games. Experts have raised their concern, however, about a Vietnamese generation which dreams of becoming millionaires without basic knowledge.
RELATED NEWS
Vietnamese startups – who are they?
Fintechs enter new development period with huge investments
Le Ha