The Ministry of Agriculture and Rural Development (MARD) has released a national plan on monitoring food safety for processed chicken for export to help Viet Nam's chicken conquer the world market.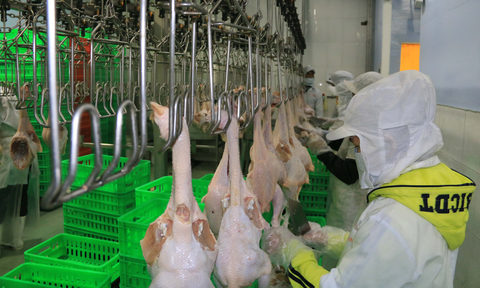 Poultry being processed at a factory of the Binh Minh Breeding Food Production Company Limited in the southern province of Dong Nai. 
The ministry will direct the implementation of the plan from 2017-20. According to the plan, the people's committees of key provinces in chicken breeding will also issue plans, have funds and implement measures to prevent chicken diseases to create regions with low risk of diseases in chicken, as well as abattoirs and processing facilities meeting food safety standards.
At addition, the ministry will help enterprises build abattoirs and processing facilities ensuring veterinary hygiene and food safety.
At least one enterprise was expected to qualify for a certificate on food safety to export processed chicken according to regulations of the International Food Standards Commission, or safety food standards of importing countries, said Vu Van Tam, deputy minister of agriculture and rural development.
The ministry will monitor food safety in provinces in producing and processing export chicken, focusing on districts and provinces with enterprises joining the national plan on food safety for export processed chicken.
It will open training courses for veterinary workers in provinces and districts and enterprises' staff in charge of monitoring food safety and veterinary hygiene at chicken processing facilities.
"The ministry has combined with Dong Nai Province's authorities to support one enterprise in the province to export chicken brisket to Japan. If this is a success, it will be the first Vietnamese chicken exported under large commercial contracts," Tam said.
Hoang Thanh Van, head of the ministry's Livestock Department, said many enterprises have held trade promotion activities targeting the Japanese market to export Vietnamese chicken to this market. If successful, Japanese partners will visit local enterprises to inspect chicken production lines and sign agreements with local enterprises.
Binh Phuoc Province has also focused on trade promotion activities with Japan, the EU and some Asian countries, he said.
"To export chicken to strict markets, Viet Nam must reach standards of regions breeding chicken in those countries. The importing countries will have delegations to visit and inspect regions breeding chickens in Viet Nam to ensure safety," Van said.
The domestic livestock industry must have sustainable development according to international standards and find more export markets for local chicken products, he said. 
VNS