VietNamNet Bridge - As incomes have improved, consumers are now buying more high-street fashion products rather than Chinese or Vietnamese clothing.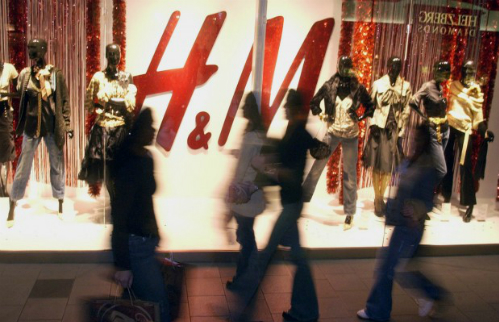 Huong, an office worker in Hoang Mai district in Hanoi, said she reserves a budget of VND2-3 million for buying new clothes every month. But she does not want products bearing Vietnamese brands, but preferably orders Zara and Mango products from overseas shops online.
Huong said that the foreign high-street products are now affordable for office workers like her. 
As incomes have improved, consumers are now buying more high-street fashion products rather than Chinese or Vietnamese clothing. 
"Manufacturers and distributors often launch sale promotion campaigns with big discount rates. I can buy many products at the prices just equal to or even cheaper than Vietnam's export products," she explained.
"Why don't you choose foreign brands if they have diverse design, good materials and reasonable prices?" she said.
Oanh, an account executive in Hanoi, said she looks for Zara, H&M, Mango and Uniqlo products regularly, which allows her to buy high-quality products at reasonable prices. 
Sometimes she can buy products at just VND1 million or lower in sales campaigns.
"I never buy Vietnamese goods during sale promotion campaigns because I am not sure about the actual value of the goods," she said. "Meanwhile, no need to worry about this when you buy products from these brands. And the prices are very good".
Huong and Oanh order the products online and pay fees to have the products shipped to Vietnam. There are many shipping agents in Hanoi, who are in charge of receiving products, carrying to Vietnam and delivering to clients.
Thuy Linh, one of the agents, commented that Vietnamese clients mostly order clothes and footwear, and 80 percent of ordered products bear high-street brands such as Zara, Mango, and Forever 21, while the remaining 20 percent are luxury brands.
Linh said she is always busy so Vietnamese tend to favor foreign high-street brands. A T-shirt with Zara or Mango brand can be bought at VND180,000 only, including fees, which is cheaper than Chinese products. 
Understanding the Vietnamese taste and realizing the rapid increase of middle-income earners in Vietnam, a lot of high-street brands have been conquering the local market. Zara, the fashion brand from Spain, has been present in Vietnam since mid-2016. Mango, which targets customers aged 18-40, has been present in Vietnam since 2004 through a franchise contract signed with Maison JSC.
In the latest news, H&M has begun employing workers to prepare for its landing in Vietnam. The Swedish brand's first shop would be in Hanoi, cover an area of 2,000 square meters and employ 100 workers. The recruitment will also be implemented in HCMC.
Ha Thu