The Ministry of Industry and Trade's new draft decree on goods, services, and localities subject to state monopolies has received barracking from local and international experts.
The Ministry of Industry and Trade (MoIT) has submitted to the government a draft decree on goods, services, and localities subject to state monopolies. The draft includes a controversial list of 20 sectors and professions subject to state monopolies (see box).
Sesto Vecchi, managing partner of the US law firm Russin & Vecchi, questioned the list. "Why is MoIT creating new monopolies? No justification is provided and the justification is not self-evident," Vecchi told VIR.
He said that even when state participation can be justified, in many cases, the private sector may also contribute in some sectors like irrigation, hydro plants, power distribution, and the importation of cigarettes and cigars.
"The state is only one of several stakeholders. The draft appears regressive as the private sector already participates in some named sectors. Would the monopoly remove their participation?" argued Vecchi.
Tran Trong Binh, senior attorney from Hanoi-based French law firm Audier and Partners, told VIR that such a list is "irrational", and if it is approved, it will "vex" the market, which is now required to be more transparent, with less state monopolies, especially in the context of Vietnam's deeper international integration.
"The draft decree has gone against the Constitution adopted in 2013, which states that enterprises are allowed to do business in the sectors not banned by law, and also against the laws on Investment and Enterprises issued in 2015," Binh said. "While the government is boosting the establishment of start-ups and restructuring state-owned enterprises (SOEs), this new document will undermine the market's competitiveness by preventing private investors from investing in many sectors on the list."
The Law on Commerce 2005 stipulates that the government shall specify a list of goods, services, and localities subject to state monopolies. This specific list has taken 12 years to create.
"I don't understand why the draft decree is now being made. It should have been enacted 12 years ago. And now such a decree is unsuitable to Vietnam's development," said Nguyen Dinh Cung, head of the Central Institute for Economic Management. "Who will take responsibility for such a delay?"
According to Cung, many of the sectors prescribed in the list should not be banned and can be engaged in by private firms. The state should hold a monopoly over some sensitive sectors only, such as electricity transmission or railways, so that access to these services can be ensured.
MoIT responded to the negative reactions to the draft decree by stating that the decree is built to fulfil the Law on Commerce 2005, which allows the state to monopolise for a given period of time the trading in a number of goods and services in certain localities in order to protect national interests.
"The list is aimed to help enhance the systemisation and transparency of all goods, services, and geographical areas that are subject to state monopolies in commercial activities in line with Vietnam's international commitments, and existing policies and regulations," said an MoIT document released last week to explain the issuance of the draft decree.
"The list also acts as a foundation for state management bodies and other entities in society to perform their supervision over state monopolies in the listed sectors."
But Dau Anh Tuan, head of Vietnam Chamber of Commerce and Industry's Legislation Department, said that the reasoning behind MoIT's enacting the list is "unpersuasive".
"In the list, it is likely that some sectors will find it difficult to lure the investment of private firms, such as public goods and services," Tuan said. "Under existing regulations, these sectors are sill engaged in by some private firms as they are not monopolised by the state."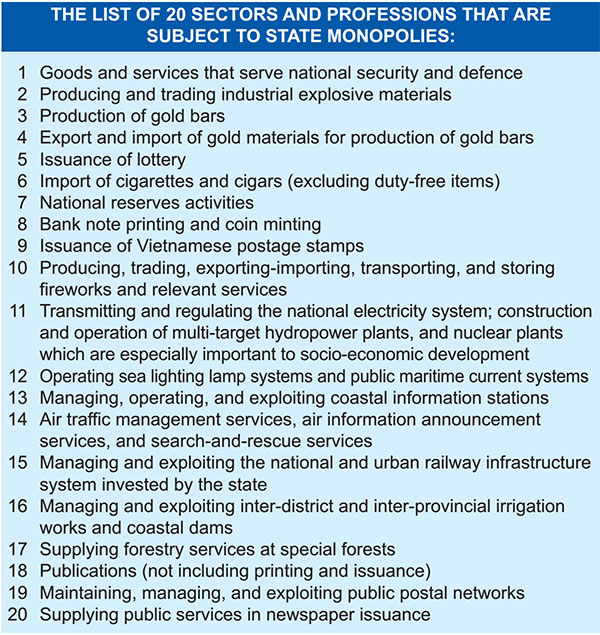 VIR