The Vietnamese government has agreed to Samsung Display Vietnam's (SDV) plan to pour an additional $2.5 billion into its AMOLED module plant in the northern province of Bac Ninh.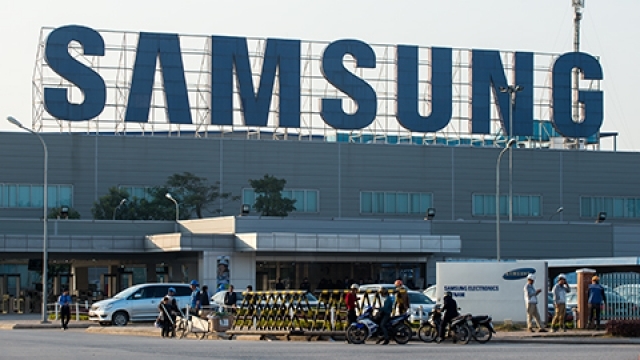 According to SDV's plan, the firm will carry out the expansion for five years starting in 2018, bringing the sum to be invested in this project to $6.5 billion and making it the largest project invested in by the South Korean giant. 
"Government approval will be officially announced soon," said Minister-Chairman of the Government Office Mai Tien Dung at a press meeting on February 3.
The provincial government earlier asked for government permission to offer tax incentives for the additional investment, which will enable the project to be classified as large-scale project. 
The plan for expansion is likely to be finalized as soon as the first quarter of 2017, according to local media.
Samsung Display in 2014 set up the factory to assemble AMOLED panels into modules for use by Samsung Electronics' smartphone factories in Bac Ninh and Thai Nguyen, which is also in northern Vietnam. 
The AMOLED panels are transported from its factories in South Korea. The South Korean company has dominated the global supply of smartphone AMOLED panels. 
In order to maintain the market status and viewing that Apple is very likely to adopt AMOLED panels for the new iPhone to be launched in 2017, Samsung Display plans to expand the factory of AMOLED modules in Vietnam.
Companies setting up plants in Vietnam, such as Samsung Electronics, are transforming the country into a manufacturing hub for electronics goods, including smartphones. 
From a trade deficit of $3.5 billion in 2015, Vietnam returned with a trade surplus of $2.68 billion in 2016. 
Wage cost competitiveness is the key reason it's attracting capital away from countries with worsening demographic transitions in East Asia. 
Institutional reforms have also contributed to making Vietnam more foreign investor friendly. 
Revised investment and enterprise laws have cut the time needed to establish a new business. Lower corporate income tax rates and streamlined payments have also helped.
South Korean companies have deployed 592 projects worth a combined $8.6 billion in Bac Ninh, accounting for 65.6 per cent of the total foreign direct investment (FDI) in the province. 
Samsung has been the largest single foreign investor in Vietnam, with its investments totaling some $15 billion. 
This is not the first time the Korean giant has asked for incentives for its projects in the country.
The FDI sector continues to lift Vietnam upwards, with it making a contribution of more than 20 per cent to GDP growth since 2010. 
Last year, disbursed FDI rose by 9 per cent to a record $15.8 billion and committed FDI increased 7.1 per cent, to $24.4 billion. 
The Foreign Investment Agency at the Ministry of Planning and Investment announced that 2,547 FDI enterprises bought stakes of more than 50 per cent in Vietnamese companies or in conditional investment sectors last year, totaling $3.425 billion.
But while exports rely heavily on specific FDI enterprises, the technology absorption and enhancement of human capital that Vietnam was supposed to acquire from FDI inflows are nowhere to be found. 
Vietnam's workforce is largely engaged in the final assembly of products for export, which are primarily low value-added, labor-intensive and use low-level technologies.
The foreign sector plays a crucial role in the Vietnamese economy, but considerable tax incentives granted to overseas investors may lead to distortions of the overall investment climate, the World Bank has said in a report.
VN Economic Times