VietNamNet Bridge - Beer companies have been prospering in Vietnam, a large market with 90 million people and consumption of 3.8 billion liters of beer in 2016.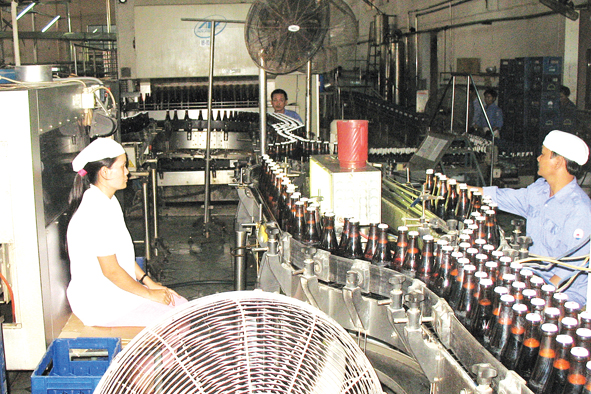 Analysts repeatedly warned that the competition in Vietnam would be fiercer as more and more big players, including foreign ones such as Asahi (Japan), Singha (Thailand), Corona (Mexico) and Royal (the Netherlands), have joined the market. However, surprisingly, all of brewers can make big money in Vietnam.
A representative of Heineken Vietnam said that purchasing power was 20 percent higher than the same period of the previous year. 
At Big C, beer sales have increased by 30-40 percent compared with the end of 2016 as people rush to buy beer to prepare for Tet. The demand is so high that the retailer sells no less than two boxes of beer to one client every day.
On January 7, at a conference reviewing its operation in 2016, Sabeco, the largest brewer, said 1.584 billion liters of beer were sold in the year, an increase of 8 percent over 2015.
In fact, beer sales not only have increased on pre-Tet days, but have been increasing steadily over the last 15 years.
A survey by Sabeco showed that the consumed beer volume increased from 2.33 billion liters in 2010 to 3.6 billion liters in 2015. Every Vietnamese adult drinks 35.5 liters of beer a year, with which Vietnam ranks the second in the world in terms of beer consumption per capita.
A report by Euromonitor International released in June 2016 showed that the beer sales increased from VND82.376 trillion in 2010 to VND153.943 trillion in 2015, which means a sharp increase of 86.1 percent. The figure was VND166.388 trillion in 2016 and is expected to reach VND218.292 trillion by 2020.
With an average population increase of 1 percent per annum and a popular beer culture, beer sales are expected to increase in the coming years.
It is expected that 4.84 billion liters of beer would be consumed by 2020, including 492.9 million liters of high-end products, 3 billion liters of mid-range and 1.34 billion liters of low-cost products. 
Sales are predicted to see an average growth rate of 7.2 percent in the 2015-2020 period. 
Brewers continue to expand production and run marketing campaigns to retain their market share. 
Sapporo Vietnam, which has succeeded with Sapporo Premium Beer, has launched Blue Cap, another brand.
In late December 2016, Saigon-Binh Tay JSC, belonging to Sabeco, marketed the first products bearing the Sagota brand. Meanwhile, Heineken Vietnam has launched Strongbow, a fermented fruit juice.
Leo Evers, general director of Heineken Vietnam, said the company was planning to increase production capacity in Vietnam by 2025.
Sapporo announced that its production capacity would increase from 40 million to 100 million liters.
Le Ba