VietNamNet Bridge - Many merger & acquisition (M&A) deals in the pharmaceutical industry have been made this year, in which the buyers were foreign investors.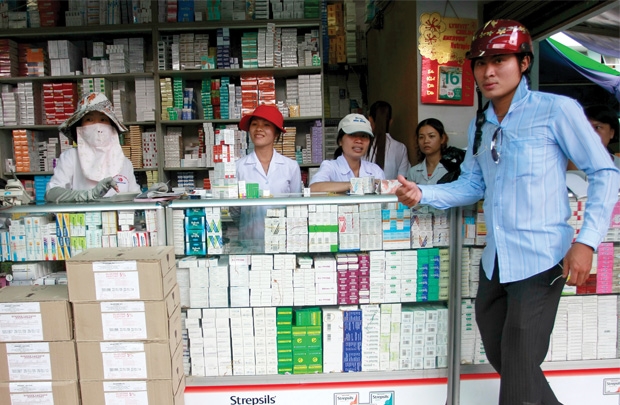 This shows the attractiveness of Vietnam's pharmaceutical industry, which has had a 2-digit growth rate for many years.
Food & beverages, education and pharmacy are three fields which investors believe will never bring losses, because the demand for the products and services is always high.
In August 2016, the US-based Abbott completed a deal to take over Glomed, a pharmacy firm. Abbott has become one of the 10 leading pharmacy companies in Vietnam.
Taking over the two medicine factories in VSIP 1 Industrial Zone from Glomed, Abbott now makes a wide range of products, from antibiotics to products for digestive, respiratory and cardiovascular diseases, pain relief, women's health and OTC (over-the- counter) drugs.
Present in Vietnam for 20 years, Abbott has 3,400 workers, including 845 from Glomed. Meanwhile, according to Vietnam Report, a rating firm, Glomed was one of the 100 fastest-growing firms in 2012.
In July 2016, Taisho Pharmaceutial Holdings Co., Ltd, a subsidiary of Japanese Taisho Holdings, announced that it completed the purchase of a 24.5 percent stake of Hau Giang Pharmacy.
Many merger & acquisition (M&A) deals in the pharmaceutical industry have been made this year, in which the buyers were foreign investors. 
A report on Vietnam's pharmaceutical industry released in 2015 by Sacombank Securities showed that Hau Giang Pharmacy was the largest pharmacy company listing shares on the bourse and that it was among the top 3 pharmacy companies in Vietnam, with 2.4 percent of the market share. The other two were foreign groups – Sanofi (3.5 percent) and GlaxoSmithKline (3.2 percent). 
Hau Giang Pharmacy has a large distribution network with 24 subsidiaries, 24 branches and 68 drugstores at hospitals.
The deal was a part of the Japanese group's plan to increase investment in the global markets, especially South East Asia.
In fact, Vietnam is a familiar market for Taisho. In 1996, Lipovitan, its energy drink, entered the Vietnamese market. It has a factory in Nha Trang City in the central province of Khanh Hoa.
To penetrate the Vietnamese market, foreign investors not only buy stakes in domestic pharmacy firms, but also try to cooperate with firms to take full advantage of their large distribution networks.
At the Vietnam-France Business Forum last September, Sanofi, among the 20 largest pharmacy firms in the world, announced an agreement on strengthening cooperation with Vietnamese Vinapharm. 
Under the cooperation program, Vinapharm will be responsible for marketing Sanofi's medicine products in Vietnam and exports to Asia Pacific.
In 2015, Vietnam's Traphaco signed a contract with Sandoz of Novartis Group to distribute the Swiss group's products. 
Mai Chi