Total foreign direct investment (FDI) registered in the country saw a year-on-year decline of 10.5 per cent in the 11 months of this year to $18.1 billion, according to the latest report from the Ministry of Planning and Investment's Foreign Investment Agency.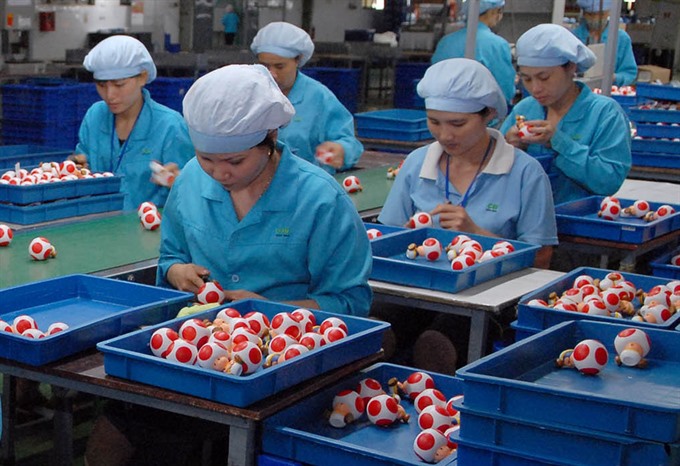 Total foreign direct investment (FDI) registered in the country saw a year-on-year decline of 10.5 per cent in the 11 months of this year to $18.1 billion. 
Of the sum, more than $13 billion came from 2,240 newly-licensed projects, down 4 per cent year-on-year, while the remainder from 1,075 capital-added projects, equivalent to 76.1 per cent of the figure from the same period last year.
However, FDI disbursement witnessed a positive rise of 8.3 per cent, to $14.3 billion in the period, according to the data.
From January to November, foreign investors mainly poured their investments into the processing and manufacturing industry, with $13.41 billion, making up 74 per cent of the nation's total FDI. This was followed by real estate with $741 million (4.1 per cent), and science and technology with $685 million (3.8 per cent).
Out of 68 countries and territories investing in Viet Nam, South Korea remained the country's largest source of FDI with $5.29 billion, accounting for 29.2 per cent of the total FDI pledged here. Singapore and Japan ranked second and third, with $2.05 billion (11.3 per cent) and $1.95 billion (10.8 per cent), respectively.
In the year to date, the northern port city of Hai Phong took the lead in terms of FDI attraction with $2.74 billion, followed by the two southern provinces of Binh Duong and Dong Nai with $1.93 billion and $1.87 billion, respectively. The country's two economic hubs of Ha Noi and HCM City ranked fourth and fifth, luring $1.84 billion and $1.32 billion in FDI, respectively.
Exports (including crude oil) of the foreign-invested sector reached over $114 billion in the period, up 8.6 per cent, to reach 71.5 per cent of the country's total export value, while the sector's import turnover was $92.83 billion, up 3.6 per cent year-on-year.
HCM City hunts for more US investment
Chairman of the HCM City People's Committee, Nguyen Thanh Phong, has told an executive of Las Vegas Sand Corp that he expected more US firms would run long-term businesses and investment in his city, vietnamplus.vn reported.
At a meeting on Friday with George Tanasijevich, Managing Director of Global Development at Las Vegas Sand, Phong highly valued the corporation's capacity in tourism complex development.
He said HCM City wanted to diversify types of tourism, including MICE (meetings, incentives, conferences, and events), so as to fully tap its potential and advantages in tourism which was defined as a key industry in the city.
The US currently ranks 12th among 79 countries and territories investing in Viet Nam's southern metropolis. That position was still modest compared to the potential and aspiration of both sides, he noted.
Appreciating Las Vegas Sand's proposal to build a tourism complex project in HCM City, the municipal leader pledged the best possible conditions for the group to invest in the city. However, the two sides needed more time to look into each other's requirements, which should be in line with local conditions and Viet Nam's policies.
George Tanasijevich said his firm's project would include hotels, theatres, cinemas and facilities hosting meetings, exhibitions and big events that will attract entrepreneurs and high-end tourists. He hoped it could contribute to the development of the local tourism industry. 
VNS