VietNamNet Bridge – Investing VND20,000 billion (nearly $1 billion) in the southern area of Phu Quoc - Vietnam's largest island in the southern province of Kien Giang – Sun Group has not only created a resort paradise here but also helped wake up the hidden potential of the pearl island.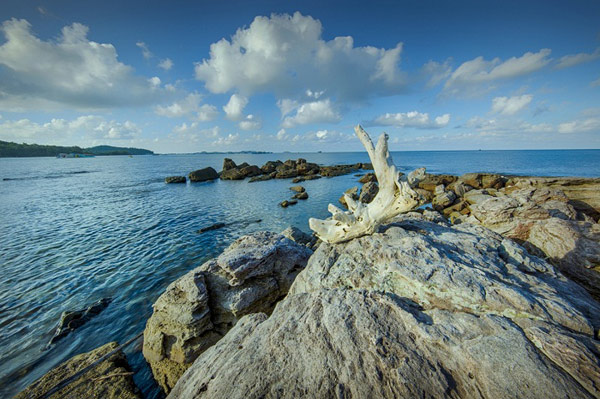 Glowing south Phu Quoc 
The last works are being completed for the opening day in early 2017, JW. Marriott Phu Quoc Resort & Spa with more than 200 rooms, bungalows and seaside villas, promises to offer visitors luxury experience in south Phu Quoc. The formation of a new complex of resort and entertainment park in Khem beach of south Phu Quoc means great investment opportunities here.
In only one year, from a little-known region, the southern area of Phu Quoc Island has witnessed breakthrough development. This area is transforming itself into a Sentosa (Singapore) as new and open policies are applied for Phu Quoc.
If the northern part of the island is home to resort estate projects, the southern region, thanks to strong investment of Sun Group, is becoming an international-class tourist and resort center.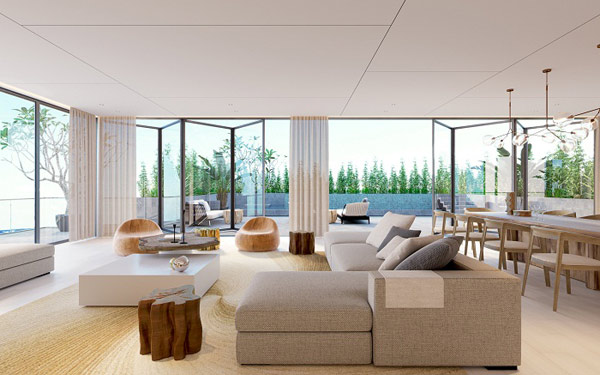 In this area, Sun Group has invested up to VND20,000 billion to build a high-class resort and amusement complex, including: Hon Thom sea-crossing cable car network with a length of up to 7,880m; Hon Thom amusement park and especially JW Marriott Phu Quoc Resort & Spa and Condotel Premier Residences Phu Quoc Emerald Bay at Khem beach and Premier Village Phu Quoc Resort resort villas at Ong Doi cape, which are the ideal locations in Phu Quoc.
According to Sun Group, Premier Village Phu Quoc Resort is being completed while Condotel Premier Residences Resort Emerald Bay is also being built urgently.
The magnet for high-end projects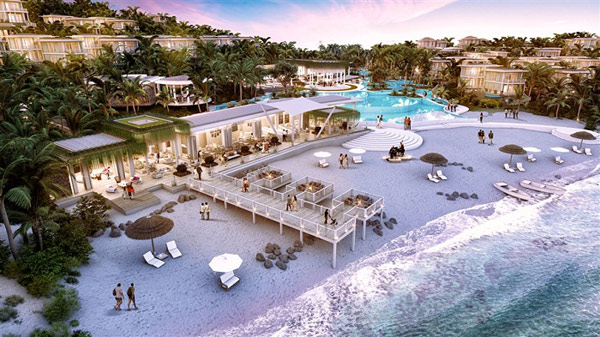 With prime locations, two resort estate projects developed by Sun Group in the southern region of Phu Quoc Island are the two "stars" on the resort map of the pearl island. Designed by world leading architectural brands, each villa and condotel is perfect as an artwork.
With exquisite details and colors, Premier Village Phu Quoc villas are airy and in great harmony with nature. Each villa has large glass sliding doors and windows, which aim to break the distance to the ocean. Partners, suppliers, and manufacturers selected are the leading names in their fields.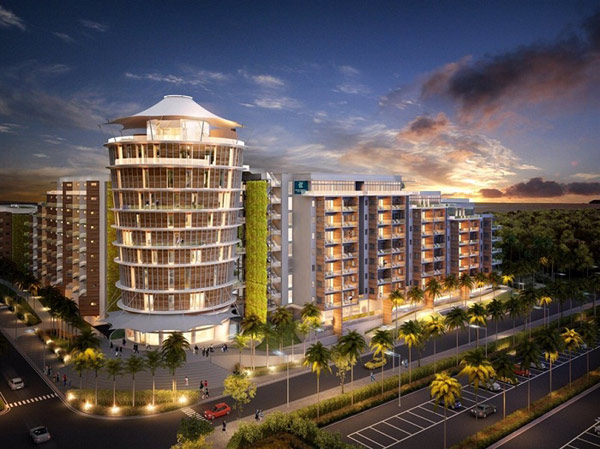 Mixed with impressive nature of forests, mountains, rivers and streams, each villa brings about different emotions: luxury, romantic and liberal.
For Condotel Premier Residences Phu Quoc Emerald Bay, Sun Group has brought a line of attractive products back to market, using new criteria up to international standards. The project is designed by two world-renowned brands and Sala and M. System, with up to 70% of the area devoted to trees and five-star facilities. It is considered the golden ratio in a resort estate of international standard.
Also in this project, for the first time, the owners will experience the penthouse resort space with luxury indoor pools and duplexes adjacent to overflowing swimming pools. The apartments are arranged in echelon shape, looking to the sea, so all apartments welcome natural light, with optimized views of the sea and the untouched primary forest.
Investment opportunities that should not be missed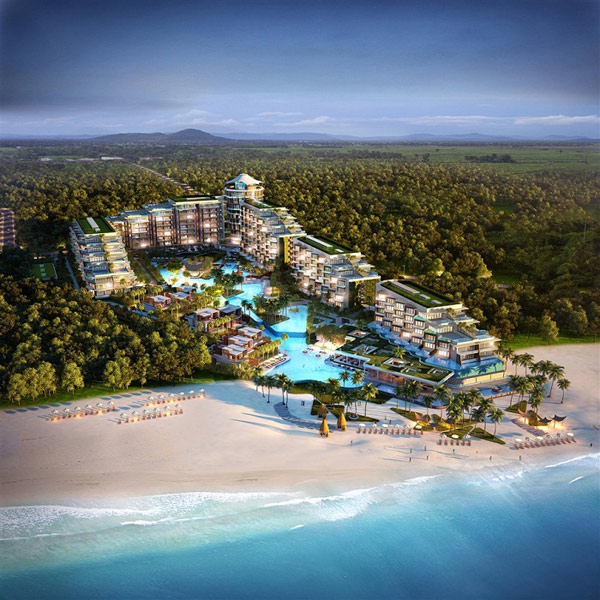 According to estate experts, resort real estate is entering a new growth cycle, which is expected to boom in the next 3- 5 years. A lot of tourists not only have demand for luxury resorts, but also want to personally own a resort villa, especially seaside villas.
In Vietnam, foreigners are allowed to buy or rent property in Vietnam. In other countries in Southeast Asia such as Singapore, investors have to pay 7% tax for the second estate work they own. This has urge investors to aggressively seek investment opportunities outside their countries and Vietnam, particularly Phu Quoc - where the number of tourists is growing strongly at a rate of 30% per annum - the choice is better.
Sharing investment opportunities, Sun Group commits that owners of unique villas and condotels of Sun Grup in Phu Quoc will get 81-90% profit in 9- 10 years from leasing activities. Moreover, investors will enjoy for free 15 nights a year in five-star hotel and resort system across Vietnam of Sun Group. 
Regarding the sales policy, from November 12, 2016 to January 31, 2017, Sun Group, in cooperation with some banks, will provide the financial assistance package worth up to 70% of the value of products, with interest rate of 0% for up to 24 months.
Sun Group also commits to hand over its products on schedule. Investors can keep track of the construction process via 24/7 monitoring camera system.
As the key projects on Phu Quoc, once they are completed, Premier Village Phu Quoc Resort and Condotel Premier Residences Phu Quoc Emerald Bay are expected to become the magnet to attract investment for the resort real estate market in the southern part of Phu Quoc island, turning this place into the resort center of the elite class in Asia.
The sales event for villas in Premier Village Phu Quoc Resort and condotels in the Premier Residences Phu Quoc Emerald Bay will be held at 9 AM on Saturday, November 26, at Daewoo Hotel, 360 Kim Ma, Ba Dinh district, Hanoi and NewWorld Hotel, 76 Le Lai Street, District 1, HCM City. 

Official sales agents in the north:
• Titan Real-Estate Service JSC – Hotline: 0948581977 or 0967758686
• TNB Investment and Services Ltd. – Hotline: 0981152666
• Globalland Real Estate Advisory, Investment Company - Hotline: 0902885689
Official sales agents in the south:
• Smart Realtor & Partners Real Estate Ltd. – Hotline: 0909803939
• G20 Real Estate Service JSC – Hotline: 0901105115
• Amber Estate JSC – Hotline: 0962625959
• Central Real Investment Development JSC – Hotline: 0947796850
PV