VietNamNet Bridge – Viet Nam needs VND25 trillion (US$1.1 billion) to repair expected damage by El Nino during the 2016-20 period, the Ministry of Agriculture and Rural Development reported.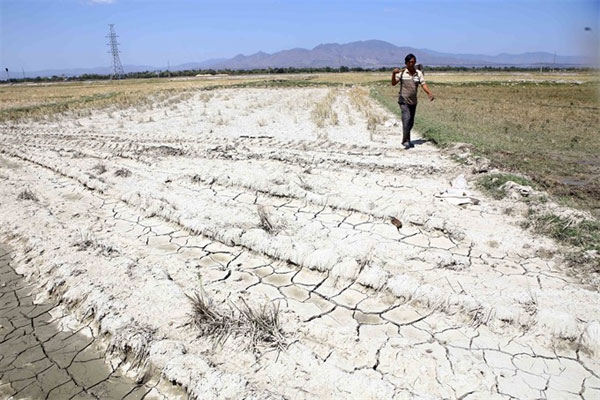 Field dried due to El Nino phenomenon in coastal central Ninh Thuan Province. Predicted damage by El Nino during the 2016-20 period is calculated to cost Viet Nam VND25 trillion (US$1.1 billion), the agriculture ministry said. — VNA/VNS Photo Minh Quyet
For this year ahead, the country will need some VNĐ3.7 trillion ($166 million) to assist people restoring agricultural production, repairing clean water supply stations, and upgrading urgent projects to prevent drought and infiltration by salt water.
This was announced at a seminar held in Ha Noi on Tuesday, co-organised by the Ministry of Agriculture and Rural Development, according to Nong thon ngày nay (Countryside Today) newspaper.
At the seminar, Tran Dai Nghia, head of the Institute of Policy and Strategy for Agriculture and Rural Development's Environment and Natural Resources Economy and Research Faculty, said Viet Nam was one of three nations in the world seriously affected by climate change and rising sea water.
"Climate change has been happening intensely and faster than what relevant offices predicted in 2012," he said.          
"From late 2014 to 2016, due to the El Nino weather phenomenon, 18 provinces and cities in south central, Tay Nguyen (the Central Highlands) and Cuu Long (Mekong Delta) regions have experienced drought and saline water intrusion in widespread areas. The lives of some two million people, and hundreds of hectares of rice farming, have been badly affected, with total damage worth VND15 billion ($670,000)."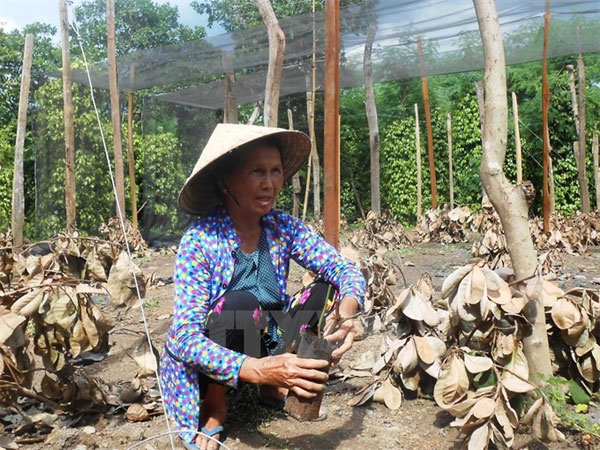 A farmer in Binh Phuoc southern province looks at pepper trees killed by drought in early 2016.— VNA/VNS Photo Tat Thanh
According to the ministry, the heavy rains in January 2016 and October 2016 caused large losses to the central region's people.
Beside the assistance from State and provincial budgets, 2016 was the first time the Vietnamese Government called on international organisations to help the country overcome natural disasters. Until early July this year, international organisations and partners have provided Viet Nam with US$16 million in urgent support to repair damage caused by the El Nino phenomenon.
Nguyen Xuan Kieu, deputy director of the Northern Mountainous Irrigation Centre at the Viet Nam Academy for Water Resources, said climate change and water resources for agricultural production were immediate problems Vietnamese farmers are focusing on.
"In the context of the present climate change phenomenon, to speed up the agricultural sector restructuring, problems adapting to climate change become inevitable factors," he said.
Kieu added that the country needs to develop a flexible agriculture sector that could adapt to climate change, applying advanced techniques and sustainable practices, and use progressive irrigation methods to improve the efficiency of water and fertiliser.
These advanced methods also help reduce greenhouse gas emissions, production costs and increase economic efficiencies on cultivated land, as well as create high-quality crops.
VNS