VietNamNet Bridge – The Government Inspectorate (GI) concluded its inspections of three biofuel (ethanol) projects with capital investment from state-owned giant PetroVietnam (PVN) and its member companies. The Ministry of Public Security (MoPS) was then called on to handle violations occurring in the three projects.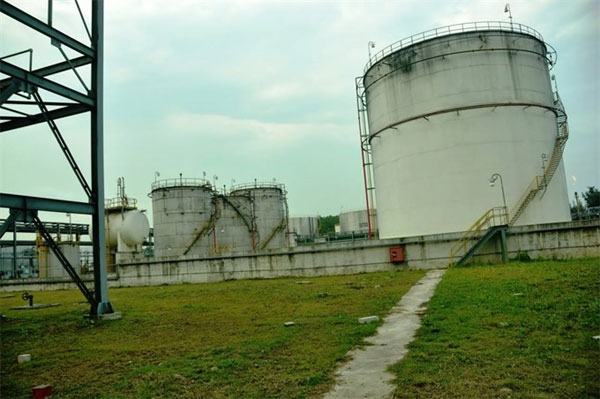 Dung Quat ethanol plant temporarily stopped operating since its products failed to sell well enough. — Photo tuoitre.vn
From October 2007 to March 2009, PVN issued directives to its member companies to establish and invest capital into two joint-stock companies and one joint-venture company.
These three were tasked with the implementation of three ethanol production projects throughout the country, in Phu Tho Province, in Dung Quat-Quang Ngai economic zone and in Binh Phuoc Province. The designated capacity of each plant reached 100 million litres per year, of which stakeholders contributed 30 per cent of the capital, while the rest was obtained from commercial credit loans.
When inspections began, plants in Dung Quat and Binh Phuoc were already completed. The plant in Phu Tho, still wasn't finished, even though its groundbreaking took place the earliest of the three (September 2009), because contractor PetroVietnam Construction Company, a subsidiary of PVN, had halted construction since October 2011.
According to GI's reports, by the end of October 2014, the total amount of capital invested into the three projects was over VND5.4 trillion (approx. US$ 242 million). Out of the total capital, VND1.742 trillion (approx. $78 million) and 2.124 trillion (approx. $95.2 million) went into projects in Binh Phuoc and Dung Quat, respectively. VND1.534 trillion (approx. $68.7 million) went into the Phu Tho project.
Despite the large investment, all three multi-million-dollar projects greatly underperformed.
In 2014, shortly after going into operation, the plants in Dung Quat and Binh Phuoc incurred massive losses of VND164 billion and VND400 billion, respectively.
Meanwhile, the unfinished Phu Tho plant is described as "a quagmire" and construction is "unlikely to resume" as PVC and PVN are unable to come up with viable solutions.
During the process of implementation, the contract value for the EPC package was increased by $14.3 million compared with the value stated in the approved plan. However, the reports noted that the rationale for this hike in cost was not justified.
The ceasing of construction by contractor PVC in the Phu Tho project meant all other components in the project also came to a halt.
Purchased equipment and machinery now lay in rust, while the prospect of construction resuming appears nowhere in sight.
Invested capital, reaching VND1.5 trillion, and other loans, was essentially money wasted.
Violations and mishandlings in assigning contractors to implement the EPC package, contract negotiating, contract signing and cost adjustments; and irresponsibility in choosing locations to build plants and implementation of the plants under the three projects, were also pointed out in the GI's reports.
Based on these findings of deliberate contraventions that caused serious consequences, the inspectorate has proposed to transfer the case files to the MoPS to investigate and prescribe appropriate measures in line with existing laws.
VNS