VietNamNet Bridge - The Vietnamese stock market lacks attractive shares which could be valuable assets for investors, such as Vinamilk shares.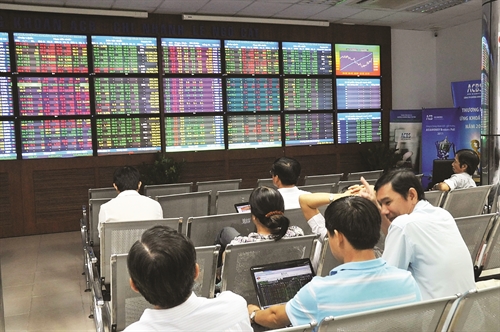 Investors and analysts find it a nice surprise that the VN Index has been maintaining its upward trend for so long in the last several months. The index has reached a record high of 690 points, an 8-year peak. 
Some analysts think that with the current momentum, the stock price would continue escalating, exceed the 700 point threshold and climb to 750 points within a few months.
The Vietnamese stock market lacks attractive shares which could be valuable assets for investors, such as Vinamilk shares.
However, despite the price increase and the higher maturity level of the stock exchanges, many big enterprises do not want to list their shares.
After Vinamilk and Hoang Anh Gia Lai, Thanh Thanh Cong Group recently announced that it is moving ahead with the plan to list Thanh Thanh Cong Tay Ninh (TTC Sugar), a subsidiary, on the Singaporean bourse in an effort to raise $600 million worth of funds.
Besides TTC Sugar, some other Vietnamese enterprises including Vietjet Air, Huy Vietnam, The KAfe, and PV Gas have also revealed their plans to list on Singaporean or Hong Kong bourses.
This has raised a worry that good shares of prestigious companies list shares on foreign bourses instead of the domestic market, which would badly affect the brand and rank of the Vietnamese stock market in the region.
It is foreseeable that listing shares on foreign bourses would bring high benefits to enterprises. Singapore and Hong Kong are two leading markets in the region. The Singaporean market has daily trading value four times higher than Vietnam's.
In TTC Sugar case, the VND13.4 trillion needed would be very difficult to find from domestic sources.
Doan Nguyen Duc, president of Hoang Anh Gia Lai Group, commented that under the current condition of the Vietnamese stock market, it will be not easy to seek long-term capital.
It is a big challenge even for large investment funds to attract huge amounts of capital into domestic enterprises. VinaCapital, for example, plans to set up a new fund with $200 million to invest in Vietnam, but it still cannot implement the plan.
VinaCapital's CEO Andy Ho said the Vietnamese national brand remains weak and VinaCapital has to focus on looking for investors who have interest in the Vietnamese market.
However, it would not be easy to list shares in Singapore or Hong Kong. Some sources said Vietjet Air may cancel the plan to list in Hong Kong and may list on the domestic market instead.
Vietjet's CEO Nguyen Thi Phuong Thao said she and consultants could not imagine the heavy paper workload they have to follow to do the IPO.
Thanh Mai