VietNamNet Bridge - Expecting to be 'Vietnam's Las Vegas and Silicon Valley', Da Nang has become a magnet for real estate developers.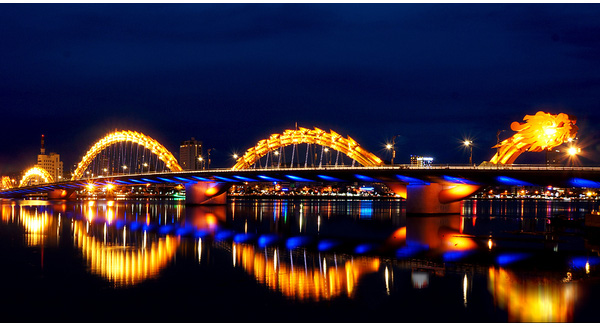 After the belt road in the south, which links the city center with Nguyen Tri Phuong Bridge, was completed earlier this year, the area attracted many investors. 
The land changed its look within a short time. In the plan to develop Da Nang into a special city at the national level by 2050, the belt area in the southern part of the city has played a very important role. 
Located between Da Nang and Hoi An ancient town, the area has ample space and good transport infrastructure, while it is rarely flooded.
A series of large real estate projects in the areas from Cam Le and Ngu Hanh Son districts to Dien Ban Town in Quang Nam province have been registered and all the investors are big names.
These include Sun Group which develops Nam Hoa Xuan and Nguyen Tri Phuong eco urban areas. A source said 500 riverside land plots sold out within three days of the first sale campaign.
Coco Bay project, hoped to become the highlight of Da Nang, is also located in the southern part of the city. There would be an entertainment complex advertised as 'Vietnam's Las Vegas'.
Da Nang's people also put high hopes on FPT City, a huge urban area project with investment capital of over $1 billion.
The 181 hectare urban area is programmed to become a green smart area, the first in Da Nang and the central region. Developed by a technology group, FPT City Da nang is expected to become a smart urban area with special design. 
Expecting to be 'Vietnam's Las Vegas and Silicon Valley', Da Nang has become a magnet for real estate developers.
Of 181 hectares of land allocated to the project, 100 hectares would be reserved for public utilities, greenery, and water surfaces (parks, canals and artificial lakes) together with the natural rivers and lakes.
The investor said that FPT City is built not just because of the anticipated boom of  demand for houses, but also because of 'Vietnam's Silicon Valley' dream.
Therefore, the project is designed with complete social infrastructure, comprising trade and finance centers, office buildings, hotels, shopping malls, entertainment areas, and schools and hospitals with international standards.
Meanwhile, other investors are hurrying up with the development of resort and hotel projects, preparing for APEC 2017 scheduled to take place in Da Nang City.
Commenting about the Da Nang market, Do Thu Hang from Savills Hanoi said Da Nang is very promising as it has all the factors important for real estate development. These include an advantageous position suitable to develop tourism and services, and investment policies with preferences.
Kim Chi