VietNamNet Bridge - If Bill Gates or Steve Jobs began their career in their family's garage, young people today can launch their start-ups in co-working spaces.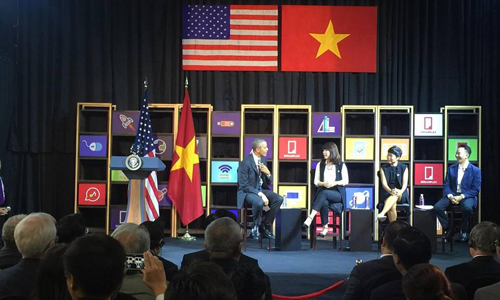 President Obama spoke with three young entrepreneurs at a Dreamplex panel discussion. 
During his recent visit to Vietnam, US President Barack Obama paid a visit to Dreamplex – a co-working space for HCM City start-ups -,where he spent over two hours chatting with young entrepreneurs.
The co-working spaces are the new business model in HCM City, considered to be one of the largest start-up centers of Southeast Asia. 
The concept of co-working space is an evolution from traditional offices and offices for rent. 
Normally, large corporations build their own office buildings while smaller companies can rent offices. Meanwhile, start-ups favor co-working spaces because it is a waste for a company with only 5-6 employees to hire an office. 
In addition, for start-ups, their scale can grow rapidly from 3-4 people to 10-20 people in a few months so the traditional office model is unsuitable. 
In HCM City, there are many co-working spaces with different size but most of them are located in District 1, such as Start, WORK Saigon, Citihub, TheVentures, and Dreamplex, with an average area of around 1,000m2 each. 
The rent is not based on square meter as the traditional office, but depends on the size and demand of the tenant.
Co-working spaces are usually divided into two areas. The first is open space, where members of all companies can sit and talk together comfortably. They can share, learn, and find cooperation opportunities. The second area consists of private offices, and meeting rooms of various sizes for from 4 to 30 people, even up to 100 people depending on the size of start-ups.
Dreamplex was built with VND10 billion (nearly $500,000), with 35 rooms and all of them have been rented for VND10 to VND25 million/room/month. 
For the common space, tenants can hire monthly or daily, with VND2 million/person/month or VND80,000-VND100,000/person/day. They are served with a private telephone room and free drinks.
Most start-ups working at this co-working space are in the field of technology, specifically software, educational and financial applications. There are also other areas such as investment, marketing ... Some non-governmental organizations have set up offices here. 
Many companies here represent new business models, with acglobal scale, but they only recruit a few people in each country.
Linh Hoang, co-founder of Circo said: "The advantages of co-working spaces is that companies will not have to spend extra costs rather than monthly rent, and the rental time is flexible. All the costs of electricity, water, security, internet ... are in the rental package. The co-working space model allows the flexible rearrangement of the work space, depending on the development of start-ups, which traditional offices cannot offer."
The most important benefit from co-working spaces is the community feature.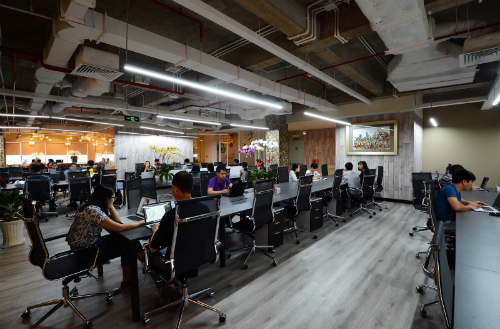 Every week, co-working spaces hold events, exchanges, product and idea introductions... As open spaces, ideas can spread and be discussed and improved almost immediately because nothing prevents members in co-working spaces from communicating with each other, though they do not work in the same company or the same sector.
However, the co-working space model is not perfect for all aspects of a start-up. Phuong, who is developing a start-up on internal communications application, said only members of the sales and marketing divisions work in the co-working space. The 15 members of the programming division work in a private lab for security issues.
The co-working spaces in HCM City are expanding quickly. Circo is about to open in October this year in District 4, on an area of 1,000m2 floor in an apartment block in Hoang Dieu Street. 
Dreamplex, after the inauguration of the first co-working space on 1,500m2, is about to open a second place in Binh Thanh District, on 3,000m2.
Nguyen Trung Tin, Dreamplex's Director, said if its business is maintained at the current scale, this firm would break even after three years.
Son Nam